Top 10 most famous and Successful businessmen in India
India, a vibrant and diverse nation with a rich history and a rapidly growing economy, has witnessed the rise of numerous exceptional individuals who have left an indelible mark on the business landscape. From pioneering groundbreaking ventures to building colossal empires, these extraordinary businessmen have become synonymous with success, innovation, and influence.
In this captivating exploration, we delve into the lives and achievements of the 10 most famous businessmen in India. They represent a wide spectrum of industries, including technology, manufacturing, telecommunications, and more, and have garnered global recognition for their entrepreneurial prowess.
Join us as we embark on a journey through the remarkable stories and unparalleled achievements of these titans of Indian business. From humble beginnings to conquering the heights of success, their tales inspire, motivate, and shed light on the endless possibilities that lie within the realm of entrepreneurship.
Discover the visionaries who have transformed the Indian business landscape, challenging conventions, and creating new pathways. Witness the power of ambition, innovation, and perseverance as we unveil the faces behind the iconic names that have become synonymous with business excellence.
So, fasten your seatbelts as we explore the lives of these extraordinary individuals, whose entrepreneurial spirit has not only shaped India's economic landscape but also left an indelible impact on the global stage. Prepare to be inspired by their stories of triumph, setbacks, and unwavering determination, as we unravel the secrets behind their remarkable success.
1. Mukesh Ambani:
Mukesh Ambani, the Chairman and largest shareholder of Reliance Industries, stands as an icon of Indian business. Taking over the reins of his father's company, he has steered Reliance to extraordinary heights, propelling its revenue to $88 billion and achieving a market capitalization of over $100 billion. With numerous accolades to his name, including the Ernst & Young Entrepreneur of the Year award, Mukesh Ambani's net worth of over $98.8 billion cements his position as one of India's wealthiest and most influential businessmen.
2. Sanjiv Bajaj:
Sanjiv Bajaj, scion of the illustrious Bajaj family, has emerged as a prominent financial leader in India. As the Managing Director of Bajaj Finserv, he has spearheaded a financial and FinTech revolution, propelling the company to new heights. With a strong educational background from Pune University and Harvard Business School, Bajaj has been recognized for his exceptional leadership, earning him the prestigious EY Entrepreneur of the Year award in 2017.
3. Adar Poonawalla:
Adar Poonawalla, the CEO of Serum Institute of India, has played a pivotal role in the fight against COVID-19. Under his leadership, the Serum Institute has become a global leader in vaccine production. Poonawalla's strategic initiatives have expanded the company's reach, with a significant increase in exports and groundbreaking vaccine developments. Recognized as the Entrepreneur of the Year by Economic Times, Poonawalla's contributions to public health have been invaluable.
4. Rahul Bajaj:
Rahul Bajaj, scion of the esteemed Bajaj family, has etched his name in the annals of Indian business history. Leading Bajaj Auto and Bajaj Finserv, he has successfully diversified and expanded the family business, solidifying its position as a major player in the automotive and financial sectors. As a prominent industrialist and former president of the Confederation of Indian Industry, Bajaj's achievements have earned him prestigious honors, including the Lifetime Achievement Award and the Padma Bhushan.
5. Savitri Jindal:
Savitri Jindal, the Chairperson Emeritus of OP Jindal Group, is a trailblazing businesswoman who has transformed the company into a powerhouse. Following the tragic demise of her husband, she took the helm and propelled the company to new heights, increasing its valuation to a staggering $4 billion. With her visionary leadership and commitment to women's empowerment, Jindal has become one of the richest businesswomen in India.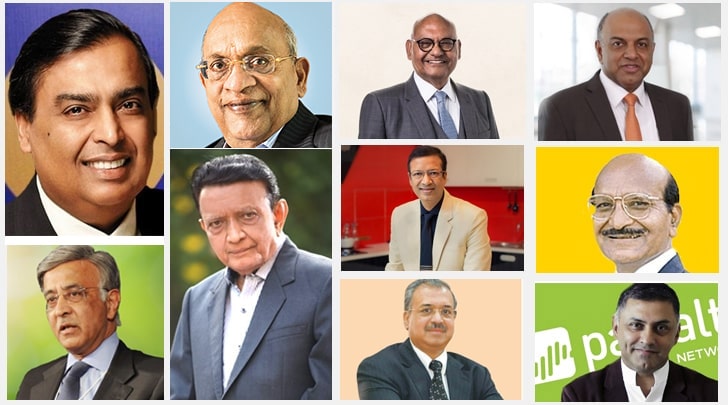 6. Gautam Adani:
Gautam Adani, hailing from humble beginnings, has emerged as a titan in the business world. Through his conglomerate, Adani Group, he has successfully diversified into various sectors, including logistics, defense, and aerospace. Adani's shrewd business acumen has propelled him to become the second richest man in Asia, with a net worth of over $70.8 billion.
7. Radhakishan Damani:
Radhakishan Damani, the founder of the hypermarket chain DMart, has carved a niche for himself in the retail industry. Starting as a stock market broker, he ventured into the retail sector and transformed DMart into a thriving business. With a net worth of over $29.4 billion, Damani's success story is an inspiration to aspiring entrepreneurs.
8. Kiran Mazumdar-Shaw:
Kiran Mazumdar-Shaw, the founder of Biocon India, has revolutionized the biotechnology industry in the country. Leading the company to remarkable heights, she became India's richest businesswoman, garnering international recognition for her contributions. With prestigious awards such as the Padma Shri and Padma Bhushan, Mazumdar-Shaw's achievements are a testament to her pioneering spirit.
9. Madhukar Parekh:
Madhukar Parekh, Chairman of Pidilite Industries, has played a pivotal role in establishing the company as a global leader. Under his leadership, Pidilite has witnessed remarkable growth and garnered acclaim, earning him the EY Entrepreneur of the Year award for Consumer Products. Parekh's strategic vision and entrepreneurial prowess have propelled the company to unprecedented success.
10. Pankaj Patel:
Pankaj Patel, Chairman of Cadila Healthcare, has contributed significantly to the pharmaceutical industry in India. Leading Cadila Healthcare, he has established the company as a key player in the sector. Recognized as the Best Pharma Man of the Year, Patel's dedication to innovation and healthcare has made him a revered figure in the industry.
These 10 famous businessmen have not only transformed their respective industries but have also inspired a new generation of entrepreneurs in India. Their stories of resilience, innovation, and success serve as a testament to the immense potential of Indian business and its global impact.
FAQ
What are some notable achievements of Mukesh Ambani?
Mukesh Ambani's notable achievements include leading Reliance Industries to become one of the largest conglomerates in India, with a diverse portfolio spanning industries such as telecommunications, petrochemicals, retail, and more. Under his leadership, Reliance achieved significant milestones, such as reaching a market capitalization of over $100 billion, becoming the first Indian company to do so. Ambani's visionary strategies and initiatives have contributed to the company's growth and expansion.
What industries have these famous businessmen contributed to?
These famous businessmen have made significant contributions to various industries. Mukesh Ambani has played a pivotal role in the telecommunications and retail sectors through Reliance Industries. Sanjiv Bajaj has made notable contributions in the financial services sector. Adar Poonawalla's leadership has been instrumental in the pharmaceutical and vaccine production industry. Rahul Bajaj has made significant contributions to the automotive and financial sectors. Gautam Adani has diversified his businesses into logistics, defense, and aerospace. These are just a few examples, and each businessman has made contributions in their respective industries.
What awards and recognition have these businessmen received?
These businessmen have received numerous awards and recognition for their contributions to the business world. Mukesh Ambani has been honored with the Ernst & Young Entrepreneur of the Year award and various other accolades. Sanjiv Bajaj has been recognized as the EY Entrepreneur of the Year. Adar Poonawalla has received awards such as the Philanthropist of the Year and Entrepreneur of the Year. Rahul Bajaj has been felicitated with the Lifetime Achievement Award and the Padma Bhushan. Each businessman has been recognized for their outstanding leadership, innovation, and impact on their respective industries.