Uses of Computer in School and Colleges
Computers and other related devices have changed the way we work and live. They have also changed the way we educate our children and youngsters.
The use of computers and other digital devices in school has broadened access to information, widened participation, opened up curriculum opportunities, enabled creative exploration and engagement with arts subjects, increased collaboration with peers as well as teachers, facilitated learning across geographical boundaries etc.
The use of computers in education is becoming more widespread, this move has given students access to knowledge that was once difficult to attain. There are many benefits to the use of computers, including higher retention rates and improved relationships with instructors. Although they are more expensive, computers do provide increased info resources, interaction with other students & personalized access to learning. You can read more by scrolling down for 10 uses of computing technology in school today.
In schools and universities, computers can be used for a variety of purposes. Computer and Internet technologies have become a vital component of the majority of people's lives in the modern world.
The computer has a significant power to develop and modernize the educational system in a variety of ways, whether it is through teacher and staff teaching or student learning. The use of computers in education can result in a more engaging and productive connection between the tutor and the tutee.
Also check this page to see CCNA Practice Test.
The various uses of the computer are becoming increasingly valuable, and as far as the contribution of computers to education is concerned, you are currently reading this information on the Internet via the computer itself. Let's look at the contribution and various uses of computer schools and colleges.
Role of Computer Technology In Education Field
Computers are changing the education sector. Computers have made teaching simpler and more fun than ever before.
The good news is that practically everyone, including children and the elderly, has grown familiar with computing devices such as cellphones, laptops, desktop computers, and, in particular, Chromebook laptops. Even if you have never used a computer, you will be able to do so at your educational institutions.
Computer technology in education has progressed to the point where it is now practically universal. For the very young, teachers are gradually bringing computers into the classroom. There are various advantages to using computers in the classroom, especially in elementary school.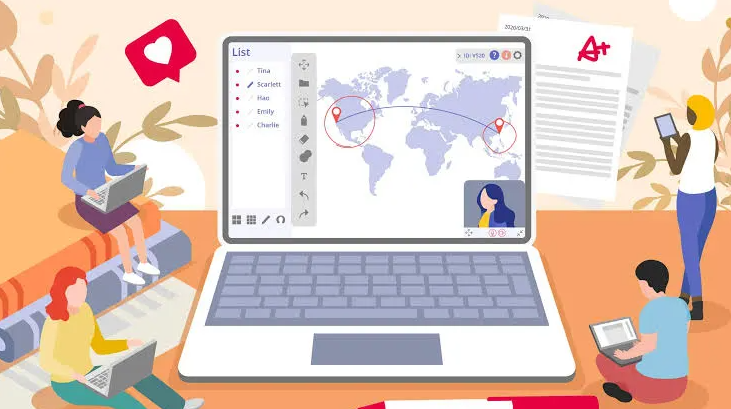 As technology becomes an integral part of almost all aspects of life, it's important for everyone to have at least some knowledge about how to use a computer.
Here are the six ways most people find computers most useful.
10 Uses of Computer In Schools and Colleges
1. Instant Access to Information
2. Research for Homework
3. Organized Records and Data
4. Computer Literacy Education
5. Virtual Coaching
6. Flexible Tutoring
7. Learning Programs
8. Learning with Entertainment
9. Interactive Tools
10. Increased Performance
1. Instant Access to Information
In education, the Internet plays a significant role. Students may rapidly access a variety of knowledge on the Internet by combining computers and the Internet. Because this is a massive information database, any information on a variety of topics can be extracted.
Previously, the Internet served as a digital library. It is far easier for both professors and students to turn on the Internet and simply type in a few keywords into a search engine to pull up all of the material rather than searching through large books.
Students can find more information on issues that interest them by visiting websites, watching instructional videos, or reading blogs. Students can access online versions of their course textbooks via computers, which offer features such as video tutorials and digital notebooks (PDFs, DOCs, etc.) that are not available in traditional course books.
Teachers can utilize it to find additional information on the subjects and syllabuses they will be teaching. It also aids teachers in the administration of tests, projects, homework, and assignments.
2. Research for Homework
Computers can assist students at schools and universities with the research portion of their homework, assignments, or projects. Because they have access to reference materials, they may supplement the subject delivered in the classroom while also encouraging students to use resources.
Today, Students may write and investigate their schoolwork by just using this gadget, which makes it much easier and faster to access anything. One can engage with classmates and teachers online via messaging or email in just a few clicks to share research materials and projects.
A virtual library is a site in the internet where you can find a lot of information. Most of the things in these platforms are always up-to-date, which makes them very helpful to people that need it.
Examples of virtual libraries:
Google books,

Scribd,

Amazon Kindle,

The Internet Archive,

Project Gutenberg.
The internet has grown over the years which means that students have many more options for examining topics. They are able to do this in minutes, rather than having to wait days to find relevant research.
3. Organized Records and Data
Another amazing and highly helpful feature of a computer is its vast or enormous storage capacity. Computers are used by both students and teachers to store all of the resources. It will be simple for students to store data such as assignments, books, presentations, projects, important sheets, test papers, and a variety of educational materials, among other things.
Similarly, teachers can rapidly save and organize data concerning tests, lecture/address notes, question papers, semester patterns, syllabuses, student grades, and other important documents in school computers' storage devices.
Even if there's no internet connection, there are many benefits of having a computer in school. They can help you save records about student behavior, attendance and participation, do calculations and data modeling.
Unlike a paper format, it is very easy to use digital formats—everything from saving time and effort to making sure that teachers can see how their students are doing and provide feedback that will help them improve.
4. Computer Literacy Education
In today's world, being computer literate is a must, whether in business, profession, or the job market. As a result, one of the most well-known applications of computers in schools is their use, and knowing how to use and handle PC applications and software is a goal of educational computing in and of itself.
With a world and development that increasingly needs IT abilities, students can maximize their potential by learning computing skills in schools and colleges to improve their employment prospects and business opportunities.
For example, many developing countries around the world have computer education programs so that their students can continue to learn more about computers and build vital skills. In addition, they want to democratize access so that they can create a society of self-learners.
5. Virtual Coaching
Previously, computers were only used in specific industries such as research institutions, offices, and government organizations, among others. However, it is currently being used in regular educational settings such as schools, tuitions, and colleges.
The widespread use of computers in educational institutions has aided many students in pursuing education through computers by allowing them to access their virtual education, particularly those who live in far-flung parts of the globe.
Some countries are even able to get an education completely online. Students use computers and other devices like tablet computers, smartphones & laptops while an authorized educator helps complete the course curriculum.
Examples of online coursing platforms:
Khan Academy,

Udemy,

Stanford Online,

TED-Ed,

Code,

Coursera.
Students who cannot physically attend a college or institution benefit greatly from online courses. Computers have transformed the way we operate in every profession. As a result, it's only natural that the use of computers in education has received a lot of attention in recent years, especially during the epidemic of the 2020s.
6. Flexible Tutoring 
Instead of travelling multiple classrooms for each period, the computer or laptops can be utilized to serve a large number of students by sitting in front of the monitor in a single location. The computer's adaptability allows the teacher to save time by instructing the students in real time.
When students are ready to choose certain courses, they require real-time resources and updates, which innovation can assist them in finding. This allows them to identify the relevant course dates, assignment descriptions, and helps them plan their studies accordingly.
Examples of computer software and websites for tutoring:
Zoom meetings,

Moodle,

Google Classroom,

WizQ,

Tutorcruncher,

Yocoach.
In addition, certain educational websites on the Internet are developed exclusively for coaching. They provide everything needed to solve challenges. They also include step-by-step explanations to make learning more engaging.
Whether you're seeking for vocational training to improve your management abilities or a college student looking to study a foreign language, e-learning is a cost-effective option.
7. Learning Programs
There are numerous specific learning programs, instructional software, and websites available today that aid in the integration of basic knowledge, contribute to a child's mental development, and broaden his horizons.
Teachers can prepare courses in PowerPoint and teach using a computer, speaker, microphone, and projector in computer-assisted learning. It will be simple for the learner to interact and study in these environmentally friendly surroundings.
Furthermore, using a computer, the teacher can create a range of instructional teaching resources for students. For example, video editing software, information posters, introductory Photoshop classes, and, of course, computer presentations – it's difficult to envision a modern instructor without these.
8. Learning with Entertainment
Children in the twenty-first century begin to exhibit an interest in computers at a young age, and they quickly master them.
Today, various educational games, software, and programs have been developed for interactive lessons and tutorials where primary kids can learn counting, geometric shapes, online learning games, and much more in a fun way using computers in the classroom.
Instead of discouraging kids from using the computer for cognitive and educational objectives, parents and educators should encourage them to do so. This method allows them to naturally incorporate at least basic computing skills.
There's a lot of false perceptions around video games, and I would like to debunk one of them. Video games can actually be really educational and offer more than just "fun". For example, they can help improve your spelling, teach you mathematics or anything else.
9. Interactive Tools
Educational tools can be used to help students become more productive. Learning is more fascinating, easier to understand, and creative when interactive instructional technologies are used.
Additional movies and infographic pictures, for example, can be used to explain new chapters and topics. These will help with essay writing, project presentations, and homework. They can also use apps to help them schedule their personal reading time and keep track of their homework.
Examples of interactive tools for learning:
Classdojo,

Storybird,

Kahoot,

Edmodo.
From the herbal center to virtual designing, the use of computers has proven to be beneficial in every profession. Plagiarism checkers, for example, assist teachers in determining whether or not a student's coursework has been plagiarized.
Image search technology is another unique technique for locating photos if you are unable to grasp the image or simply want to learn more about something in the image.
10. Increased Performance
As you can see from the preceding points, using a computer to boost learning and execute work with ease is possible for both school and college students due to the availability of computer advantages and capabilities.
With the integration of the computer and the Internet in the educational sector, the entire institute improves by saving time and boosting working speed in tandem with the overall expansion of society.
Aside from the internet, these devices have other productivity-enhancing software such as spreadsheets, word processors, and presentation software.
They offer a more convenient way for you to limit the time that was spent on developing presentations. They are also perfect for use in creating forms, charts, and tables without too much fuss.
There are many different types of networks available and an education institute will be able to find a network that suits the layout of their campus. Wi-Fi is just one popular choice and can connect the entire building together.
Contribution of Computer to Administration of Educational Institutes
Maintaining records of students, teachers, and other working staff of the institution.

To analyze the reports, stats, and records of colleges and schools.

To deal with the Institute's accounts.

To send various important notices to teachers and staff either on the website or via email.

Computers are also used to make prospectus, syllabus, and paper pattern preparation.

To make news and magazine.