Best Film Schools In The World List
Introduction: What are film schools?
Film schools are educational institutions for people who want to learn about filmmaking. They provide a range of both creative and technical courses for aspiring filmmakers.
Most film schools charge tuition, which is typically expensive. For example, Columbia University charges tuition of $44,860 for the 2018-2019 academic year. Film schools are different from colleges in that they offer more focus on film production than academic fields like English, mathematics, or science.
Film schools are not only limited to the United States but they can also be found in countries like Russia and China. If you are interested in studying filmmaking abroad then you should look into these film institutions because they provide opportunities to learn about other cultures while also learning about how films are made in other parts of the world.
Is a Film Degree Worth It?
The film industry is a competitive one, but it is also a rewarding one. Gone are the days of people using film as a creative outlet. Nowadays, Hollywood and entertainment companies are looking for the next big star to bring in the money.
There are many ways to get into the film industry. One of these ways is hiring a college degree and more specifically, a film degree. Film degrees often come with an education on how to be successful in this field as well as some experience working on actual projects at school or on set.
Here, we examine why the answer to your question could be 'yes' depending on what you're looking to achieve.
#1. It Builds Resourcefulness
Filmmaking is a costly endeavor. There's no getting around it. The equipment is costly, and location permits can be prohibitively expensive.
However, many rental places and venues will provide film students significant discounts that you would not get if you showed up as your independent self.
Film school may also educate you how to get the most out of a minimal amount of equipment so you don't have to invest any further money.
#2. Builds Good Network
As with other occupations, you'll need to establish a strong network of industry contacts.
Going to film school allows you to learn from individuals who have already worked in the industry and made the errors so you don't have to.
You'll also have the opportunity to meet a number of new up-and-coming filmmakers with whom you might collaborate on projects.
It can also assist you in obtaining internships, crew experience, a job after graduation, and useful feedback on your work.
#3. Creates Opportunity
Film school isn't just one thing. There are many different types of programs you can attend covering a wide array of topics. Some are all theoretical and some are practical, while others are a hybrid of the two.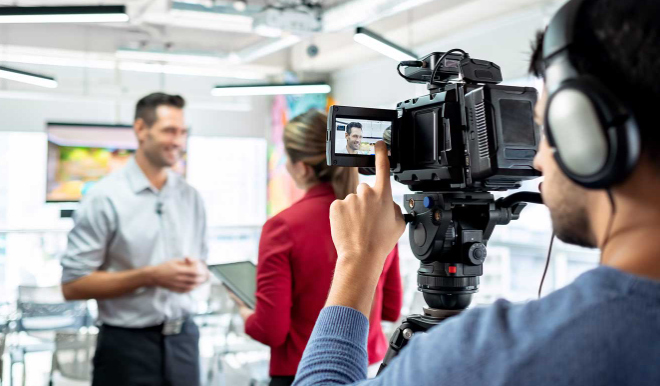 What Can I Do with a Film Making degree?
An interesting career option for someone with a film making degree is to work for a production company. They can produce TV commercials, corporate videos, and even documentaries. This is not the only job that someone with this degree could pursue; they can also go into film production which involves setting up the equipment and directing actors.
This section will explore the question: What Can I Do with a Film Making degree?
A film making degree can take you in many different directions. This degree provides a solid foundation in the technical skills needed to be successful in the film industry.
If film production is on your mind, you will have access to some of the following movie-making roles after graduating with a degree in filmmaking.
Broadcast presenter

Program researcher broadcasting/film/video

Television camera operator

Television/film/video producer

Television production coordinator

Advertising art director

Community arts worker

Marketing executive

Runner broadcasting/film/video

Movie/Film director

Brand ambassador

Actor/ actress

Scriptwriter
How Long Does it Take to Get a Film Making Degree?
Film-making is a complex and time-consuming process. It takes years of hard work and dedication to master the art of making movies. One has to start with some basic film-making courses and finally get a degree in the field before they can call themselves a professional.
It is important for one to know that not all film-making degrees are equal. Some schools offer more practical training while others offer theoretical education only. One also needs to understand that their goals will also dictate the length of time it takes them to get a degree in film-making. Those who want to become directors, for instance, will need more than 4 years on an average if they want be successful in their careers.
How Much Does it Cost to Study Film Making?
There are many routes to take to study film-making, and there is no set amount of money that is needed.
Film-making is a multidisciplinary field so there's no one specific education route. It's possible to go on a course, train as an assistant director or editor, or do an apprenticeship with a production company. There are also film schools and art schools which offer relevant qualifications.
The cost of studying film-making depends on the route you choose and where you study (e.g., it may be cheaper in your own country).
You must realize that these facilities must be realistically designed and outfitted with all of the equipment and software that you would use in the "real world." Just imagine the cost of providing a graphic representation of such instruction.
Furthermore, if the school is a private institution, it will not receive public assistance to help defray costs, therefore the costs will be passed on to the students.
In a nutshell, going to film school is pretty costly. Attending a film school often costs between $20,000 and $70,000 a year.
To complete a bachelor's degree in filmmaking, you may expect to pay up to $200,000 on average.
Film Making Degree Salary
The amount of money you make as a filmmaker is mostly determined by your level of experience, reputation, and the scale of the projects you work on.
Directors and producers in the motion picture and video industries had an average yearly income of $115,920 in 2011, according to the US Bureau of Labor Statistics. In the same year, the median income for all producers and directors was $70,660.
A senior-level filmmaker earns $51.41 per hour and has an annual salary of $106,939, while a top-level filmmaker earns $72.75 per hour and has an annual salary of $151,310.
Are film makers in demand?
Filmmakers are the creative minds behind the camera, and their work is more important than ever. The way we consume content has changed, and viewers want more from their entertainment mediums. Whether it's a blockbuster or an indie film – storytelling is evolving.
In this digital age, filmmaking requires more than just a good script and some cameras. In order to produce high-quality content on a budget, filmmakers need more skillsets – from scripting to editing to sound design. This means that there is a constant demand for both experienced professionals as well as fresher talent who can learn on the job instead of going for formal training in film schools first.
What are the Best Film Schools in the World?
Find other great film schools around the world in the list below:
USC School of Cinematic Arts, United States

American Film Institute (AFI), United States

UCLA School of Theater, Film, and Television at the University of California

California Institute of the Arts (Calarts), United States

National Film and Television School (NFTS), United Kingdom

New York Film Academy (NYFA), United States

NYU Tisch School of the Arts, United States

Toronto Film School, Canada

Sydney Film School, Australia

Film and Television Institute of India (FTII), India
#1. USC School of Cinematic Arts
Location: United States
USC has been certified as the world's only film school where students can learn all of the major areas of cinematic arts. The institution appears to provide a great multidisciplinary learning environment.
Students at USC take roughly seven classes each semester that cover film, television, and interactive media. They are exposed to the industry's most cutting-edge technology innovations and storytelling strategies, as well as the chance to meet and network with some of the industry's most successful mentors.
USC is known for having the top teachers and resources because its fundamental philosophy argues that the best education comes from creating an environment where theory and practice are constantly in contact.
Students can take courses in screenplay, directing, cinema and media studies, video editing, and more at this school.
#2. American Film Institute (AFI)
Location: United States
The American Film Institute is the world's second best film school. Students will study how to make movies at the AFI and will master not only the tools but also the art of storytelling. AFI is unlike any other film school in the world.
This school has produced some of Hollywood's most prolific content providers. Fellows work in six areas to produce up to 175 films per year: cinematography, directing, editing, producing, production design, and screenwriting.
#3. UCLA School of Theater, Film, and Television at the University of California
Location: United States
UCLA's aim for theater, cinema, and television is to be a leading multidisciplinary international professional school that produces outstanding humanist storytellers, industry leaders, and researchers whose diverse and innovative voices highlight change for the betterment of the world.
UCLA offers a wide range of programs to its students. Online programs, summer programs, and professional programs are examples of such programs.
TFT Online allows students to work on tasks when and where they want while still reaching predetermined deadlines. UCLA TFT majors and minors, as well as students from throughout the world, are welcome to attend.
#4. California Institute of the Arts (Calarts)
Location: United States
CalArts, located in Santa Clarita, Los Angeles, is one of the greatest film schools in the world. Newsweek/The Daily Beast has named the school as one of America's top colleges for arts students.
CalArts' six Schools—Art, Critical Studies, Dance, Film/Video, Music, and Theater—offer demanding undergraduate and graduate degree programs. CalArts has always promoted artistic excellence, critical inquiry, and the creation of new forms and expressions.
#5. National Film and Television School (NFTS)
Location: United Kingdom
Another top film school in the world is the National Film and Television School. The school offers more than 30 MA, Diploma, and Certificate programs, as well as a variety of short courses in film, television, and games.
In addition, there are more 'behind the camera' courses than at any other film school, including fundamental skill disciplines like directing and cinematography. Script monitoring and production accounting are two of their specialties.
Students at NFTS are taught by industry professionals and have access to cutting-edge equipment as well as once-in-a-lifetime seminars by world-famous film, television, and video game creators.
New York Film Academy (NYFA), United States
NYFA is a private arts school from the US, which was founded in 1992. The New York Film Academy offers courses in film, TV and games. It has student-produced feature films that have been recognized by the Cannes Film Festival and Sundance Film Festival.
One of their flagship programs is a 12-month intensive Master of Fine Arts (MFA) degree in Acting for Film and Television Program. This program gives students hands-on experience working with experienced instructors on set as part of a professional production crew for an actual scripted drama series. These productions are often performed live for an audience at the school's amphitheater, before the show is released publicly to film festivals or television networks such as HBO or Showtime.
7. NYU Tisch School of the Arts, United States
The Tisch School of the Arts offers undergraduate and graduate degrees in a variety of arts, design, and media disciplines.
Housed within the College of Arts and Science at NYU, Tisch offers Bachelor of Fine Arts (BFA) degrees in Acting, Dance, Design for Stage and Film; Integrated Media; Musical Theater; Photography; Playwriting; Producing (formerly Film & Television); Screenwriting; Sculpture; Theatre Design & Technology. It also offers Master's degree programs in Art Direction (MFA), Cinematography (MFA), Costume Design (MA), Design for Stage and Film (MA), Directing for Performance (MFA), Documentary filmmaking (MFA), Lighting Design for Stage and Screen (MA), Painting/Printmaking/Drawing/Photography.
8. Toronto Film School, Canada
Toronto Film School is a privately owned and operated post-secondary institution that offers a variety of academic and vocational programs in film and media arts.
The school was first established as the Toronto School of Radio Broadcasting in 1945 by John Bassett, an engineer and entrepreneur. It was renamed to John Ross MacLean College of Applied Arts in 1968. In 1988 it received full accreditation from the Ministry of Colleges and Universities, Canada to offer Bachelor's degrees in Arts, Science, Fine Arts, or Media Arts. In 2002 it received accreditation from the Ministry of Advanced Education and Skills Development to offer Master's degrees in Media Arts. In 2003 it received its current name to reflect its broadened mission as a provider of higher education programs for all aspects of film making.
9. Sydney Film School, Australia
Sydney Film School is an Australian film school in Sydney, New South Wales. It is located in the inner-west suburb of Glebe.
The school was founded by Fred Schepisi, Phillip Noyce, George Miller and Ridley Scott in 1957 as the National Institute of Dramatic Art. The institute became a fully fledged film school in 1970, and changed its name to Sydney Film School at this time.
10. Film and Television Institute of India (FTII), India
The Film and Television Institute of India (FTII) is an autonomous institute of national importance, located in Pune. It was set up in 1960 by the Government of India to promote excellence in the field of cinema and television production in the country.
It offers various courses in film-making, TV production, animation, graphics and other allied disciplines. FTII is one of the largest film schools in Asia with a huge number of eminent alumni across Indian film industries including Shyam Benegal, Girish Karnad, Saeed Mirza, Jahnu Barua among others.
Best Affordable Film Schools in US & Canada
University of North Texas
University of Southern California
New York University Tisch School of the Arts
San Francisco Art Institute
Indiana University Bloomington
Ohio State University
Top 5 Best Affordable Film Schools in Europe
One of the most popular topics for conversation is education. In this article, we are going to talk about film schools in Europe.
It can be a hard decision to make when choosing which school to attend. When deciding on a school, be sure to look at their programs and courses offered, as well as their location and cost of attendance. Some schools may offer scholarships or grants that could help lower the cost of attendance and you will want to research those as well.
In this article we will be looking at 5 affordable film schools in Europe that offer great programs and excellent facilities for those looking for a good film school.
The number one best affordable film school in Europe is University of Westminster (England). It offers a wide range of courses such as Documentary Production, Film Production and others.
The Best Cheap Film Schools in Australia and New Zealand
This is a list of the top ten cheapest film schools in Australia and New Zealand with the most affordable tuition fees.
1) Griffith Film School:
Griffith Film School offers a Bachelor of Fine Arts degree in Screen and Media which is available for AUD$10,200 per year.
2) University of Sydney:
The University of Sydney offers a Bachelor of Communication (Media Studies) degree for AUD$11,000 per year.
3) University of Technology Sydney:
UTS offers a Master's Degree in Media Arts and Industries for AUD$20,200 per year. This course provides students with insights into media arts, digital industries and innovation.
4) Swinburne University.
Conclusion
In today's competitive world, it is very difficult to get a good job. This is the reason why more and more people are opting for higher education. One of the most popular fields of education these days is film making. The film industry has seen a lot of new talent in recent years and if you want to become part of this growing industry, then enrolling in a film school is the best choice. But with so many film schools around, it can be difficult to decide which one will be the best fit for you. that is why we compiled a list of top 10 best cheap film schools for students that will help you make your decision easier!