Top Film Schools in the USA List
Many outstanding directors have achieved success without ever attending film school.
Many great video production companies have been founded by self-taught individuals with no professional training.
However, there are other reasons for wanting to attend film school.
Some people prefer structured learning environments, others prefer being instructed exactly what to do and how to do something, and yet others attend film school for the networking and interaction opportunities.
Here is a list of the Best Film Schools in the USA for individuals who desire to go to film school.
Introduction: What is a Film School?
In this section, we will talk about what a film school is and how it operates.
The word "film" has different meanings to different people. It can be a genre of movies or a medium to tell stories of various styles including the narrative, documentary, and experimental. As a result, film schools have their own unique definition and function in society.
Film schools offer a wide range of programs from cinematography, directing, screenwriting, production design, editing to animation and many more. Film schools are primarily used for vocational training for those who want to work in the industry as well as for people who want to pursue filmmaking as an art form.
Best Film Schools in the USA
#1. USC
This 92-year-old Los Angeles institution is the country's most prestigious film school. Its main claim to fame is that it is one of just a few media colleges in the world that teaches all of the major cinematic arts disciplines. New, creative programs are continuously being incorporated into the curriculum, such as Todd Garner's podcasting lecture and a diversity class that is required. On top of the $10 million check George Lucas wrote in 2017, Dean Elizabeth Daley continues to keep the school financially thriving by receiving yet another major donation of $20 million from a trust in honor of late Columbia Pictures TV president John H. Mitchell.
Tuition: $59,260 (undergrad); $39,900 (graduate)
Notable Alumni: Robert Zemeckis, Doug Liman, Tim Story, John Singleton, Shonda Rhimes
#2. NYU
The Tisch School of the Arts at New York University is the cornerstone of the city's famous film sector. Furthermore, some may be pleasantly delighted to find that the prestigious school is expanding its presence in Hollywood with a new permanent campus in Los Angeles, intensifying the competition with USC for film school supremacy. Additionally, this 55-year-old auteur factory is investing even more in its facilities with a performance center at its 181 Mercer St. building, which will be the largest and most cutting-edge edifice on NYU's campus when finished in 2021.
Tuition: $60,282 (undergrad); $65,926 (graduate)
Notable Alumni: Martin Scorsese, Elizabeth Olsen, Dee Rees, Rachel Bloom
#3. UCLA
The UCLA School of Theater, Film, and Television is a world-class interdisciplinary professional school that produces top-notch filmmakers, industry leaders, and academics. They've benefited from a $20 million gift from the Mitchell trusts (the same fund that provided $20 million to USC), with half of the money going to scholarships and the other half going to the UCLA Film & Television Archive. The Archive is the world's largest media library headquartered in a university. The school offers a cutting-edge curriculum that combines cinema, performance, television, and digital arts study and creation. Acting, directing, writing, producing, animation, cinematography, lighting, costuming, set, and sound design are all covered in these programs.
Tuition: $27,712 (undergrad, in-state); $57,466 (undergrad, out-of-state); $17,486 (graduate, in-state); $32,588 (graduate out-of-state)
Notable Alumni: Alex Gibney, Ava DuVernay, Frank Marshall, Marielle Heller
#4. Columbia University
The cinema school at Columbia University is unrivaled in its focus on the most crucial aspect of filmmaking: story. In addition to stressing narrative in its curriculum, the uptown Ivy League college has been expanding its production capabilities by adding new cameras and lenses to its huge two-year-old production center north of campus. Columbia University School of the Arts is a top national choice for working professionals from Hollywood and the independent filmmaking industry, thanks to its old-world gravitas combined with modern pedagogical embellishments.
Tuition: $55,056 (undergrad); $62,912 (graduate)
Notable Alumni: Kathryn Bigelow, Jennifer Lee, James Mangold
#5. American Film Institute
Despite a change in leadership in recent years, AFI has maintained a superb faculty that emphasizes a practical, hands-on approach to filmmaking education. Cinematography, directing, editing, production design, screenwriting, and producing are among the six MFA degrees offered at the acclaimed AFI Conservatory. In addition, AFI offers two intensive tuition-free programs: a women's directing workshop and cinematography. It appears that their recent focus on diversity and inclusiveness is paying well. The graduating class of next year will be 55% female, bringing new perspectives to the filmmaking process.
Tuition: $63,575 to $65,800
Notable Alumni: Patty Jenkins, Ed Zwick, David Lynch, Mimi Leder
#6. Loyola Marymount University
The spectacular Playa Vista campus, which contains three greenscreen studios, a Foley stage, and eight Avid editing rooms, was just launched by LMU's Film, Television, and Media Studies department. They're still not finished! The Howard B. Fitzpatrick Pavilion, a 25,000-square-foot edifice with a camera-teaching stage, a screening theater, and a motion-capture workplace, was officially opened by school dean Peggy Rajski. FTMS majors are encouraged to study abroad and emphasis on the historical and theoretical underpinnings needed to comprehend filmmaking, giving a well-rounded perspective that is essential for success in today's media ecosystem.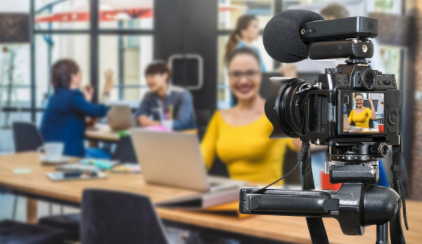 Tuition: $52,553 (undergrad); $33,240 (graduate)
Notable Alumni: Barbara Broccoli, Emily Spivey, Patricia Whitcher
Loyola Marymount Film School Website
#7. Wesleyan University
Jeanine Basinger, the famous cinema scholar who founded Wesleyan's film program in the 1960s and worked tirelessly to make it a top ten school, will be on the faculty for the launch of The Basinger Center for Film Studies. An extra 16,000 square feet of workspace, including a state-of-the-art theater and soundstage, will be added to this newly renamed and remodeled complex. Wesleyan University has long been a leader in undergraduate cinema studies, with all majors studying the film in the same way. From beginner to high levels, the program integrates historical, formal, and cultural analysis with filmmaking in 16 millimeter, digital, and virtual formats.
Tuition: $69,704 to $71,764 (undergrad)
Notable Alumni: D.B. Weiss, Lin-Manuel Miranda, Joss Whedon, Michael Bay
#8. Chapman University
The Dodge College of Film and Media Arts at Chapman University in Anaheim just added virtual reality and augmented reality minors to its curriculum, and this year's filmmaker-in-residence is producer Bill Gerber ('A Star Is Born'). The school provides a variety of undergraduate and graduate programs that focus on the quickly evolving entertainment industry, teaching students not just how to make stories, but also how to propose, produce, finance, market, and distribute them. Their cutting-edge facilities are open to prospective filmmakers 24 hours a day, seven days a week, and they have an award-winning faculty, many of whom are still working in the field.
Tuition: $56,830 (undergrad); $56,830 (graduate)
Notable Alumni: Matt and Ross Duffer, Justin Simien, Travis Knox
#9. UNC School of the Arts
The 30,000-square-foot New Media Building at the University of North Carolina School of the Arts houses top-notch CGI facilities. The school's animation, production, motion capture, gaming, digital design, and visual effects departments are all housed in the on-campus building. Meanwhile, two new MFA programs—producing and screenwriting—have recently been launched, and undergraduates are required to direct and shoot a variety of digital projects as part of a hands-on learning experience that covers every aspect of modern film production. The conservatory's mission is for students to develop into seasoned storytellers and well-rounded filmmakers who are proficient in all aspects of the moving picture arts.
Tuition: $23,040 (undergrad, out-of-state); $23,203 (graduate, out-of-state)
Notable Alumni: Zoe White, David Gordon Green, Danny McBride, Travis Beacham
#10. Emerson College
Despite its reputation as a tiny liberal arts college in the Boston area, Emerson boasts a large international network of film school collaborations. There's also a semester-long Los Angeles program that focuses on networking and internships to help students establish careers in the visual and media industries. Meanwhile, Emerson's home campus has recently upgraded media facilities, including advanced studio space for augmented reality, virtual reality, and three-dimensional modeling.
Tuition: $50,240 (undergrad); $1,296 per credit (graduate)
Notable Alumni: Norman Lear, Henry Winkler, Iliza Shlesinger
https://www.youtube.com/watch?v=yGLG97e0jhY
#11. Syracuse University
Students at Syracuse's huge upstate New York university can tailor their film education by enrolling in either the S.I. Newhouse School of Public Communications or the College of Visual and Performing Arts. Bachelor's and master's degrees in television, radio, and film are available from the former. It includes a work-study program in Los Angeles at Dick Clark Studios, a high-tech production environment, as well as access to a student-produced 24/7 television network. Film, art photography, art video, and computer art and animation are among the bachelor's and master's programs available at the latter.
Tuition: $24,270 (undergrad); $30,294 (graduate)
Notable Alumni: Bob Costas, Steve Kroft, Danny Zuker
#12. CalArts
It should come as no surprise that Walt Disney himself co-founded a school that focuses in and excels at animation. Students study dance, theater, film, and video, but it was at CalArts where John Lasseter studied before becoming Pixar's creative director (and where Pete Docter honed his craft before taking over). CalArts, in general, offers comprehensive degree programs in the visual, performing, media, and literary arts, with hands-on experience and individualized faculty mentoring at every level, through its six schools.
Tuition: $52,850 (undergrad); $52,850 (graduate)
Notable Alumni: Tim Burton, Brad Bird, Brenda Chapman, John Lasseter
#13. University of Texas
Radio-Television-Film is a department of the University of Texas at Austin's Moody College of Communication, where students learn about many media platforms and the art of creating cross-disciplinary content. In screenplay, cinema, and media production, the R-T-F department offers both a B.S. and an MFA. It has top-of-the-line high-tech production studios as well as a large greenscreen facility. Not to mention the possibility of running across Matthew McConaughey, who frequently comes to give classes.
Tuition: $10,946 (undergrad, in-state); $38,748 (undergrad, out-of-state); $10,882 (graduate, in-state); $20,310 (graduate, out-of-state)
Notable Alumni: Marcia Gay Harden, Matthew McConaughey, Wes Anderson
University of Texas Film School Website
#14. ArtCenter College of Design
Commercial filmmaking is emphasized at this creative arts university in Pasadena's western outskirts. This is unsurprising given the presence of renowned alumni such as Zack Snyder and Michael Bay. The university is known for its cutting-edge technology and facilities, which provide students with the latest tools to get started shooting right away. Students are then given the option of picking a specialized course, such as cinematography, editing, or directing, after acquiring a proper fundamental education in media. Graduates are given the option to create and direct a film or reel of their own work after completing the program.
Tuition: $45,776 (undergrad); $48,380 (graduate)
Notable Alumni: Zack Snyder, Michael Bay, Shelly Johnson
#15. Florida State University
Each student at Florida State University's College of Motion Picture Arts is guaranteed financing for their film projects, as well as 24/7 access to industry-standard production equipment and facilities. The academy teaches both essential filmmaking abilities and the most up-to-date storytelling approaches and techniques. Furthermore, the institution is proud of its more than 30-year track record of industry success, with 97 percent of graduates finding work within a year of graduation.
Tuition: $24,517 (undergrad, out-of-state); $51,032 (grad, out-of-state)
Notable Alumni: Barry Jenkins, Stephen Broussard, Kelsey Scott
#16. Stanford University
Students majoring in film studies at Stanford have access to a diverse curriculum that includes a new dedicated screenwriting program. Students are immersed in the fascinating history of world cinema, with the option of learning about the intricate evolution of animation thrown in for good measure. The fact that film and media studies are housed within the department of art and art history is a Stanford first. This provides students with a more contained, resource-rich environment in which to learn about the craft of storytelling while also gaining hands-on experience making movies with everything from 16mm film to digital video.
Tuition: $55,473 (undergrad); $54,315 (graduate)
Notable Alumni: Lisa Joy, Jon Alston, Sarah Naftalis
#17. Rhode Island School of Design
This Providence-based private college focuses on an immersive art and design education style. The program stresses strong liberal arts academics as well as hands-on learning experiences. RISD has continuously been recognized among the world's greatest educational institutions, and it's the ideal place to go if you're looking for the classic New England art school experience. Students majoring in film, animation, or video are given a comprehensive approach to creativity and pushed to go beyond their main curriculum.
Tuition: $53,820 (undergrad)
Notable Alumni: Seth MacFarlane, Robert Richardson, Gus Van Sant
#18. Ringling College of Art and Design
Ringling College in Sarasota, Florida, is working hard to establish itself as the top film school in the country. The school recently hosted a ribbon cutting ceremony for its amazing Studio Labs complex's third and final building. There are more than 5,000 square feet of editing suites, a complete Foley sound effects stage, a final color room, and various dubbing bays in the post-production complex. Few other universities can match the abundance of benefits available to students who prefer a more hands-on approach to learning.
Tuition: $45,130
Notable Alumni: Patrick Osborne, Andrew Halley, Mike Zeck
Ringling College Film School Website
#19. Columbia College
Columbia College's Cinema and Television Arts program in Chicago provides students with a well-rounded film school experience. Classwork and lectures on the history of motion pictures are combined with practical filmmaking projects at CTA. Film production, cinematography, writing, and directing are all part of the undergraduate and graduate program. The department also has a 35,000 square foot media center with two sound stages, a motion capture studio, and a cutting-edge post-production facility with audio suite, in addition to powerful lectures from industry veterans.
Tuition: $27,142 (undergrad); $37,588 (graduate, producing); $38,841 (graduate, directing)
Notable Alumni: Lena Waithe, Christian Sprenger, Bryan Smiley
Columbia College Film School Website
#20. Savannah College of Art and Design
SCAD provides film and television BFA, M.A., and MFA degrees at two lovely campus locations: Atlanta and Savannah, the school's namesake city. Students have access to the brand new, cutting-edge Savannah Film Studios as well as Atlanta's 60,000-square-foot digital media center. Emily Blunt, Armie Hammer, Maggie Gyllenhaal, and John Krasinski, to mention a few, have all visited the school's annual Savannah Film Festival, which has been a huge success. SCAD has responded by developing its own festivals, such as AnimationFest, GamingFest, and a TVfest.
Tuition: $37,575 (undergrad), $38,475 (graduate)
Notable Alumni: Clayton Haskell, Ken Rosen
What Kind of Degrees do Film Schools Offer?
Film schools are institutions that offer specialized degree programs in the field of film studies. The degrees that these schools offer usually depend on the type of school. Two-year colleges typically offer transferable degrees, while four-year colleges offer programs with a specialization in film.
https://www.youtube.com/watch?v=ALXZ-D7jEvA
How Much Does it Cost to Attend a Film School?
The cost of film school varies depending on the type of school, location, and the type of degree.
Film schools are now an important part of any filmmaking process. They offer a holistic learning experience that includes different aspects such as directing, cinematography, art direction and screenwriting. For those who want to enter this industry, film school is a must because it offers them with the necessary knowledge to be successful in their career.
Film schools offer many benefits for students but for those who attend privately-owned ones, the cost might be too high for some people and they may not be able to take out loans or scholarships. The average tuition fee ranges from $15000 to $20000 per year but it can be higher or lower depending on your chosen program or school.