List of famous streets in London, UK
London is a global city with many famous streets being tourist destinations. These are some of the most famous London Streets for tourists to visit.
About London
London is the capital of England and the United Kingdom. It is the most populous region with over 8 million people. London has a rich cultural heritage and it is home to many world-famous landmarks such as Big Ben, Buckingham Palace, Tower Bridge, and London Eye.
London attracts many tourists every year who come to marvel at its iconic buildings and enjoy attractions such as Madame Tussauds Wax Museum, Tate Modern and The Shard.
London also has some of the world's busiest airports including Heathrow Airport which handled 71 million passengers in 2017.
London has one of the densest street networks in the world. There are over 60,000 streets in London and yet many of the most famous London roads to visit are located within the West End, which is right in the centre.
There are a few streets in London that are on the outskirts of the city, such as Abbey Road and Portobello Road. Brick Lane and Columbia Road are close to each other and worth checking out at the weekend for the market.
There are so many iconic London streets for visitors to explore. From Knightsbridge to Oxford Street and Piccadilly, here are the most famous ones.
Here are the Most Famous Streets in London to Visit 2022:
Knightsbridge
Piccadilly
Regent Street
Downing Street
Jermyn Street
The Strand
Carnaby Street
Pall Mall
Brick Lane
Kings Road
17. Baker Street
Baker Street in London is a famous and well-known street, which is the home of Sherlock Holmes, the fictional detective created by Sir Arthur Conan Doyle. Baker Street is so popular because of its association with this character. This is one of the famous streets in London.
You can visit 221-B Baker Street, the fictional home of detective Sherlock Holmes, on this bustling street in Marylebone. This famous literary character has a museum located not too far away at 221b Baker Street which is an interesting tribute to him. Just pick up your ticket over here and head over!
Baker Street is notoriously named for the song by Gerry Rafferty. The iconic saxophone riff can be heard at the start of "Baker Street" and it also features the 33-meter deep Tufnell Park Underground Station.
One of London's oldest underground lines, the Bakerloo line starts here too!
The road is named after William Baker, who created this section of the street in 1755. Renowned residents include Dusty Springfield, who was living on this street in the 60s, and Prime Minister William Pitt the Younger, who lived at 120 Baker Street.
16. Savile Row
In the 18th century, when Beau Brummel made his mark with a long coat and high collar, with a cut that favored the natural shape of the body, he established a fashion that would last for decades. The Victorian era was the height of fashion.
The term Savile Row became synonymous with high-quality clothing. In 1815, Henry Poole opened his tailor's shop on this street in London's fashionable district and in 1846 it was given its Royal Warrant.
In the olden days, London's streetscape was a little different from today. The Roman era can be seen through inscriptions, there were periods of plague and plagues, and then the devastation of WWII. These days, Savile Row is a timeless example of English style.
Savile Row was founded in the 1730s and is named for Lady Dorothy Savile. Gentlemen flocked to Savile Row tailors for one-of-a-kind clothes. Charlie Chaplin, Horatio Nelson, Napoleon III, and Winston Churchill were among famous Savile Row patrons.
This well-known London street now also houses art galleries like Hauser & Wirth and eateries like Sartoria.
15. Abbey Road
The Beatles immortalized this leafy street in St John's Wood in their album Abbey Road, which was recorded here. The pedestrian crossing can be seen on the Beatles' album cover. The crossing has been designated as a Listed Building since 2010, which means it cannot be altered or demolished.
One of London's most well-known streets is Abbey Road. In the afternoons, a line of people forms to recreate the famous scene of people crossing the road in single file. You'll almost always have the place to yourself if you go early in the morning. This is one of the famous streets in London.
Although the recording studios are not open for guided tours, Abbey Road Studios hosts a series of pre-bookable talks in August.
14. Oxford Street
With nearly half a million people every day, this is Europe's busiest shopping street. When the Christmas lights are on show, there are occasionally even more.
Selfridges, Marks & Spencer, and John Lewis are among the department stores. Many multinational companies, such as Zara and H&M, can be found on Oxford Street.
AllSaints, French Connection, Jigsaw, and River Island are among the British fashion labels available. 214 Oxford Street is the location of Topshop's flagship store.
Oxford Street, possibly London's most famous street, is 1.5 miles long. Take a break from shopping and dine at the opulent Brasserie of Light within Selfridges.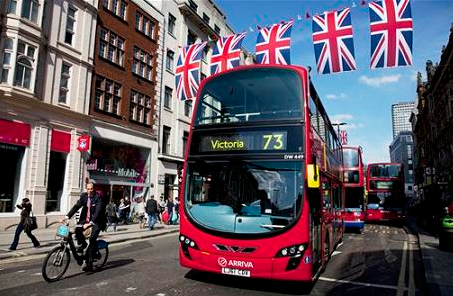 13. Columbia Road
A fantastic flower market may be found on this well-known East London street. It's a popular site to get plants and bouquets, and it's held every Sunday. From 8 a.m. to 3 p.m., the Columbia Road Flower Market is open.
Along the street are some nice little stores. Mason&Painter is a great place to go for vintage furniture and charming gifts. Angela Flanders creates beautiful bespoke perfumes, while Milagros London specializes in colorful Mexican products. This is one of the famous streets in UK.
If you're a meat-eater, go to Brawn, or go to Laxeiro for delicacies from the northwestern part of Spain. Vintage Heaven's Cake Hole Cafe is the place to go for sweet delicacies.
12. Portobello Road
Portobello Road is a colorful street with many vintage shops that rose to renown after being featured in the film Notting Hill. Every Saturday, a flea market sells everything from garments to old souvenirs.
Notting Hill Carnival takes place every August Bank Holiday on Portobello Road and the neighboring streets. It is Europe's largest street party.
The Travel Book Company, owned by Hugh Grant's character William Thacker, can be seen by fans of the Notting Hill film. Despite the fact that 142 Portobello Road is now a gift shop, the shop sign still reads "Notting Hill, The Travel Bookshop."
11. Bond Street
Bond Street, one of London's most upscale shopping districts, is actually two streets: Old Bond Street and New Bond Street. Sir Thomas Bond, who developed the property, gave them their name.
In the 18th century, this central London thoroughfare became known for its high-end businesses, such as Asprey, a jeweler with a Royal Warrant. There are also some fascinating art galleries to visit. The public is welcome to visit the Halcyon Gallery, Galerie Bartoux, and the Opera Gallery. Sotheby's is located at 34-35 New Bond Street in London. Monday through Friday, Sotheby's Cafe is open.
In 1797, Horatio, Lord Nelson, lived at 147 Bond Street. On the outside of the building, which is now an apartment complex, there is a Blue Plaque honouring him. This is one of the famous streets in London.
Fenwick, located at 63 New Bond Street, is a high-end department store. There are many spas and personal shopping services on the premises, as well as Bodyism Cafe, Carluccio's restaurant, and Bond Street Kitchen.
Close to the Chanel store is the Allies statue of Franklin D. Roosevelt and Winston Churchill. This remarkable monument, sculpted by Lawrence Holofcener and unveiled by Princess Margaret in 1995, represents the two leaders conversing on a bench.
10. Kings Road
Mods and Rockers frequented the odd clubs and boutiques on this West London street in the 1960s, and it became famous. Mary Quant, a well-known fashion designer, has a store here.
Today, several individual boutiques remain on the Kings Road, such as R.Soles, a cowboy boot shop. The department store Peter Jones is an excellent location to go if you want to buy elegant homeware.
At number 219, you'll find one of London's most Instagrammable eateries. Peggy Porschen's pastel pink bakery is picture-perfect, and her cakes are delectable.
Duke of York Square, located just off the King's Road, is home to various fashion retailers and restaurants with outdoor terraces. A pleasant al fresco terrace is available at the Saatchi Gallery Bar & Brasserie.
9. Brick Lane
The Sunday street market and curry establishments on this landmark East London thoroughfare are well-known. Beyond Retro and Rokit, both located in Spitalfields, are popular vintage clothing stores.
Brick Lane is also a wonderful spot to go if you're looking for sari fabric or other textiles. Dark Sugars, one of the top artisanal London chocolate shops, is located at 124-126 Brick Lane. This is one of the famous streets in UK.
One of London's most well-known streets, it was made famous in 1888 as the site of the Jack the Ripper murders. Brick Lane is now a hipster hotspot. On Sundays, visitors throng to Brick Lane Market and the Old Truman Brewery's stalls.
Lunch can be had at Blanchette East, a charming eatery that serves delectable small meals.
8. Pall Mall
Pall Mall stretches from Trafalgar Square to St James's Street, and is not to be mistaken with The Mall, which leads up to Buckingham Palace. The unique name stems from a 17th-century all-male ball game that was played here.
The Institute of Directors, a stunning Georgian edifice constructed by John Nash, is located at 106 Pall Mall. Number 89 is the Royal Automobile Club. Although the façade of this private members club is not open to the public, you can appreciate the Grade II listed building.
The Royal Opera Arcade, located near Trafalgar Square, houses an art gallery, a wine bar, and one of London's tiniest pubs. Drinkers at London Beer House regularly spill out into the street because there is only one small room.
7. Carnaby Street
In the 1960s, this stylish London street became recognized for its hip fashion businesses. Carnaby Street is still a shopping destination in London today. This is one of the famous streets in London.
Irregular Choice, at number 35, has distinctive women's shoes, while Lambretta Clothing, at number 29, has fashionable men's ensembles with a throwback atmosphere. PUMA and other streetwear labels are extremely popular among visitors.
Despite the fact that there is only one Carnaby Street in the globe, the Carnaby district, also known as the Newburgh Quarter, has 14 streets. Kingly Court, just off Carnaby Street, is a pleasant location to eat with three levels of restaurants like Dirty Bones and Pizza Pilgrims. Cahoots is a London tube carriage-themed underground pub.
6. The Strand
The Strand is one of London's most famous roads, taking its name from the old English word strond, which means "river's edge." It was popular with the aristocracy in the 17th century because of its strategic location connecting the City of London with Westminster. It runs from Temple Bar to Trafalgar Square.
The Twinings Flagship Store, located at 216 Strand, first opened its doors in 1706. This ancient tea room and shop is one of the city's oldest enterprises that is still in operation. This is one of the famous streets in London.
Somerset House is a beautiful Georgian art museum with various restaurants and cafes on the premises. The Royal Courts of Justice, often known as the Law Courts, is a magnificent Gothic Revival structure.
Richard D'Oyly Carte, the theatrical promoter, designed the Savoy in 1889. Only a few spots in London allow traffic to enter on the right side of the road, including this opulent hotel.
Since 1828, Simpson's in the Strand, located at number 100, has served British cuisine. Theatre-goers frequent the eatery before performances at the Vaudeville and Adelphi Theatres.
5. Jermyn Street
Jermyn Street is one of the top shopping avenues in London for males. DAKS and Hackett are among the famous gentlemen's outfitters that line this opulent street in St James.
Many men's shirtmakers can be found here, including Thomas Pink and Turnbull & Asser. There's also a major La Martina polo store, as well as John Lobb and Foster & Son shoemakers.
Paxton & Whitfield, the oldest cheese business in the UK, is at number 93, while Floris, a magnificent perfumery store, is at number 89. For great Italian food, go to Franco's or Fortnum & Mason's 45 Jermyn Street for its caviar trolley.
Beau Brumell is one of Jermyn Street's most well-known personalities. In the early 1900s, he frequented the street, and a statue of him stands in front of Piccadilly Arcade. Jeffery West men's shoes and Favourbrook luxury waistcoats are both located within this shopping gallery.
4. Downing Street
Downing Street, one of London's most iconic streets, is not open to the public. Because number 10 Downing Street is the office and London residence of both the Prime Minister and the Chancellor of the Exchequer of the United Kingdom. This is one of the famous streets in UK.
The entrance is guarded by a gate and a police squad, however, photography is permitted behind the fences. Former occupants include the Prime Ministers of the United Kingdom, as well as Larry the cat, a stray who has seen multiple Prime Ministers come and go.
If you have your heart set on a Downing Street shot, there's a great stand in front of number 10 Adam Street near the Strand. It has a striking resemblance to its more well-known counterpart!
3. Regent Street
Regent Street, another affluent London shopping street, is named after George, Prince Regent. The architect John Nash and property developer James Burton designed it in 1819.
The seasonal illuminations on Regent Street are usually a delight for visitors to London over the Christmas season. Mappin & Webb and Mulberry are only two of the many high-end boutiques in the area.
Although the main entrance is on Great Marlborough Street, the iconic department store Liberty London claims Regent Street as its postal address. Burberry is housed in a handsome building at 121 Regent Street, including Thomas's Cafe on the premises.
On Regent Street, the Hotel Cafe Royal is a fantastic place to stay. 
2. Piccadilly
The unique name of this street stems from a seventeenth-century collar known as a piccadil. Roger Baker, the tailor who created these frilled collars, was a local. He built a business and a house here, and the residence was quickly dubbed Piccadilly Hall.
Piccadilly is one of London's most recognized streets, and due to its central location, it is one of the most popular among international visitors. From Piccadilly Circus in the east to Hyde Park Corner in the west, the route spans for miles. This is one of the famous streets in London.
The renowned Eros statue may be found in Piccadilly Circus. The Shaftesbury Memorial Fountain is actually a sculpture of Eros' brother Anteros. A large electronic billboard with advertisements is located next to it.
Granaio at The Criterion, an opulent restaurant specializing in Italian delicacies, is also on Piccadilly Circus. In the former Wolseley car garage, The Wolseley is a trendy all-day cafe.
In the courtyard of St James's Church, there are various market stalls selling gifts. Hatchards, located at 187 Piccadilly, is a well-known London bookstore with helpful personnel.
Food presents can be found at Fortnum and Mason, while coffee table books can be found at Maison Assouline. Many important exhibitions are held at the Royal Academy of Arts. During the summer, there are food stalls in the courtyard.
1. Knightsbridge
Knightsbridge isn't only one of London's best streets, which is a bit perplexing. It's also a West London neighborhood that stretches from Hyde Park to Chelsea.
The majestic Brompton Oratory church, as well as the famed Victoria & Albert Museum, are both located in this wealthy London neighborhood. Harrods and Harvey Nichols are two of the most well-known premium department stores on the street.
Hyde Park is within a short walk from Knightsbridge. It was Henry VIII's former hunting ground and is the largest of London's four Royal Parks. This is one of the famous streets in London.
There are several magnificent hotels in Knightsbridge, including The Park Tower, The Berkeley, The Mandarin Oriental, and The Bulgari. San Lorenzo on Beauchamp Place and Harry's Bar on Basil Street are also popular restaurants.