Finding the right mentors and sources of inspiration is essential for newcomers to poker. Social media has become a great platform to meet famous poker players and get valuable advice. 
Famous poker players that beginners should follow on social media
There are many ways to learn how to play poker well. You can read books, watch training courses on YouTube, or hire a teacher at a poker club. Whichever option you choose, no information will be extra.
In particular, the nuggets of wisdom that famous poker players sometimes generously share with others will not hurt. Some of them do it on particular sites, programs, as pure win app, and social networks, which makes it easy for each of us to join them.
In this article, we'll look at what exciting players you can follow on social media if you're serious about learning to play poker.
Five famous poker players who are active on social media
Daniel Negreanu (@RealKidPoker on Twitter)
Daniel is a legend of modern poker. He is today's leading "celebrity" of poker, a kind of Michael Jordan of the card game. On his Twitter, Daniel Negreanu writes about the game and what's happening in the poker world.
And since his marriage, Daniel has started pampering his followers with posts about his home life, puppies, etc. In short, a real star.
Phil Hellmuth (@Phil_hellmuth)
Phil is a controversial person. He is one of the most successful players in various tournaments. And he often declares this without any shame. He directly calls himself the No. 1 poker player.
His arrogance and some boasting make his posts even more enjoyable.
Jean-Robert Bellande (@BrokeLivingJRB )
Probably the funniest and most optimistic of the famous poker players. He calls himself "the poorest" of all the players who play for big money. Bellande often complains that he loses all the time, but he always manages to find himself at the table with a big game and make significant bets simultaneously.
Belland often shares the details of his games with his followers, so you find yourself in the thick of it by subscribing to him.
Mike Matusow (@Themouthmatusow)
Mike Matusow, also often called "Big Mouth", is known for his expressive behaviour at the gambling table. And some of his statements during the game can be considered controversial. Following Mike is a must if you want to understand what you might encounter at the gambling table.
Mike often posts funny stories from the world of poker on Twitter.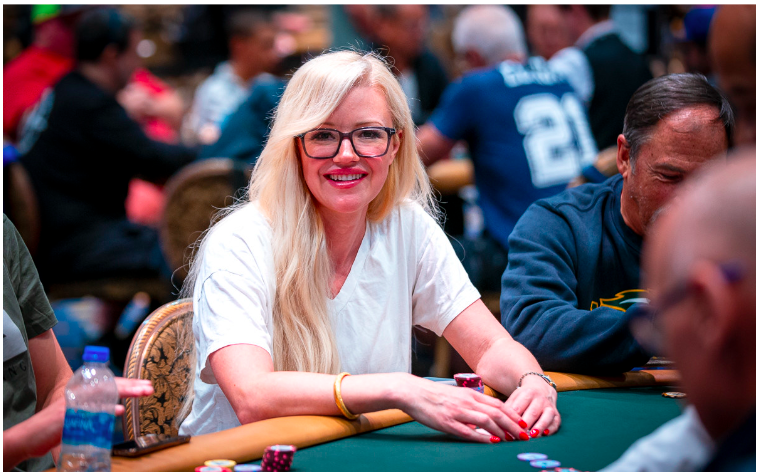 Veronica Brill (@Angry_Polak)
Veronica has been in the world of big poker for a long time and regularly updates her Twitter account. She writes a lot about what is happening in the poker community. News, rumours, and comments can be found in her tweets.
Veronica is not a big money player, making her account especially valuable for beginners still playing "small".
Reasons for the popularity of poker in the world
Poker is a game that wins the hearts of players worldwide, and its popularity is growing every year. Why is poker so attractive to millions of people? Several key factors explain this global passion for the game.
First, poker is a game of strategy and skills. It requires players to analyze situations, read their opponents, and make decisions based on limited information. This complexity of the game makes people fascinated and eager to improve their skills. Players invest a lot of time and effort in studying strategies, reading literature, and practising to improve at poker. It gives them a sense of achievement and satisfaction from constant progress.

Secondly, poker is a social game that brings people together. Poker creates a connection between players regardless of location, culture, or language. People worldwide can play at the same table, interact, and exchange opinions and experiences. It promotes cultural exchange, understanding, and international networking. In addition, poker requires communication, observation, and even psychological intuition, which makes the game exciting and interesting.

Thirdly, poker is an opportunity to win significant amounts of money. Tournaments with impressive prize pools and cash tables have made poker an exciting game and a means of earning money. Successful players can win large sums of money, attracting many's attention. However, it is worth noting that poker success depends on luck and the player's skills, knowledge, and strategy.
Thus, poker combines strategy, socialization, and the opportunity to win money. This combination makes it extremely attractive to players around the world. It stimulates skill development, fosters socializing, and provides a chance to succeed and win big.
Tips for beginners in poker
Poker is an exciting game that requires strategy, analysis, and skill. For beginners just starting their poker journey, it can be challenging to understand the basics and make successful moves. However, with the right approach and proper preparation, you can improve your game and achieve success. Here are some tips for poker beginners:
Learn the game's rules: First, familiarize yourself with and understand the poker laws. Thoroughly familiarize yourself with card combinations and hand hierarchy. It will help you know how a winning hand is formed and how to play with your cards.

Learn strategy: Develop your game skills and strategy. Learn different types of poker, such as Texas Hold'em or Omaha, and understand their features. Learn different poker concepts such as table position, betting, bluffing and other essential aspects of the game.

Practice for free: Many online poker platforms offer the opportunity to play for free. Use this opportunity to practice your skills, learn the game, and improve your strategy. Save your money in the beginning until you are confident in your abilities.

Be careful with your bankroll: Bankroll management is crucial to playing poker. Determine your bankroll and set a betting limit that you are willing to risk. Don't play with money you can't afford to lose, and avoid exceeding your financial capabilities.

Watch your opponents: Watch the players at the table carefully. Try to identify their weaknesses, playing style, and bluffing methods. Analyze their movements and behaviour to develop your strategy.

Remember emotional control: Poker is a game where emotions influence decisions. Learn to control your emotions and not react to the rudeness or provocations of other players. Stay calm, reasonable and focused on the game.

Take your time: It is essential to be patient in poker. Take your time when making decisions or placing bets. Pay attention to the details, think carefully about your moves, and act with discretion.
It's important to remember that success in poker comes with experience and improved skills. Focus on continuous development, practice and study the game, and over time, you can become a skilled player in poker.