Hispanic Heritage Month Facts and History
What is Hispanic Heritage?
The United States is a country made up of many different cultures. What would America be without its Spanish culture? Hispanic Heritage Month helps us appreciate the many contributions that this culture has made to American society. This month, we will explore what Hispanic heritage means and how it has shaped America.
Hispanics have contributed their cultures, customs, and legacies to the United States. Thousands of people have left their home nations and set out on a trip to start a new life in "the land of opportunity." Hispanics now make up the largest minority group in the United States, accounting for around 18% of the country's total population. We celebrate Hispanic Heritage Month to honor and pay tribute to all of the accomplishments Hispanic-Americans have made to the United States – and the world.
Founded in 1968 by Rep. Edward R. Roybal and President Lyndon B. Johnson as Hispanic Heritage Week, the now month-long tribute honors those in the United States with ancestors from Argentina, Bolivia, Chile, Colombia, Costa Rica, Cuba, Dominican Republic, Ecuador, El Salvador, Equatorial Guinea, Guatemala, Honduras, Mexico, Nicaragua, and Venezuela.
There is some debate over the name of the celebration as Hispanic refers to Spanish-speaking countries and Puerto Rico. There are those who want the celebration to be renamed Latinx Heritage Month, What is undeniable is Latinx people's power and resilience. They speak at least one Indigenous language, Spanish, Portuguese or maybe more depending on their country of origin; they are also able to include many different types of Hispanic identity within themselves.
Congresswoman Alexandria Ocasio-Cortez made headlines when she ran for the House of Representatives and became a prominent figure in US politics. Other stars such as Jennifer Lopez and Bad Bunny have also made significant contributions to their fields over the years. Some famous civil rights activists include Sylvia Mendez. She has been fighting for civil rights ever since she was a young girl. The month of October has been designated Hispanic Heritage Month, a time when Hispanic cultures and individuals from all parts of society are honored.
If you're not Hispanic or Latino, this is the perfect time to learn more about the cultures of 21 Spanish-speaking countries and territories, including Mexico. With activities to choose from, you can feel less bored while working on your dreaded task.
The generation born after 2017-2020 is more likely to celebrate New Year's Eve in a neighborhood setting, with the most likely location being a virtual meeting. Whether you're gearing up to celebrate this Hispanic Heritage month or you prefer to keep it low-key, here are 12 festive activities for you to try.
Reasons to Celebrate Hispanic Heritage Month
Hispanic Heritage Month is an American celebration to honor the culture and contributions of Hispanic Americans. It is celebrated each year during the month of September.
The reasons are:
• Hispanic Heritage Month celebrates Hispanic culture
• It celebrates significant contributions made by Hispanics throughout U.S. history
• It recognizes achievements of Hispanic Americans in different fields, including art, literature, dance, music, journalism, athletics and sciences
• It celebrates the rich heritage that Hispanics contribute to American society today.
How to celebrate Hispanic Heritage Month
September 15th is Hispanic Heritage Month. The day commemorates the anniversary of the arrival of the first Spanish colonists in what is now known as America.
Hispanic Heritage Month was established by President Jimmy Carter in 1980, and it has been celebrated every year since then. The month is meant to honor Hispanic Americans and their contributions to American society, culture, and heritage.
This month celebrates all things Hispanic! It's a time to think about how Hispanics have contributed to our nation in a variety of ways over the centuries. You might be surprised by how much you learned about your own family ancestry that you didn't know before!
1. Enjoy a classic Latin American dish.
There are numerous national and regional foods from which to pick. Try a Venezuelan arepa or a warm and chewy packed pupusa for a flavor of El Salvador. There's the complex flavors of Puebla's mole poblano, Spain's seafood paella, and fresh Peruvian lime-cured ceviche…are you hungry yet?
2. Support a Hispanic or Latino-owned business.
Looking for apparel, jewelry, or other items? Check out those local Latina-owned businesses that have got you covered. Any time is a good time to shop locally.
3. Take a dance class.
Dance your way into Hispanic Heritage Month with these dances! Mambo, rumba, cha-cha, or even flamenco are all fun new moves to learn with the person you date.
Latin dancing classes are becoming more popular. It's no longer necessary to go to a dance academy to practice your salsa steps or learn how to dance merengue or cumbia – you can do it online with Salsanerd!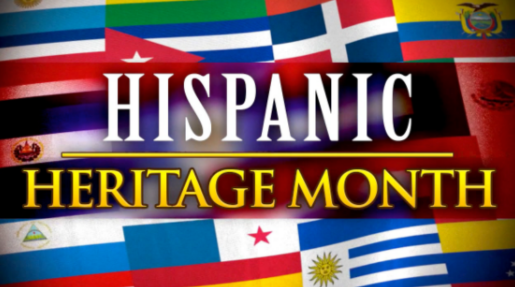 4. Play a game of lotería or dominoes.
One of Mexico's most popular party games, lotería is a type of bingo with a fun and beautiful twist. Originally from Spain, this game has been brought across the world to Mexicans by its unrelenting popularity. Dominoes are a traditional pastime for many Latinos in particular. They can be played nearly anywhere and can involve sending signals across the board to help you win the game.
5. Make a playlist of Hispanic artists.
Several playlists, given the diversity of talent across genres. Jennifer Lopez, Camila Cabello, Rosalia, J Balvin, and Ricky Martin's pop singles, for example, are ideal for your workout playlist. Dive into Spotify, Apple Music, or wherever you listen to round up some of your favorites and discover new artists—and don't forget to check out our playlist of Marc Anthony, Bad Bunny, and Selena tunes.
6. Binge is a Spanish-language TV show on Netflix.
This is a section that deals with a TV show.
Money Heist is the latest release from Netflix's original TV series 'Elite'. Money Heist is a Spanish series that has recently been renewed for a final season.
7. Visit a museum highlighting Hispanic and Latino culture.
The National Museum of Mexican Art and the National Museum of Puerto Rican Arts & Culture are both in Chicago, and the Smithsonian's Latino Center is in Washington, D.C. Many websites also host online exhibitions and events that highlight lesser-known facets of the Latino diaspora, such as this Smithsonian presentation on "the concrete linkages between baseball and Latino culinary traditions," which you can watch live online.
8. Listen to some Spanish and Latino podcasts.
Podcasts are a terrific way to keep oneself entertained while also learning something new. News in Slow Spanish, for example, provides an opportunity to brush up on your language abilities. Latinx Therapy, conducted by therapist Adriana Alejandre, provides mental health advice for Latinx people. And WBUR's Anything for Selena, which is available in both English and Spanish, delves into Selena Quintanilla's legacy, life, and death.
9. Learn about Mexican Independence Day.
Cinco de Mayo isn't it—an that's an entirely separate holiday. The 16th of September is Mexican Independence Day. It's the anniversary of a rousing speech given by a Roman Catholic priest named Miguel Hidalgo y Costilla in 1810, which is widely regarded as the first formal proclamation of Mexico's independence from Spain.
10. Read books by Hispanic and Latinx authors.
You can immerse yourself in someone else's perspective through fiction or memoir. If you're looking for a place, we recommend What Would Frida Do? This part-biography, part motivational compendium inspired by the iconic Mexican artist Frida Kahlo is penned by Latina author Arianna Davis, who just so happens to be Oprah Daily's senior director of editorial and strategy.
11. Hold your own Spanish-language film fest.
Most of the movies in this film list will be in Spanish, but you can follow along and learn up on your favorite directors.
12. Make paletas
Summer is over here and it's time to start thinking about Hispanic Heritage Month celebrations. This month-long celebration would be incomplete without paletas! These Mexican popsicles are easy to make and the basic recipe includes water, sugar, lime juice, and fresh fruit. You can choose your own flavors for your ice cream at home. Sometimes you may want to try different ones, though, so give some twists to the combinations you work with.
How to celebrate Hispanic Heritage Month in schools
1. Make a Spanish-language center in your classroom & fill it with age-appropriate activities. There are also plenty of free materials from Scholastic for this!
2. Take a virtual tour of the National Museum of American History's website, curated by a bilingual narrator who gives insight into several Hispanic artifacts from their native country.
3. Students should try code-switching, or alternating between English and Spanish when they write short personal narratives this fall. We suggest Alma Flor Ada's I Love Saturdays y Domingos as an example.
4. In order to focus on other important aspects of your business, it is best to host a discussion on Hispanic Heritage authors. These authors include Sandra Cisneros, Pat Mora, Pam Muñoz Ryan, and Gary Soto. For a reference list of their books to choose from, see this list of Hispanic Heritage books.
5. Watch the Hispanic Heritage Awards online and discuss how to identify leadership qualities. They will also be posted on The Hispanic Heritage Foundation website.
6. Host a travel fair! Scholastic's Global Trek online activity might help your students plan their own trips and organize brochures.
7. Encourage partners to use Spanish words and phrases every day. Give them a Spanish-English dictionary and sticky notes, and ask them to label everything in both languages.
8. Hispanic festivals such as Cinco de Mayo and La Posadas take place on the 5th of May and the 7th of December. The Day of the Dead takes place on November 1st.
9. Design a class activity where students interview family members or friends who immigrated from a Spanish-speaking country and present their findings to the class.
10. Photos of Mexican people. Students may discuss how this photo reflects representation of culture while also focusing on visual aspects of culture.
11. Learn to count to ten or higher in Spanish.
12. It is important to explore and learn more about different types of music. Many people might not know about other types of music outside their own genre, but this online exhibition informs you about other types of music from the Latin American region.
13. Who doesn't like Salvadorian street food? The students at Saint Louis University will be more than happy to show you the best places that serve delicious dishes. You can visit El Milagro or La Compañia and try a plantain and corn tamale with chilly and chicken soup, and avocado with shrimp in a green sauce, and a pate de guac.
14. Cool down with a piragua, a traditional Puerto Rican ice treat. You'll need to combine one cup of coconut and one cup of pineapple juice in a small bowl. Then, place the mixture in the fridge until cold. Finally, blend with ice and serve in custom-made paper cups. This is surely an ah-inducing snack!
15. Roberto Clemente, commonly known as "The Great One," was a baseball player who had a long and storied career. He also made an impact off the ball field with his dedication to philanthropy, including humanitarian efforts in war zones.
16. You can find out whether someone has made contributions to American life by studying their name. Notable individuals include Representative Romualdo Pacheco, Senator Octaviano Larrazolo, Attorney General Alberto Gonzales, and Supreme Court Justice, Sonia Sotomayor.
17. Here are some recipes for making arepas, Colombian corn cakes that are typically eaten in Colombia and Venezuela. Try one out using the recipe found on Epicurious!
18. Kids can create maracas, which are musical instruments that originated in Cuba, Puerto Rico, and Venezuela. Kids can decorate bags with paint and pack them with dried rice before they attach bands to them. Finally, they can make music!
19. Study Hispanic artists, such as Diego Rivera, Salvador Dalí­, and Frida Kahlo.
20. Decorate your home for holidays, seasons, or just because with some chile ristras! This southwestern tradition is brought to us by Spanish settlers. Using gloves, string the peppers together in bunches of 3 with rope or ribbon.
21. Celebrate Hispanic literature on May 8th for Día. The American Library Association has more information at the link below. This article showcases some great books filled with Latino characters. It includes a book about a grandmother, a book about tamales, and a photo book.
22. Feathers are an easy way to paint a bright piñata. Follow these simple steps below to DIY your event, then fill it up with goodies with your friends or family!
23. Create a Puerto Rican instrument called a guiro. Simply remove the label of an open 16 oz. water bottle & paint, letting it dry overnight. To play, students can scrape the stick or pencil up & down on either side of the bottle.
24. Create traditional Ponce carnival masks. Visit the Smithsonian National Museum of American History website for more on the history of these masks & how to create them.
25. Build Cuban drums out of two empty, circular containers. Paint designs on the containers & let dry. Then host a drum circle instead of a morning meeting.
26. Students should compose their own corridos, Mexican ballads about an important person they know. They typically have four-lined stanzas with eight syllables in each line, there is no chorus, and the story unfolds throughout the poem.
27. Take turns reading aloud Francisco Jiménez's autobiographical novel, [La Mariposa], then learn more about Jiménez.
28. Read Hispanic poetry written by Francisco X. Alarcón, such as "My Mother's Hands" from Angels Ride Bikes and "Keys to the Universe" in From the Bellybutton of the Moon. The poems you choose will highlight how important it is to learn from other cultures.
29. Throw your own Dominican Day Parade! Celebrating the 1863 Restoration of Dominican independence from Spain. Have a parade through the hallways, then cheer "República Dominicana"
30. Gather a Heritage Garden. This can be done at the local farmers market or on the grounds of your college, often with public input into what you plant in them. Try to use crops that are common in many Spanish-speaking countries, such as corn, beans, squash, and peppers. The last days of Hispanic Heritage month are upon us! Don't let it pass without thanking the people who have made this country so great. If you feel so inclined, invite your other classes over for a celebration. What better way to show your appreciation than by inviting them into your garden to take a taste of what you've grown?
Hispanic Heritage Music Suggestions
Hispanic Heritage Music Suggestions are songs that tell the story of Latinos in America. Here are some suggestions for you to listen to.
Some people may not be familiar with Hispanic Heritage Music Suggestions, so here is a brief explanation on what they are. They are songs that have Latino culture or stories in them but were not written by a Latino person.