It is no news that BBNaija show pepperdem edition for 2019 got Nigerians glued to their screens due to the controversial personality of Simply Tacha. she was one of the favourite housemates with Titans giving her full support.
In this article, we giving the details about your favorite bbnaija housemate named Tacha (Symply Tacha).
Symply Tacha was some people's favourite Big Brother Naija housemate, while others hated her passionately.
Here on webbspy, you will get the current updates on Symply Tacha biography, age, net worth, Instagram, height, weight and twin brother.
Tacha BBNaija Biography
Anita Natacha Akide is her real name but she is widely known as "Tacha" or "Symply Tacha". She is a popular Nigerian Instagram star, vlogger, businesswoman, makeup artist,  and one of the most controversial Big Brother Naija housemates on the internet.
She was born in Niger Delta region (in Rivers state) in 23rd December, 1995. Tacha currently resides in Port Harcourt, Rivers State, Nigeria and that explains why she is being called "PH City First Daughter".
Even before Big Brother Nigeria Tv show, Tacha was already famous on her Instagram page which has over 300k active followers and she had more than 3k followers on her twitter account even as she is not active.
Symply Tacha Facts
Real Name – Anita Natacha Akide
Age(2019) – 23 Years
Date Of Birth – 23rd December, 1995
State Of Origin – Rivers State, Nigeria.
Nationality – Nigerian
Relationship Status – In a relationship.
Occupation – BBN Reality TV Star, Instagram Influencer, Makeup artist, Vlogger & Businesswoman.
Known For – Big Brother Naija, DMW Davido Tattoo
Networth(2019) – Not yet disclosed.
Before Tacha's Popularity
Before she became a popular BBN reality Tv star, she was already popular on Instagram after she drew Davido's tattoo beneath her breasts. After that she became an instagram influencer and did a lot of advertisements for several brands.
Tacha's Education
Symply Tacha finished her primary and secondary formal education in Port Harcourt, Rivers State and that was where she got her first school leaving certificate.
She attended Ignatius Ajuru University of Education located in Rumuolumeni, Port Harcourt, Rivers State where she graduated with a BS.c in Sociology (in 2016).
Tacha's Relationship
Tacha's dislikes:   "I hate gossip with pure passion."
What are your plans with the jackpot?:  "Invest in new business ideas, increase the standard of living of my family and start a charitable foundation."
Why will you be a favourite fan?:  "Because I am SYMPLY TACHA. I am spontaneous, noisy, interesting, lively and fun."
Tacha's Age
Tacha was given birth to on the 23rd of December, 1995 and as of 2019, she is currently 23 years old.
Tacha's Height
Tacha's height is 1.65 meters tall.
Tacha's Weight
Tacha's Weighs  60 kg In Pounds.
Tacha's Net worth
As of 2019, Tacha has an estimated net worth of N100 million.
Tacha's Instagram page
Her instagram page is @symply_tacha
Tacha's Twitter handle
Her twitter handle is @symply_tacha
Tacha's Davido Tattoo
In February 2018, the Nigerian internet space got filled up with photos of a tattoo by one of Davido's highly obsessed fan. The tattoo bore the logo of DMW  -his new record label on her chest.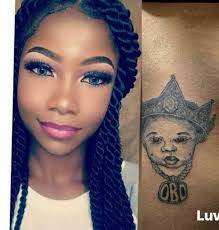 According to her, she had been in love with Davido and his music since his single titled Dami Duro was released in 2011 and is still in love with him.
When asked her reason for doing it, Tacha explained that;
"I got the tattoo because it's the only way I can show my love to him."
Well, she got Davido's attention with it on Instagram. After she shared a video of the tattooed DMW logo on her chest, Davido made a comment and also followed her.
She later met Davido in a night club afterwards.
Tacha video
https://youtu.be/XHubscnjewM
Quick question: Does Tacha really have body odour?