Chinese search engine List
Introduction: What is a Chinese search engine, and how does it work?
A Chinese search engine is a search engine that is made for the people of China. A Chinese search engine will have different algorithms than a Westen one, which means that when you type in the same word, it might give you different results than what you would get with Google or Bing. This is because they are trying to keep their users inside of their country and filter out foreign websites.
If you want to adopt an efficient marketing plan in China, you'll need to familiarize yourself with the country's most popular search engines. You've probably heard of Baidu, China's largest and most popular search engine. Most Chinese users, on the other hand, will never stay to a single search engine.
The internet in China is more fractured than in the West. Users can choose from a variety of platforms that cater to unique demands. As a result, a user may choose to bypass Baidu or any other general search engine in favor of a search engine that better meets his individual needs.
It is a good practice to target many Chinese search engines in consideration of this, and then depending on your audience, business goals, and even budget.
To assist you with navigating China's unique internet habits, we've included some useful information on how Chinese search engines work, which search engines are restricted in the nation, and even a Chinese search engine list.
Search Engines that are Blocked in China
China is the country with the most heavily regulated internet in the world. It is not surprising to find that many search engines and social media platforms are blocked in China.
Search engines such as Google, Yahoo! and Bing are all blocked in China.
Facebook, Twitter, Instagram and Youtube are all blocked as well.
The list of censored websites also includes Gmail, Wikipedia and Tumblr.
Even though Skype has been available in China for many years now, it too is banned from use on the mainland. However, results may be filtered or unavailable based on your query.
Yahoo and DuckDuckGo are two other major search engines that are not available in China.
Because many popular search engines are no longer available in China, it's vital to know which ones are still available and adjust your SEO strategy and marketing campaign accordingly.
The most used Chinese Search Engines in 2021:
Baidu, China's most popular search engine, controls roughly 72 percent of the market. Sogou comes in second with a 14.8 percent share. Shenma is next, with a 4.45 percent market share, followed by Haosou (3.7 percent), Bing, and Google, each with about 2 percent. The remaining market share is controlled by a number of search engines that, while not particularly huge, may be extremely relevant to your target demographic.
It's not easy to choose the best search engine in China, so we've compiled a list of what we think are their most important characteristics.
Here are the best Chinese Search Engines in 2022;
Baidu
Sogou
Shenma
Haosou (360 OU)
WeChat Search
Youdao
Weibo Search Engine
1. Baidu
Baidu is China's most popular search engine, comparable to Google in the United States. It was one of the first search engines to arrive in China, and its popularity has only grown since then.
Baidu is by far the most popular search engine in China. As a result, the focus of your SEO approach should be on ranking well on Baidu.
Even while Baidu has a similar user interface to Google, the search engine's logic differs in several areas. Because of these variances, Baidu's SEO strategies are not the same as those used by Google.
Baidu vs Google — What's the Difference
As the largest search engine in China, Baidu has a strong restriction on what non-Chinese websites can do. To win over this audience, your website must be translated into Chinese and hosted in the country of China.
Furthermore, Baidu prioritizes new and fresh content above length. As a result, instead of updating existing material or writing extremely long articles, it's ideal to concentrate on developing fresh content on a regular basis.
Other major differences include the fact that, unlike Google, Baidu prioritizes the homepage over internal pages, and schema.org markup isn't supported.
Furthermore, keep in mind that getting to the first page is difficult because it is frequently cluttered with adverts, leaving little room for organic results. Check out our SEO guide if you want to learn more about SEO in China, including how to use Google and Baidu.
2. Sogou
Sogou has been in business since 2004 and is China's second largest player. They were able to achieve a market share of 24.54 percent in December 2020, making them the Chinese search engine with the fastest increase in the previous year.
One thing to keep in mind is that Sogou has its own algorithm. As a result, don't hold your breath expecting Baidu SEO strategies to succeed on this search engine. Due to more economical pay-per-click ads, Sogou has proven to be particularly effective for businesses targeting audiences in low-tier locales.
Tencent Bets on Search Engines
Sogou recently gained worldwide recognition and acclaim when it came about the integration of its AI assistants with the WeChat app. No other Chinese search platform can rival this feature and we expect to see Sogou's stock price continue to rise as a result.
The company Tencent also developed the QQ browser, which includes Sogou as its search engine
3. Shenma
Shenma isn't well-known in the West, but its market share is expanding, so it deserves your attention.
Alibaba and UC Web formed a joint venture to create Shenma. Shenma, in reality, comes with UC Browser, a well-known internet browser. Shenma's user base is projected to continue to expand in the future years.
Shenma — The Mobile First Search Engine for Shopping and Apps
Shenma is notable for being a Chinese search engine that can only be used on mobile devices. Given China's extensive use of mobile devices, this is a critical consideration. Shenma is commonly utilized for shopping, books, and apps, in fact. Shenma is therefore a must-have if you operate in one of these market sectors.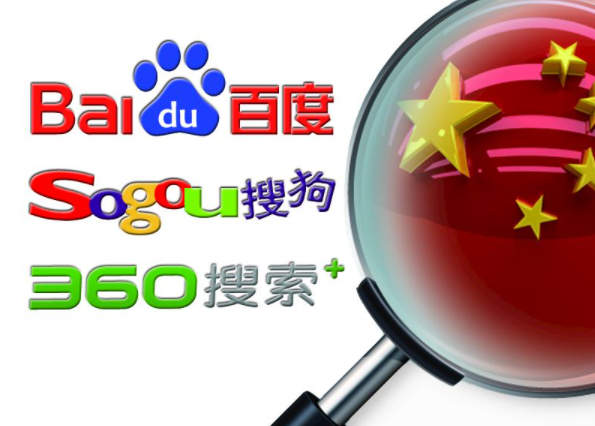 4. Haosou (360 OU)
Even though it has lately lost much of its market share, Haosou is an important search engine in China.
Behind the scenes of Haosou, however, is QiHoo 360, China's largest internet corporation. Most laptops in China come pre-installed with the QiHoo 360 browser, giving Haosou an advantage.
The search engine has a reputation for being more secure than Baidu, and it concentrates on a variety of services such as news, websites, videos, photos, music, and more.
Haosou Goes Beyond China and Arrives in Hong Kong
Haosou is a great place for foreign advertisers because it offers new marketing opportunities in China. A few years ago, QiHoo 360 partnered with an agent in Hong Kong to offer advertisements on the site. The new unit now makes it easier for western companies to advertise on Haosou.
5. WeChat Search
WeChat is one of the most frequently used social media apps in the world, especially in China.
Tencent added a search engine capability to WeChat in 2007. Only within the WeChat platform can you use WeChat search to find content. This search engine, on the other hand, has shown to be extremely valuable in a variety of ways.
Users like that they can use WeChat search to find services or verify company information before purchasing things.
6. Youdao
NetEase launched Youdao, a Chinese search engine, in 2007. Youdao allows you to search for websites, photos, news, music, blogs, and Chinese-to-English translations.
Hui Hui Assistant, a shopping assistant application that allows customers to compare products and prices online, was introduced with Youdao in 2012.
Best Option for Mandarin learners
Youdao is a Chinese dictionary that is well-received among Mandarin learners. What makes it valuable is the translation and linguistic indications along with self-contained example sentences.
7. Weibo Search Engine
Sina Weibo, which was founded in 2009, is a prominent microblogging site in China and one of the country's largest social media networks. In China, it is frequently referred to as the equivalent of Twitter.
Weibo has a real-time search engine that allows users to look up information in a variety of categories, including posts, events, users, apps, groups, and more.
How the Chinese Search Engines are Disrupting US Marketers & SMEs by Diverting Traffic
The Chinese search engine giant, Baidu, is providing a free voice assistant called DuerOS which can be integrated with a wide range of smart home appliances. One of the most interesting integrations is the new Google Home Mini.
Google has been working with some US companies to integrate Google Assistant into their hardware products. While the company also released a tool for developers to add voice capabilities on their apps and devices. This way, they are trying to get ahead of the Chinese giant by providing more options for American customers and SMEs.
It seems that these initiatives from Google are not enough to counterbalance China's lead in this industry as Baidu still has an edge over its US counterpart when it comes to device integration and practicality for everyday use cases.
The Best Practices for SMEs in Using the Chinese Search Engines for Marketing Purposes
The Chinese search engines are the most widely used in China. They have more than 800 million users that are accessing their services on a daily basis. The main search engine in the country is Baidu, which has approximately 60% of market share.
Numerous other consumers rely on other local search engines to find what they are looking for online. If you want to reach an international audience, this will not be enough. You need to have your presence felt on the top international search engines as well.
The best practices for SMEs in using the Chinese search engines for marketing purposes consist of three core components:
1) Understanding how these platforms work and their differences;
2) Developing content for these platforms;
3) Optimizing your website and content with SEO techniques for these platforms.
Conclusion
As we have discussed in this article, there are many other search engine options for Chinese users. The one most commonly used may be Baidu but there are several others that can provide a solid alternative.
Preparing for the Chinese market requires understanding different types of search engines, so your company gets the most exposure possible.
If you are looking to expand your business to the Chinese market, it is a good idea to find an SEO agency that can help with your specific needs as part of the local culture and understanding the internet environment. Working with a specialist will help maximize your chance of success in China.