Best Luxury Spas in India, According to Experts and Ourselves
Introduction: Why You Should Go to an Indian Massage Spa
There are many reasons why you should go to an Indian massage spa. You can find some of the main reasons below.
The first reason is that Indian massage spas offer a variety of different services, such as massages, reflexology, and other treatments. This means that you can get all the benefits of a spa in one place and not have to go to different places for different treatments.
The second reason is that there are many benefits to having an Indian massage spa experience. For example, it has been shown to reduce stress levels and improve sleep quality.
The third reason is that there are many types of Indian massage spas available for you to choose from. You can find one near your home or office or one near your vacation destination if you are traveling somewhere else.
Life, death, labor, and enjoyment are all thoroughly saturated with static in our environment. A signal attempting to make its way into the darkness. As a result, if one tunes in to the static rather than what counts, a sedentary lifestyle is unraveled. Meditation and Yoga help you become more conscious of your body so you may achieve harmony with your mind and spirit; it's an attempt or a quest to discover your own peace and divinity. Here are some of the best spa resorts in our country, whether you're searching for a detox on the outskirts of town or just some pampering in pristine forests:
Top 10 Best Luxury Massage Spas in India
Here are the Top 10 Best Luxury Spas in India to visit in 2023;
Ananda In The Himalayas, Uttarakhand
Jiva Spa at Taj Malabar, Kerala
Wildflower Hall, Shimla
Devaaya Ayurveda Spa Resort, Goa
Somatheeram Ayurveda Resort, Kerala
SOUKYA Holistic Health Centre, Bangalore
Maya Spa, Kerala
The Terraces, Uttarakhand
Kairali Ayurvedic Health Village, Kerala
Mayfair Spa Resort, Sikkim
1. Ananda In The Himalayas, Uttarakhand
Uttarakhand is a leading wellness and spiritual destination in India, nestled in the perennially gorgeous Himalayan foothills. Ananda is well regarded as a wellness resort, with a mix of East and West well-being concepts and a concentration on the qualities of Ayurveda and Vedanta treatments combined with international wellness programs. Over 80 health and beauty treatments, outdoor lap pools, and yoga courses are available to guests.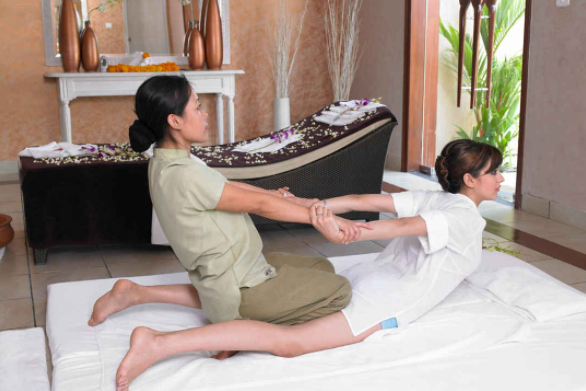 2. Jiva Spa at Taj Malabar, Kerala
It doesn't get much better than the calm backwaters of Kerala when it comes to a conventional spa trip. In this luxurious hotel on Kochi's Malabar Coast, rejuvenate with a wide choice of therapeutic massages, body washes, and wraps provided by trained skilled hands. Your limbs will be soothed and your mind will be refreshed thanks to Ayurveda's hidden herbs and a beautiful natural surroundings.
3. Wildflower Hall, Shimla
Get to Shimla, the uncontested queen of hill stations, for an unexpectedly uplifting experience. The Oberoi's multi-award-winning spa resort, set at 8,250 feet and surrounded by 22 acres of dense alpine woodlands, exudes elegance, luxury, and, most importantly, offers a respite from an irregular lifestyle. Don't leave without taking a plunge in the outdoor whirlpool, which is perched on the edge of a cliff with breathtaking views. Ayurvedic treatments as well as Oriental therapies based on age-old methods are available.
4. Devaaya Ayurveda Spa Resort, Goa
Goa's beaches and forts are just the tip of the iceberg; dive deeper for a full Konkan experience. Devaaya is a premium Ayurveda and yoga retreat located 12 kilometers from Panjim that offers residential programs for 'Panchakarma,' which is the finest approach to detoxify, cleanse, and revitalize body, mind, and soul through a holistic treatment.
5. Somatheeram Ayurveda Resort, Kerala
In the world's oldest Ayurvedic resort, nestled near Kovalam Beach, experience the healing effects of therapeutic therapies. This lovely beach resort is a pioneer in promoting Ayurvedic vacations and meditation excursions to visitors. While 'Pizhichil' is a massage that employs lukewarm herbal oils to treat paralysis and nerve problems, 'Nasyam' and 'Snehapanam' can help with skin conditions and sports injuries.
6. SOUKYA Holistic Health Centre, Bangalore
Soukya is a one-of-a-kind luxury wellness facility in Bengaluru's Whitefield neighborhood that specializes in alternative health treatments. It's a residential integrative medical center run by Dr. Mathai that offers guests a taste of the renowned Indian saatvik lifestyle. Shareera for weight loss, Santosha for detox and relaxation, Sukha for de-stressing, and a special Leech therapy to cleanse the body of toxins are all included in the wellness packages.
7. Maya Spa, Kerala
The Zuri Kumarakom Resort, located on the palm-fringed banks of Vembanad Lake in Kumarakom, offers one of the largest spas in southern India. Its two wings, one dedicated to Ayurvedic therapies and the other to western-style massages, offer a wide range of skin treatments, reflexology, and even Shiatsu. Maya Spa is a genuinely excellent resort, having been certified by the local government for its thorough approach and genuineness. Request the Cloud 9 massage, which includes a peaceful head massage on a floating waterbed.
8. The Terraces, Uttarakhand
In terms of quality, setting, and service, this boutique spa resort is unrivaled. It is located in the village of Kanatal, near Mussoorie, and appeals to anybody seeking a peaceful and cathartic vacation. Exotic body pampering treatments, scented oil therapies, and Thai massages are available at Spa Esencia. In the winter, visitors can enjoy the stunning snow-covered valley from an outdoor unisex Jacuzzi and Sauna on the rooftop.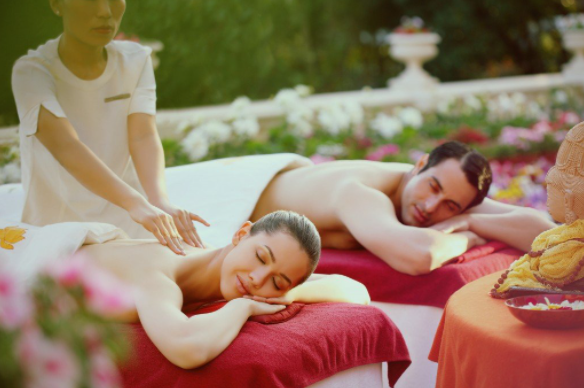 9. Kairali Ayurvedic Health Village, Kerala
The lovely village of Palakkad in "God's own Country" is home to Kairali — an eco-friendly resort, which is surrounded by the lush foliage of the Western Ghats. This cutting-edge resort combines traditional Vedic hospitality with well-known health methods for stress relaxation, arthritis treatment, migraine treatment, and weight loss.
10. Mayfair Spa Resort, Sikkim 
Check out this premium resort while visiting Sikkim's famous Buddhist temples and picturesque valleys. Its spa, which has 12 therapy rooms, has a divine scent. It offers a wide range of affordable pampering services, including facials, mud massages, reflexology, and honeymoon packages.
Nature is unquestionably an excellent treatment for restoring balance to the human senses. So, take a trip to rest, revive, and renew yourself using nature's healing gifts.
How to Find the Best Indian Massages in Your City
There are many reasons why people go for massages. They can help you to relax, to reduce stress, and to soothe the body. But what if you cannot find a good masseur? This is when it becomes difficult.
Massage is an ancient practice that has been used for centuries in many cultures around the world. There are many different types of massages which can be classified as either being therapeutic or relaxing. The Indian massage is one of the most popular types of massages in the world and it originates from India. This type of massage is characterized by long strokes that are applied with pressure on various parts of your body, including your back and feet.
The best way to find a good masseur is through word-of-mouth referrals from friends or family members or from the list on our website.
How to Prepare for a Massage at an Indian Spa
The first step is to take a shower and exfoliate. This will ensure that your skin is clean and free of dead skin cells. The second step is to put on your robe and sandals. The third step is to head over to the waiting area, where you'll be given a drink and some snacks.
The fourth step is when you'll be escorted into the massage room, which has relaxing music playing in the background. You can then choose between two types of massage: Swedish or Thai. Swedish massage uses long strokes with a lot of pressure, while Thai massage uses acupressure points on your body to stimulate blood flow, relieve tension, and relax muscles.
What Types of Treatments Can You Expect at the Best Indian Spas?
Indian spas are a way to relax and rejuvenate your body, mind and spirit. There is a variety of treatments available at the best Indian spas.
Some of the most popular treatments are:
-Ayurveda: Ayurveda is an ancient healing system that aims to balance the three doshas in order to improve health and well-being.
-Body Scrub: A body scrub is a treatment that removes dead skin cells from your skin by using exfoliating agents such as salt, sugar or coffee grounds.
-Massage: Massages are an ancient form of therapy which can help relieve pain, stress and anxiety.
There are many other treatments available at the best Indian spas, so it's worth checking them out!
Conclusion: Why Visiting an Indian Massages Spa is Worth It!
The Indian massage is a traditional practice that originated in India. It is a holistic and therapeutic treatment that aims to bring the body and mind back into balance.
The benefits of an Indian massage are numerous. They include improved circulation, pain relief, reduced muscle tension, increased energy and mental clarity, as well as emotional balance.
An Indian massage can also help to reduce stress levels by releasing endorphins which are natural painkillers and mood enhancers.
It can also be used to treat conditions such as sciatica or arthritis, as well as chronic pain caused by injury or illness.
In addition to these physical benefits, an Indian massage can be used for spiritual healing too. This includes releasing emotional blocks that may be holding you back from achieving your goals in life.