Free virtual number for whatsapp apk
Connecting with friends, family, and colleagues across the globe has never been easier, thanks to the power of virtual number apps for WhatsApp. In an increasingly interconnected world, these apps offer a game-changing solution for maintaining communication without boundaries. Whether you're a globetrotter seeking cost-effective international calls, a privacy-conscious individual safeguarding personal information, or a business aiming to enhance customer interactions, the world of virtual number apps has something exceptional to offer. Join us as we delve into the realm of the best virtual number apps for WhatsApp, exploring their features, benefits, and how they're reshaping the way we stay connected in today's digital age.
Also Learn how to make money on whatsapp free.
What is a virtual number?
A virtual number, also known as a virtual phone number or virtual phone line, is a telephone number that is not directly associated with a physical phone line or a specific telephone device. Instead, it is routed to a destination number of your choice, such as a landline, mobile phone, VoIP service, or even an application.
Virtual numbers have a range of uses and benefits, including:
Privacy: Virtual numbers can help maintain your privacy by providing a separate number for specific purposes, such as online purchases or business inquiries, without revealing your personal phone number.
Local Presence: Businesses can use virtual numbers with area codes from different regions to establish a local presence and increase customer trust.
International Communication: Individuals and businesses can acquire virtual numbers with international area codes, allowing them to communicate with people in other countries without incurring high international calling charges.
Call Forwarding: Calls made to a virtual number can be forwarded to another phone number, ensuring that you can answer calls regardless of your location.
Temporary Usage: Virtual numbers can be used for temporary purposes, such as signing up for services, receiving verification codes, or participating in events without giving out your primary number.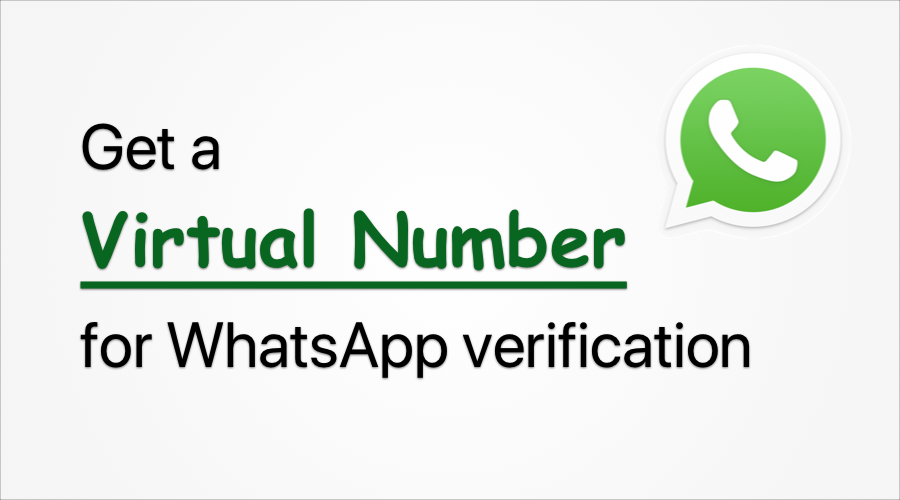 10 Best Virtual Number App for Whatsapp Online Free
1. Hushed – Best for Managing Multiple Numbers
Hushed is an exceptional virtual phone number app that specializes in providing temporary and second phone numbers. What sets Hushed apart is its flexibility in offering a variety of disposable numbers, while also giving users the option to register for a toll-free number. The app ensures the safety of your private phone number and facilitates SMS, MMS, and call functionality similar to a traditional phone number. One of its standout features is the automatic response to text and WhatsApp messages received on your virtual number.
Features:
Manage multiple numbers within a single app.
Access your number using Wi-Fi or data connections.
Maintain privacy and security in your conversations.
Customize and record voicemail greetings.
Affordable international call rates.
Bundled minutes and SMS for local communication.
Cross-device compatibility through account login.
Integration options with Dropbox and Slack.
Supports call forwarding and routing.
Offers both local and international numbers.
Pros:
Provides a second number.
Allows selection of numbers from different countries.
Enables access via Wi-Fi.
Ensures secure conversations.
Cons:
No free trial available.
Occasional connectivity issues.
Key Specs:
Supported platforms: Android and iOS.
Price: Lifetime Plan for $25.
Free Trial: Not available.
2. Numero eSIM – Best for Generating Phone Numbers Electronically
Numero eSIM stands out as a top virtual number app by offering the unique feature of generating a phone number electronically, eliminating the need for an extra SIM card. This app provides instant data connectivity through eSIM data plans, enabling online and offline services along with free roaming. With compatibility across various messaging and social networking apps, Numero eSIM proves to be a versatile choice.
Features:
Instant data connection provision.
Roaming services without traditional fees.
Voicemail sending functionality.
Multiple customer support channels.
Local and international call options.
Select the right bundle at economical prices.
Pros:
Collect points for a free phone number.
Convenient cancellation from the app.
Personalized voicemail options.
Cons:
QR code activation may take a while.
Key Specs:
Supported platforms: Windows, Mac, Android, and iOS.
Pricing: Plans starting at $0.97 per month (varies by country).
Free Trial: Not available.
See: How to Download GB Whatsapp Pro latest version 
3. SMS-MAN – Best for Quick Virtual Phone Numbers
SMS-MAN specializes in providing virtual phone numbers for receiving SMS online from over 30 countries. It's a reliable solution for bypassing phone number verification on various platforms, including Amazon, WhatsApp, Facebook, and Gmail. With affordable options for WhatsApp activation and a focus on eliminating the need for expensive SIM cards, SMS-MAN proves to be an efficient choice.
Features:
Instant acquisition of virtual phone numbers.
Economical rates for signing up on popular services.
Unlimited receipt of SMS from over 270 countries.
Pros:
Global access to their service.
Safe and confidential platform.
24/7 instant SMS reception.
Cons:
No free trials available.
Key Specs:
Supported platforms: Android, iOS, and Windows.
Pricing: Plans starting at $0.25 per month.
Free Trial: 5-Day Free Trial.
4. Talkatone – Best Overall Virtual Phone Number Provider
Talkatone offers comprehensive communication features, including free calls, SMS, and media sharing. It allows users to obtain a free US phone number, which can be changed at any time. The app's focus on international calls over Wi-Fi makes it a valuable tool for those seeking virtual numbers for WhatsApp and other messaging apps.
Features:
Personalized free US phone number.
Changeable phone number.
Connection with friends and family.
Free US/Canada phone number for texting and calling.
Local and international number options.
Group messaging without limits.
Pros:
Free SMS and picture messages.
International Wi-Fi calls at no extra cost.
High call quality.
Cons:
Ads present in the free version.
Customer support could be improved.
Key Specs:
Supported platforms: Android and iOS.
Pricing: Free software.
Free Trial: Lifetime free basic plan.
5. TextNow – Best for Free Calls/Texting to US Phone Numbers
TextNow provides users with a free phone number for making calls and sending texts to most US numbers. It stands out as a prominent virtual number activation app, particularly over Wi-Fi networks. Users can choose between purchasing minutes or earning credits for free calls, making it a budget-friendly option.
Features:
Passcode security for messages.
Customizable ringtones and alerts.
Affordable international calls.
Dedicated phone number for connectivity.
Quick response to friends.
Pros:
Voice mail transcription support.
Wi-Fi calls and texts over a nationwide network.
Home screen widget for instant use.
Cons:
No free international calls.
Ads present in the free version.
Key Specs:
Supported platforms: Android, iOS, Windows, and Mac OS.
Pricing: Free with ads, $9.99/month for ad removal.
Free Trial: Yes (with ads).
6. SMSreceivefree – Best for Offering Premium Permanent Numbers
SMSreceivefree offers free virtual phone numbers for verification and registration purposes, with the unique feature of refreshing numbers every month. It's a secure choice for those seeking premium permanent numbers backed by physical SIM cards, with the added convenience of SMS deletion after one week.
Features:
Instant message availability.
Global message reception.
Free online SMS.
Pros:
No limit on SMS to virtual numbers.
Permanently deleted messages after one week.
Cons:
Limited customer support.
Lack of additional features.
Key Specs:
Supported platform: Windows.
Pricing: Free.
Free Trial: Free software.
7. Burner – Best for Creating Disposable Phone Numbers
Burner allows users to create multiple disposable phone numbers, making it a great tool for maintaining privacy and security. It offers the convenience of additional phone numbers while ensuring easy removal from devices once their purpose is fulfilled.
Features:
Spam and call filtering.
Pin lock for unauthorized access prevention.
Third-party integrations.
Customer support through various channels.
Virtual SIM numbers for multiple countries.
Pros:
Creation of disposable numbers.
Custom voicemail messages.
Do Not Disturb feature.
Cons:
Limited visual aids.
Key Specs:
Supported platforms: Android and iOS.
Pricing: Plans starting at $4.99 per month.
Free Trial: 7-day trial.
8. TextPlus – Best for Texting and Media Sharing
TextPlus offers an actual phone number for unlimited calls and texting, making it a convenient communication tool. With the ability to make inbound or app-to-app calls, TextPlus stands out as a valuable choice for staying connected within your social circle.
Features:
Free SMS and MMS to US and Canada.
Cloud hosting.
Changeable phone numbers.
Media sharing.
Unlimited voicemail.
Pros:
Free messaging.
Free calls to other TextPlus users.
Walkie-talkie feature.
Cons:
Advertisements in the free version.
Limited notifications.
9. Telos – Best for Global Communication
Telos offers virtual phone numbers for international communication, making it an excellent choice for individuals and businesses with global connections. It provides options for both local and international numbers, and its features cater to a wide range of communication needs.
Features:
Virtual phone numbers for global communication.
Call and text functionality.
Voicemail and call forwarding.
Free calling and texting to other Telos users.
International call rates at competitive prices.
Pros:
Global communication options.
Free communication within the Telos network.
Competitive international call rates.
Cons:
Limited free features.
Key Specs:
Supported platforms: Android and iOS.
Pricing: Varies based on usage.
Free Trial: Free initial credits.
10. MySudo – Best for Privacy and Security
MySudo is a virtual number app designed with privacy and security in mind. It offers users the ability to create multiple "Sudo" profiles, each with its own virtual phone number and associated email address. This allows for separation of personal and professional communications, making it an ideal choice for those who value data privacy.
Features:
Multiple virtual phone numbers (Sudo profiles).
Separate phone numbers and email addresses for different contexts.
Secure communication with encryption.
Temporary or permanent numbers.
Call and text functionality.
Pros:
Enhanced privacy and security.
Separation of personal and professional communications.
Encrypted communication.
Cons:
More focused on privacy features than additional services.
Key Specs:
Supported platforms: iOS.
Pricing: Plans start at $0.99/month.
Free Trial: Yes (limited features).
FAQs
How do you get a free virtual number for WhatsApp?
Obtaining a free virtual number for WhatsApp typically involves using online services that offer temporary phone numbers. These services generate a virtual number that you can use to receive verification codes. Keep in mind that free options might have limitations, such as availability and duration of the number. Also, be cautious about sharing sensitive information with these services.
How to verify WhatsApp without the verification code?
While WhatsApp typically requires a verification code sent to your phone number, there are alternative methods to verify your account:
a. Call Verification: If you don't receive the SMS verification code, you can choose the "Call me" option. You'll receive an automated call with the code spoken aloud.
b. Email Verification: In some cases, you might see an option to verify using your email address. This method is useful if your phone number isn't readily available.
c. Two-Step Verification: WhatsApp also offers two-step verification, which involves setting up a PIN. This adds an extra layer of security to your account.
d. Contact WhatsApp Support: If you're still facing issues, you can reach out to WhatsApp's support for assistance.
Remember that these methods might not work in all scenarios, and it's important to follow WhatsApp's guidelines for verification.
How to select a virtual phone number for WhatsApp activation?
Selecting a virtual phone number for WhatsApp activation involves a few key steps to ensure a smooth and successful process. Here's a guide on how to do it:
Choose a Reliable Provider:
Start by researching reputable virtual number providers that offer reliable services. Look for providers with positive reviews and a history of delivering functional virtual numbers.
Check WhatsApp Compatibility:
Not all virtual numbers are compatible with WhatsApp. Make sure the provider explicitly states that their numbers can be used for WhatsApp activation.
Available Countries:
Some virtual number providers offer numbers from specific countries. Choose a number from a country that aligns with your needs, such as a number from a country where you have contacts or business interests.
Free vs. Paid Options:
Decide whether you're willing to pay for a virtual number or prefer to use a free option. Free options might have limitations, so consider your requirements before making a decision.
Privacy and Security:
If privacy is a concern, look for providers that prioritize data security and don't store your personal information longer than necessary.