Best strategies on how to market your Mobile app 
Marketing is a never-ending battle. Marketers are always coming up with new strategies to keep their brands relevant and profitable. In this article, we'll take a look at some of the best marketing strategies that will help your business succeed in 2023.
Mobile devices have changed the way people do business. This has led to a broader understanding of marketing and how it works, which is why you should be using these mobile app marketing strategies for your company. Many businesses are not aware of this trend in consumer behavior, which can lead to their demise if they don't change quickly. With new smartphones coming out every year, it's important that you're always up-to-date with what is happening in the industry so that you know what tactics will work best for your goals and budget. It's all about knowing where to put your time and energy!
Mobile app marketing is difficult, but not impossible. There are many best practices that can be implemented to help grow your app's business and generate more revenue.
For an app to succeed, it needs a marketing strategy. The best mobile app marketing strategies can help you make your app into the best-selling one in the market. However, with so many options out there, how do you know which ones are best for your business? In this blog post, we will share with you our top ten best mobile apps marketing strategies that have helped us achieve success!
Here is how to market your Mobile App in 2023 (best strategy):
Conduct market research to understand your customers
Create a website, or landing page
Promote on social media
Paid strategy
App Store Optimization (ASO)
Ask users for feedback
Consider a burst campaign
Offer a referral bonus
Set Goals and Track Key Metrics
Market Research
Before marketing a mobile application, it is best to do some research. A lot of companies spend a ton of money on app marketing only to have poor results because they never thought about who their target audience was and what features the app had. Market research helps you avoid that by giving your company an idea of how best to market its mobile application.
– If there are specific customers in mind, find out where those people hang out online – keep this in mind when advertising or designing any collateral material for the app!
– Ask yourself: Who am I targeting? What are they looking for? Why would my product be valuable to them? How can I make sure they know about me without spending too much money upfront?
– Review other similar apps or products.
Beginner's Guide to Marketing Your Mobile App
The Awareness, or Pre-Launch Stage
Before you can launch your mobile app, it's important to think about how people will come across it. The awareness stage is designed for building brand visibility and making sure that the product has an engaging experience before its release. One way of ensuring this is by determining what type of messaging resonates with potential customers; if they connect on a deeper level through shared values or purpose then there may be more success in generating downloads after spending time at the conception phase coordinating messages around those topics or otherwise designing features which work toward meeting their needs directly (i.e., engagements).
1. Determine a release date
Before you can release your mobile app, it's best to set a date. This will help guide the marketing campaigns and ensure that these efforts are focused on getting people interested in downloading the product before its launch day.
2. Conduct market research to understand your customers
It's best to conduct market research before releasing your mobile app. This will help you understand who your target audience is and what they want from their mobile experience.
You'll also need an understanding of the competitive landscape, which brands are doing well in this area, and why.
Sometimes there can be a disconnect between customer needs or expectations and your company's best efforts to meet those needs.
The best way to find out what customers want is by analyzing their behavior patterns which can be done through mobile research strategies such as surveys, focus groups or one-on-one interviews with actual consumers. This will help you understand where they are coming from in terms of how to best interact with your application.
3. Create user personas
Creating User personas will help you better understand who your different customers are and what they want. This will result in a more cohesive strategy for app marketing best practices that's geared towards the needs of each persona.
User personas also provide valuable insight into the best promotional strategies, which media channels work best to reach the target audience, as well as design considerations like user interface, storyline, and more.
User personas are best created by interviewing your customers in a friendly setting where they can feel free to share their thoughts without any pressure or repercussions. Asking the right questions will help you understand what features of your app appeal to them most as well as why they use it day-to-day.
4. Conduct a competitive analysis
Competitive analysis helps you understand the best way to optimize your app for mobile devices.
Market research is a powerful tool that can help you identify what may be preventing customers from downloading and using your application, as well as ways in which it could best improve functionality or content offerings
Asking more detailed questions about competitors will also reveal unmet needs among users, such as a lack of features or specific functionality within your app.
For example, if one competitor is not the best in the market and you are the best, it would be good to show them that their application doesn't have something which yours does. It's all about making sure they don't go for other options but stay with yours.
5. Create a website or landing page
Create a website landing page for your app, making sure it is optimized for mobile and sticks to best practices.
It's a best practice to create an email list that can be used for periodic promotions or announcements, as well as include the option to subscribe on the landing page of your website.
6. Outreach initiatives
One of the most overlooked and underrated aspects when marketing a new mobile product is reaching out to influencers, publications, bloggers for reviews. Keep your pitch concise with links to press kit or landing page so that if they are interested in writing about it then you have all information at their fingertips.
7. Promote on social media
Open a Facebook page for your app, and start building up an audience. You can also use Twitter or any other social media to promote your best mobile product with posts that keep people engaged by showcasing what makes it different from the competition.
Building a list of followers will help you increase brand awareness and build loyalty among consumers who are looking on social media for new innovations in their particular niche.
8. Create a content marketing strategy
Another best practice is to have strong content marketing strategy so create compelling video ads, blog posts or infographics as part of your overall campaign that gets shared across various networks which drives traffic back to website landing pages.
The Acquisition Stage
There are methods to acquire users and it is important that you constantly refine your strategy. Aim for as many downloads in the first week after launch, then focus on what's working best for app download growth. If an app gets a lot of downloads right away, they'll rank higher than apps getting slower rates of adoption because people will be more curious about them; but if your goal is a long-term success over short-term gain, there are certain strategies that can help maximize revenue generation even with slow user acquisition patterns early on:
It's crucial to track where new installs originate from so you know which channels work better or worse depending on advertising budgets available and geographic location among other factors.
1. Paid strategy
A more expensive method of app promotion, this strategy is best for apps with high initial download rates.
You can set a budget on how much you are willing to spend and then track downloads or installs per day depending on the metric your analytics reports.
This will give you clear insight into what channels work best for driving customers in the desired niches to download your app.
2. App Store Optimization (ASO)
ASO is best for apps that have a high number of downloads.
The idea behind ASO is to improve your app's visibility in the App Store by optimizing metadata, keywords, and descriptions so they are more likely to show up higher in search results and to be clicked on by shoppers browsing through what's available.
You can use an ASO tool like SearchMan or Sensor Tower to help you find other relevant words or phrases people might type into the App Store when looking for similar products—and then insert them with strategic placement throughout your text description.
For example "match-three" instead of just "puzzle".
This tactic has proven effective because it increases the likelihood that users will see what you've got to offer.
By optimizing this piece of information, you are more likely to get a click from someone who is also looking for an app like yours—even if they don't end up buying it in the end! This strategy has proven effective because it increases the likelihood that users will see what you've got to offer.
3. Pitch to Apple's editorial team to be featured in the App Store
This includes submitting your best screenshots and video, being active on social media and providing them with valuable content.
In addition, create a press kit for journalists who are looking to share your story as well! This also means that you need an app preview video—which is a short (less than three minutes) promotional film of what the user will experience when they download your app. Apple's editors look at these reviews before deciding whether or not to feature it in the store.
The Retention Stage
A lot of businesses come up with an acquisition marketing strategy, but then fail to create a retention plan because they think that since they've acquired new customers it will naturally follow. However, if not enough people are using the product or service in question regularly and consistently, this can be problematic for business owners and managers who want their company to grow. To get ahead of these problems before too much damage is done you should develop a plan for retention marketing while simultaneously developing your acquisition campaign so as long-term success becomes more possible down the line; below is some guidance on how to do just that:
1. Establish two-way communication with your customers
A great way to make sure that you're able to talk with your best app marketing strategies is through social media, but it doesn't stop there; the best mobile apps will also have a customer service feature so that they can respond quickly and efficiently when any issues come up – this empowers them to have a deep understanding of what best app marketing strategies needs to do in order to best suit the customer's wants and desires.
2. Push Notifications
Make use of push notifications for best app marketing strategies and make sure that they are not too annoying; the best mobile apps will offer a frequency option, as well as an on/off toggle so that users can decide which type of best mobile app marketing strategy notifications best suit their needs.
If you're considering using push notifications for your best mobile app marketing strategy, here are some best practices to make sure that they won't annoy your users:
– Offer a frequency option as well as an on/off toggle so that best mobile app marketing strategy notifications best suit the user's needs.
– Ensure these best app marketing strategies not too annoying and don't show up in between conversations or while reading out of personal best mobile app marketing strategy.
– best mobile apps that offer In-App Notification best practices are best for the user experience and can boost your acquisition rates.
Steps for continued success
1. Ask users for feedback
Ask users what works for them best mobile app marketing strategy best practice, be open to their feedback and thank them!
A big part of a strong user experience is engaging your users and keeping them coming back for more. If people are using your app constantly, it's likely because they have established some sort of connection with the product you've created (or maybe even to the brand). To encourage feedback from these loyal fans, think about when would be appropriate to ask for reviews in order not to frustrate or anger them unnecessarily.
2. Consider a burst campaign
Burst campaigns are a popular technique among mobile app marketers who want to gain exposure for their apps. Burst campaigns involve the purchase of paid media over a short period, usually anywhere from 24-72 hours depending on budget and other factors. The goal is get as many people downloading your app through these burst purchases so that you can quickly climb in rankings and have more organic downloads once ranked high enough to be discovered by users searching within an application store or website such as Google Play Store, Apple App Store, etc
How to Make Money on Onlyfans in 2023 for Beginners (Smart Guide)
3. Offer a referral bonus
Offering a referral bonus can help you build your app's existing user base. Users are more likely to take advantage of this offer when they know that their efforts will result in something tangible and valuable for them, such as receiving an exclusive coupon or being able to download another app at no cost.
4.Set Goals and Track Key Metrics
To best measure, your mobile app marketing efforts set some goals for yourself and track the important metrics. This will allow you to determine what works best when it comes to certain channels such as search engine optimization (SEO), influencer outreach, or paid advertising on social media platforms like Facebook and Instagram.
The most effective marketing strategy of all is to have a game plan and set goals in the first place. Without this, it's impossible for you to know if your plans are working or not because there isn't anything concrete that can be measured against. As we've established before, measurement should occur throughout each stage of the user journey (acquisition-retention) so as an ongoing process rather than just post-event reviews at annual intervals – which means having analytics monitored constantly will allow for more insights into how users interact with your products/services from start to finish!
5.Don't Over Promise
Don't over-promise anything and everything. This is simply a best practice in any type of marketing, but it's especially important for app marketers because if you're promising features that your product doesn't have yet – or even worse, something they'll never be able to do with the platform at all (e.g., being able to post on Facebook from within an app) – then customers will leave feeling disappointed when they discover there was nothing true about what you said. It can also lead them to develop negative feelings about your brand altogether which means they may not take another chance on one of your products again later down the line.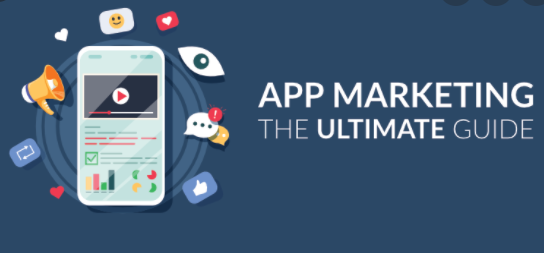 Top 10 Best app marketing strategies in 2023 
Here are the best Mobile Apps marketing Strategies in 2023:
Research Your Audience
Understand Your Competitors
Market Early
Prepare Your Press Kit & Other Materials
Optimize Your App Store Page
Get Reviews
 Work Social Media
Use Influencers
Monitor Results
Don't Forget SEO
1. Research Your Audience
Start with a good understanding of your audience. Do they speak English? What's their age group? Are they male or female? By knowing this, you will be able to create content which is best suited for them and that can resonate most effectively with the people who are likely to download your application from an advertisement. It will also help target any demographics within the population in order to increase traffic on sites like Facebook.com and Twitter.com. Researching helps you understand what kind of ads would work best for different groups so that you can advertise more efficiently, getting better results out of less time spent advertising!
2. Understand Your Competitors
It's important to know who you're up against. Find out what they are doing and how best to beat them! If your competition is better, try looking for a niche market that may be too small or not profitable enough for bigger apps.
Social media networks are a great way of finding these groups because they provide the best opportunity to reach people in smaller markets than those available on general websites like Google, Yahoo!, etc. Social Media sites allow you to target marketing campaigns by location, age group, interests, and more which means better results from less time spent advertising. Some social networking websites include Facebook where there are over 500 million users worldwide as well as Twitter with 200+ million active members (not including inactive accounts).
3. Market Early
Early marketing of a mobile app can help an app get more exposure. While it may be tempting to wait until the end, early-bird promotions and discounts are best for gaining publicity before competition becomes too fierce.
Promoting your new app as soon as possible will give you time to build up a fan base rather than building one up as your app is slowly becoming obsolete.
This early bird strategy is part of digital marketing and can also be used for marketing before an app's release, with the anticipation of promotion and buzz building up to launch day as a way to give potential customers or influencers something new to talk about.
4. Prepare Your Press Kit & Other Materials
Marketing a mobile app can be difficult if you don't properly prepare materials. The best thing to do is make sure your press kit includes all the information that journalists and bloggers will need to write about your app, such as screenshots of what it does best, links for download on each platform (if applicable), and any additional videos or demos that best represent the app, as well as a one-sentence description of what it does best.
If you are in development and just starting out your marketing strategy, make sure to also prepare any other materials that might be necessary for bloggers or journalists who want to write about your app – such as a link to an FAQ page.
5. Optimize Your App Store Page
Your app store page should ideally be designed to highlight your best features. You can also use keywords in the name, subtitle and back-end search terms for best results on mobile searches.
The process of App Store Optimization (ASO) is the key to success for any app developer. It involves improving your app's visibility in both Google Play and Apple's App Store, which can be critical to a user journey as even if you have an aggressive marketing campaign directing potential users back into the store, that doesn't mean they will install it. ASO also attracts organic installs without cost due its importance on keywords – something similar across SEO efforts too!
6. Get Reviews
In order to increase the likelihood of a positive review, take care in providing customers with an excellent user experience. This includes offering responsive customer service and clear instructions for using your app. If you do these things, there's no reason why people won't be happy with their purchase!
7. Work Social Media
If you want to be successful, social media is the best way to get your app and business in front of millions. Twitter has proven itself as a go-to platform for marketers looking to connect with potential buyers because it allows users to send messages out to an entire network at once by tweeting links or news updates directly from their account.
Building an online presence is crucial for a successful business regardless of industry or size of operation. This includes social media posts that promote your brand on platforms like Facebook, Instagram, Whatsapp and Twitter.
ALSO SEE: How to go Viral on Twitter Free!
8. Use Influencers
Sharing your app with influencers is best when combined with other marketing strategies. There are many apps that have been successfully promoted by the help of a single celeb endorsement, and if you're lucky enough to get one on board for free then go ahead and take it!
While celebrities don't always come cheap, they do offer an unparalleled level of reach. For example take a look at Top Tiktok Influencers.
The best way to go about this is by getting in touch with influencers, or more specifically a PR agency that specializes in digital marketing and social media. This will ensure that you get the best value for your money and that they can do all the hard work for you!
9. Monitor Results
Once your app is out in the world it's best to keep a close eye on how well it's doing. One of the best ways for you to do this is by using Google Analytics!
You can see who has downloaded your app and where they're coming from, as well as their demographics if you want. You'll also be able to see which of your marketing campaigns are best performing and what type of content is resonating best with people.
If you're looking for a cheap way to market, try using Google AdWords' Keyword Tool!
It allows you the ability to find keywords related to your app that other companies might not be targeting but still have the potential to gain you more users.
10. Make use of SEO
One of the best ways to get your app noticed is by using SEO, which stands for Search Engine Optimization.
SEO helps you rank higher in search engine results pages and can increase traffic to your website or blog.
It's a great way to promote your mobile app without having to spend any money on advertising!