Top 10 fashion designing colleges in Europe and the World
In a world where fashion reigns as a powerful form of self-expression, creativity, and artistry, it's no wonder that aspiring fashion enthusiasts seek guidance and education from the best in the business. Fashion schools have long been esteemed institutions that nurture and cultivate the talent of budding designers, stylists, and industry professionals, propelling them to the forefront of this ever-evolving industry.
Choosing the right fashion school is a crucial step for individuals who wish to carve a path in this glamorous and dynamic field. From iconic fashion capitals to lesser-known destinations, there are institutions scattered across the globe that offer exceptional programs, state-of-the-art facilities, and a network of industry connections, molding students into the visionaries of tomorrow. This schools would help you become one of the best fashion designers in the world.
In this blog post, we embark on a captivating journey, exploring some of the best fashion schools in the world. We will delve into their unique approaches to education, their renowned alumni, and the impact they have had on shaping the global fashion landscape. Whether you dream of designing breathtaking collections, organizing extravagant runway shows, or dissecting the latest fashion trends, this guide will provide invaluable insights to help you make an informed choice.
Prepare to be inspired as we uncover the institutions that have become synonymous with innovation, excellence, and the pursuit of sartorial mastery. From the legendary fashion houses of Europe to the rising stars of Asia and beyond, we will traverse the continents to showcase the best fashion schools where dreams are transformed into reality.
So, if you're ready to immerse yourself in a world where fashion knows no boundaries and creativity knows no limits, let's embark on this exhilarating journey together, as we unveil the best fashion schools that shape the future of style.
How the Best Fashion schools are ranked
Fashion school rankings are determined by considering various metrics that assess the quality and reputation of the institutions. These rankings aim to provide an objective evaluation of the schools based on key factors that contribute to their overall excellence. Here are the seven major metrics that are commonly used to rank the best fashion schools in the world:
Perceived Global Brands Influence (20%): This metric measures the influence and recognition of the fashion school among global fashion brands. It takes into account the perception and reputation of the school within the industry and its ability to attract collaborations, partnerships, and sponsorships from renowned fashion labels.
Recruiters Responses (20%): The feedback and opinions of recruiters play a significant role in determining the ranking of fashion schools. This metric assesses how well the school's graduates are received by employers in the industry and their overall impression of the institution's curriculum, training, and student preparedness.
Employers Feedback (10%): Similar to recruiters' responses, this metric focuses on gathering feedback from employers who have hired graduates from the fashion school. It evaluates the satisfaction levels of employers with the skills, knowledge, and professionalism demonstrated by the school's alumni.
Job Placement Rate (10%): This metric reflects the percentage of graduates who secure employment in the fashion industry shortly after completing their studies. A high job placement rate indicates the school's success in preparing students for careers and connecting them with relevant job opportunities.
Admission Eligibility (10%): The selectivity and competitiveness of the admission process are considered in this metric. It examines factors such as acceptance rates, academic prerequisites, portfolio evaluations, and other criteria that determine the quality of students admitted to the fashion school.
Specialization (10%): Fashion schools often offer various specializations or concentrations within their programs, such as fashion design, fashion marketing, fashion merchandising, or fashion journalism. This metric evaluates the school's range of specializations and the depth of expertise offered in each area.
Academic Reputation (20%): The academic reputation of a fashion school is crucial for its ranking. This metric takes into account factors like faculty qualifications, research contributions, industry collaborations, and the overall prestige and recognition of the institution within the academic community.
Best Fashion Schools In The World For 2023
1. Fashion Institute of Technology (FIT), United States:
FIT, located in New York City, is renowned for its comprehensive fashion programs covering a wide range of disciplines, including fashion design, fashion business management, textile development, and more. With a strong emphasis on industry connections and practical experience, FIT prepares its students for successful careers in the fashion industry.
2. Parsons School of Design, United States:
Situated in New York City, Parsons School of Design offers cutting-edge fashion programs that foster innovation, creativity, and sustainability. Known for its rigorous curriculum and faculty composed of industry professionals, Parsons equips students with the skills to become influential figures in the global fashion landscape.
3. Antoinette Westphal College of Media Arts & Design, United States:
Located at Drexel University in Philadelphia, the Antoinette Westphal College of Media Arts & Design offers a comprehensive range of fashion programs, including fashion design, fashion merchandising, and fashion design and merchandising. The college emphasizes experiential learning, industry collaborations, and entrepreneurial initiatives.
4. London College of Fashion, University of the Arts London, United Kingdom:
Situated in the heart of London, the London College of Fashion is known for its innovative and multidisciplinary approach to fashion education. With a diverse range of programs covering design, business, technology, and media, the college nurtures creative thinking and entrepreneurship, preparing students for diverse roles within the fashion industry.
5. Polimoda (Ente per le Arti applicate alla Moda e al Costume), Italy:
Based in Florence, Polimoda is internationally recognized for its specialized fashion programs. It offers a dynamic learning environment that combines academic training with hands-on experience, preparing students to excel in design, marketing, retail, and other facets of the fashion industry.
6. Royal College of Art, United Kingdom:
The Royal College of Art, located in London, is renowned for its postgraduate programs in fashion, which focus on pushing boundaries and fostering experimentation. With an emphasis on innovation, sustainability, and craftsmanship, the college produces influential fashion designers and researchers.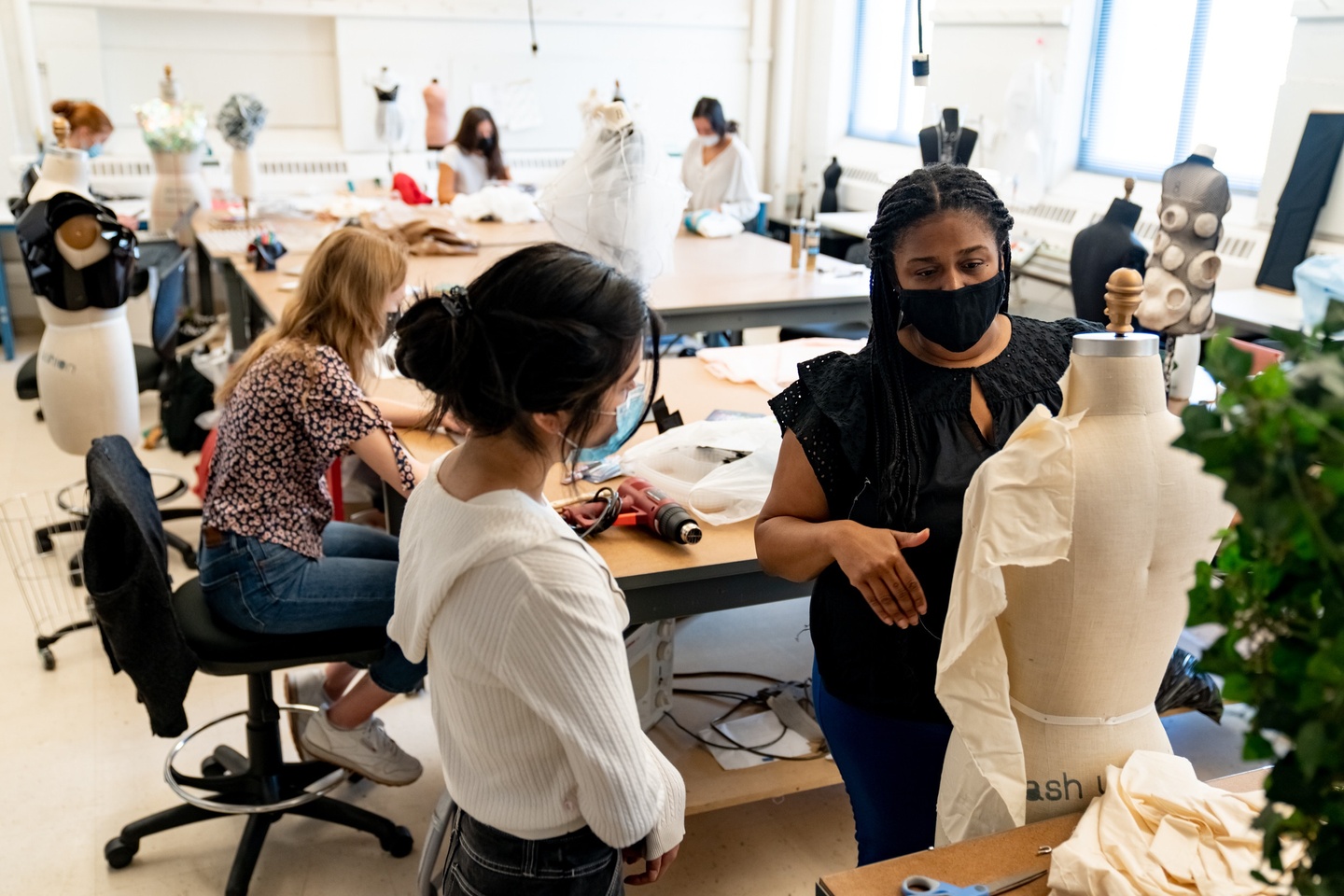 7. ESMOD (École supérieure des arts et techniques de la mode), France:
ESMOD, with campuses worldwide including Paris, is one of the oldest and most prestigious fashion schools. It offers a comprehensive curriculum covering design, pattern-making, marketing, and more. ESMOD's strong industry connections and focus on practical skills contribute to its reputation as a leading fashion school.
8. Swedish School of Textiles – University of Borås, Sweden:
The Swedish School of Textiles, part of the University of Borås, is known for its expertise in textile design and development. With a focus on sustainable practices and interdisciplinary collaborations, the school prepares students for careers in areas such as fashion design, textile engineering, and textile management.
9. Central Saint Martins, University of the Arts London, United Kingdom:
Central Saint Martins, situated in London, is renowned for its avant-garde approach to fashion education. The school offers a diverse range of fashion programs and encourages students to experiment, challenge conventions, and explore the boundaries of creativity. Its graduates are known for their innovative and groundbreaking work.
10. PCA – Paris College of Art, France:
Located in the vibrant city of Paris, PCA provides a unique educational experience in fashion and art. The fashion programs emphasize a fusion of traditional craftsmanship and contemporary design, empowering students to explore their creativity and develop their own artistic vision within the fashion industry.
These top fashion schools have earned their reputations through a combination of academic excellence, industry connections, cutting-edge programs, and successful alumni who have made significant contributions to the fashion world. Aspiring fashion students looking for unparalleled education and opportunities can find their paths to success in these prestigious institutions. You can also learn how to start a fashion business after school here.
Top 20 Best Fashion Schools In The World
| Rank | Fashion School | Country |
| --- | --- | --- |
| 1 | Fashion Institute of Technology (FIT) | United States |
| 2 | Parsons School of Design | United States |
| 3 | Antoinette Westphal College of Media Arts & Design | United States |
| 4 | London College of Fashion, University of the Arts London | United Kingdom |
| 5 | Polimoda (Ente per le Arti applicate alla Moda e al Costume) | Italy |
| 6 | Royal College of Art | United Kingdom |
| 7 | ESMOD (École supérieure des arts et techniques de la mode) | France |
| 8 | Swedish School of Textiles – University of Borås | Sweden |
| 9 | Central Saint Martins, University of the Arts London | United Kingdom |
| 10 | PCA – Paris College of Art | France |
| 11 | National Institute of Fashion Technology (NIFT) | India |
| 12 | Fashion Design Institut | Germany |
| 13 | School of Arts, Design and Architecture at Aalto University | Finland |
| 14 | Stephens College | United States |
| 15 | Bunka Fashion College | Japan |
| 16 | Savannah College of Art and Design (SCAD) | United States |
| 17 | Royal Academy of Fine Arts Antwerp | Belgium |
| 18 | IED Istituto Europeo di Design | Italy |
| 19 | Chelsea College of Arts, University of the Arts London | United Kingdom |
| 20 | School of Fashion at Kent State University | United States |
| 21 | Shenkar College of Engineering, Design and Art (Shenkar) | Israel |
| 22 | Cornell University, College of Human Ecology | United States |
| 23 | Design School Kolding | Denmark |
| 24 | Geneva School of Art and Design (HEAD – Genève) | Switzerland |
| 25 | Miami International University of Art & Design | United States |
| 26 | LIM College | United States |
| 27 | Thomas Jefferson University | United States |
| 28 | Art Institute of Tampa, a branch of Miami Int'l University of Art & Design | United States |
| 29 | Cambridge School of Visual and Performing Arts | United Kingdom |
| 30 | Accademia Koefia | Italy |
| 31 | University of South Wales (USW) | United Kingdom |
| 32 | Domus Academy | Italy |
| 33 | Institut Français de la Mode (IFM Paris) | France |
| 34 | Manchester School of Art – Manchester Metropolitan University | United Kingdom |
| 35 | Fashion, Textiles and Technology Institute (FTTI), University of the Arts London | United Kingdom |
| 36 | University of Westminster | United Kingdom |
| 37 | AMFI Amsterdam Fashion Institute | Netherlands |
| 38 | De Montfort University | United Kingdom |
| 39 | UTS Fashion and Textiles Design at the University of Technology | Australia |
| 40 | School of Fashion at Toronto Metropolitan University | Canada |
| 41 | University of Minnesota | United States |
| 42 | New York University | United States |
| 43 | University of California, Davis | United States |
| 44 | Indiana University | United States |
| 45 | University of Illinois At Urbana Champaign | United States |
| 46 | Ohio State University | United States |
| 47 | University of Wisconsin | United States |
| 48 | California State University, Long Beach | United States |
| 49 | University of Washington | United States |
| 50 | National Institute of Design (NID) | India |