Best Corporate law firms in San Francisco
San Francisco is one of the most competitive cities in the world.
It's a place where people are constantly trying to get ahead, and it can be difficult to find the best law firms for your business or case.
Finding a reputable firm can be a difficult task, and this article will help you find the best firms for your needs.
List of law firms in san francisco
Here are the Best Law Firms in San Francisco 2023:
Cooley Firm
Morrison & Foerster LLP
Wilson Sonsini
Fenwick
Latham & Watkins
Orrick Law Firm
Kirkland & Ellis
Skadden
Gibson Dunn
Quinn Emanuel Urquhart & Sullivan, LLP
1. Cooley
Cooley is the go-to firm for startups and early-stage enterprises, and it's great for individuals looking to work on cutting-edge projects with forward-thinking clients. The firm has a strong commitment to diversity and inclusion, as well as a very sociable culture that will no doubt appeal to affable personalities. Cooley is identified with technology and venture capital work, with over 1,200 lawyers working across the United States, Europe, and Asia. The firm's clean tech, cyber/data/privacy, IP, M&A, private equity, and securities practices are also well-regarded.
2. Morrison & Foerster LLP
The firm—and its lawyers—do excellent job, but they don't take themselves too seriously, as its nickname suggests. MoFo excels in a variety of practice areas, including intellectual property and privacy, and is a standout in the pro bono arena, supporting clients on a wide range of issues. With a long reach across the Pacific Rim and, more recently, into Europe, MoFo complements its expertise in IP, finance, life sciences, technology, and litigation.
3. Wilson Sonsini
Wilson Sonsini is a go-to firm for customers in the tech industry, as a pioneer in venture capital work and a top ranked firm for intellectual property. The firm's lawyers have an entrepreneurial mindset and strike a good balance between hard work and friendliness. Wilson Sonsini Goodrich & Rosati is a worldwide player with extensive tech roots, with 950 attorneys spread over 16 offices around the world. The firm has established itself as a market leader in technology licensing, technological financings and M&A, and intellectual property.
4. Fenwick
To work with its inventive client base, Fenwick is looking for tech-oriented, entrepreneurial types that live on autonomy and flexibility. Associates that go above and beyond are rewarded here, with visits to the tropics being a common occurrence. Fenwick has almost 500 attorneys spread across seven offices and is noted for its innovative work with technology and life sciences clients. With three successful offices in California, an established office in Seattle, a fast growing office in New York, an international office in China, and a newly opened office in Washington, DC, the firm has expanded beyond its Silicon Valley beginnings.
5. Latham & Watkins
When you land a job at Latham, you know you've made it in the legal industry. The company recruits the finest of the best and is a global leader in dozens of practice areas. This legal behemoth will satisfy those seeking autonomy over their practice as well as comprehensive training and support.
Latham & Watkins is one of the largest legal companies in the world. Latham practices in all major jurisdictions in the United States, Europe, the Middle East, and Asia, and often represents corporations doing business in Latin America and Africa, with more than 3,000 attorneys in 30 offices across the world. In business transactions, environmental law, finance, litigation and trials, and tax services, the firm is a global leader.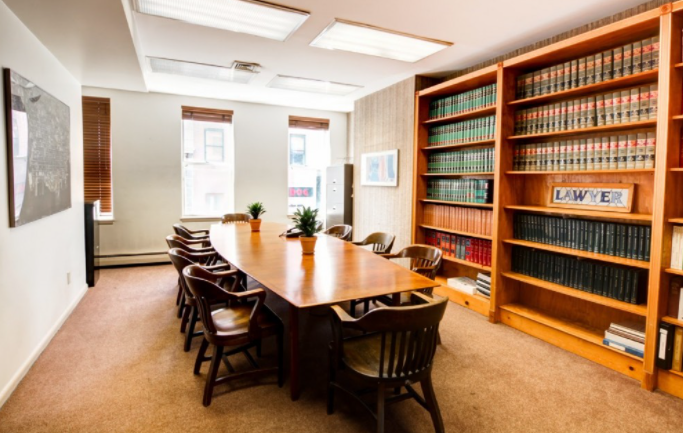 6. Orrick
Orrick is all about innovation, from the energy and technology clients it represents to its profound wellness initiatives and cutting-edge digital solutions. Associates that are grounded, collaborative, and forward-thinking will thrive at this forward-thinking organization. Orrick is a worldwide law company with over 1,100 attorneys dedicated to collaboration and innovation. The firm has offices in dozens of countries, including California, New York, Oregon, and Texas in the United States.
7. Kirkland & Ellis
Kirkland is the ideal firm for self-starters who are ready to take control of their legal careers, both in terms of size and reputation. Associates at the firm agree that their prospects are bright because of the firm's extensive training and the firm's name on their resumes. Kirkland & Ellis is a global legal company that specializes in corporate, intellectual property, litigation, mergers and acquisitions, private equity, and restructuring. The firm is consistently ranked as one of the most successful in the world, with over 2,900 lawyers.
8. Skadden
Skadden is a legal powerhouse and a mainstay among the most respected companies in Vault's Top 100 rating, with expertise ranging from M&A to Tax. Skadden lawyers are a friendly bunch that embrace teamwork and mentoring while also delving deeply into complicated cases. Skadden Arps is one of the world's most profitable and well-known law companies.
It was the first legal firm to record yearly revenue of $1 billion, and it is today regarded as an industry milestone. While the company is most renowned for its mergers and acquisitions expertise, it is a multi-practice powerhouse with over 1,700 lawyers worldwide.
9. Gibson Dunn
Gibson Dunn is a V10 firm with an impressive practice and client list. It is a litigation powerhouse, appellate all-star, and corporate law force. Gibson recruits self-starters who will thrive in the company's free-market environment and fit in with the company's professional, friendly culture. Gibson Dunn & Crutcher is a force with over 1,400 attorneys in ten countries.
Gibson Dunn is regarded as one of the best law firms in the country for its litigation and trial work, particularly its thriving Appellate Litigation and Securities Litigation practices, as well as its top-notch antitrust, M&A, private equity, and real estate work.
10. Quinn Emanuel Urquhart & Sullivan, LLP
Quinn Emanuel is a unique combination of casual and ambitious, the polar opposite of a stuffy BigLaw firm. Lawyers at this leading litigation firm are self-directed and driven, with the freedom to direct their workloads and the desire to work long hours on difficult cases—all while wearing jeans and flip flops (if they so choose).
Quinn Emanuel, the No. 1 firm in Vault's General Commercial Litigation area, has extensive litigation experience. Antitrust, appellate, bankruptcy, corporate disputes, environmental, insurance, intellectual property, international matters, life sciences, media and entertainment, products liability, and other areas of law are among the firm's specialties.
11. O'Melveny & Myers LLP
Long based in California, O'Melveny & Myers has expanded globally, with offices in seven countries across three continents, including a new office in Texas. Antitrust, appellate litigation, entertainment law, labor and employment, patent litigation, products liability, project finance, securities litigation, venture capital, and other areas of law are among the firm's specialties. Banking and financial services, consumer products, energy and natural resources, entertainment and media, health care, hospitality, industrials and manufacturing, life sciences, real estate, sports, technology, and transportation are among the industries in which the firm works.
12. Keker, Van Nest & Peters LLP
Keker, Van Nest & Peters is a California-based midsize firm. The firm's lawyers are experienced in a wide range of areas, including intellectual property conflicts, white collar criminal defense, and commercial litigation, although it is best renowned for its litigation and IP expertise. In Vault's Litigation Boutique Law Firm and Intellectual Boutique Law Firm rankings, it is in the top five firms. The company has also been acknowledged for its commitment to fostering a diverse workplace.
13. Sullivan & Cromwell LLP
Sullivan & Cromwell, one of the most prominent law firms, has a generalist approach to practice, allowing professionals to collaborate across sectors and subgroups. S&C is devoted to assisting its lawyers in paving their future routes, with a particular focus on mentoring and professional advice. Sullivan & Cromwell, a BigLaw heavyweight, has followed—if not invented—the template for legal success: it has expanded worldwide and in response to the world's largest corporate customers' expanding cross-border M&A, restructuring, and finance transactional demands.
14. Perkins Coie LLP
Perkins Coie, a Pacific Northwest powerhouse, fosters collegiality through holistic hiring, social getaways, affinity groups, wellness programs, and other initiatives. Associates today are in a strong position, whether they want to become partners or move in-house.
More than 1,200 attorneys work for the company now across a variety of areas, including aerospace and transportation, energy and natural resources, financial services and investments, life sciences and health care, retail and consumer products, and technology and communications.
15. Simpson Thacher & Bartlett LLP
Simpson Thacher & Bartlett is a long-standing Wall Street workhorse with top-tier teams in mergers and acquisitions, banking, capital markets, and securities law. However, the company is more diverse than many of its peers, with strong capabilities in private equity, litigation, and intellectual property.
The firm developed one of the world's best M&A practices in the 1980s and 1990s, with a specialization in private equity leveraged buyouts. JPMorgan, Lehman Brothers, Goldman Sachs, Wachovia, UBS, and Travelers have all retained Simpson Thacher in recent years. Kohlberg Kravis Roberts (KKR) and The Blackstone Group, as well as First Reserve, Silver Lake Partners, and Hellman & Friedman, are among the private equity clients.
How to Find the Right Legal Counsel in San Francisco and What You'll Need to do There
The legal process is complicated and intimidating. To ensure you get the best representation, you need to find a lawyer that is experienced in your case.
A good place to start is by asking friends or family for referrals. A law firm's website can also be a good place to start your search. Another important thing to consider when choosing a lawyer is the location of the firm.
Here are some things you should know before hiring a lawyer:
– How long has the attorney been practicing? – What experience does he or she have? – What types of cases does he or she specialize in? – What kind of reputation does he or she have?
Which Types of Cases Can I Seek Help of a law firm with?
In the law, there are many types of cases that one can seek help of a law firm with. There are cases that involve disputes, legal matters, and litigation.
The following are the most common types of cases that one can seek help of a law firm with:
– Disputes: This includes matters such as contract disputes, property disputes, and business disputes.
– Legal Matters: This includes matters such as contracts, criminal charges, and personal injury claims.
– Litigation: This includes matters such as divorce proceedings or lawsuits against other people or companies.
Top 10 Best Law Firms in the World 2022
How to Assess Quality and Pricing When Searching for Legal Services
It's important to know what you are getting yourself into when searching for legal services. It's also important to know how to assess the quality of the services you are getting and how much they cost.
A good way of assessing the quality of a service is by looking at reviews. Make sure that you are reviewing only those companies that have a good reputation and have been recommended by people in your network.
Pricing can be difficult to assess without knowing what you need done, but generally speaking, it is cheaper to hire one lawyer than it is to hire multiple lawyers for smaller tasks.
What are Some Examples of Legal Disputes That I Would Be Good at Handling?
In general, legal disputes are a great place to start if you're looking for a career in law. They can be challenging and rewarding at the same time.
It is important to know the different types of legal disputes that you would be good at handling. These include contract disputes, criminal cases, business litigation, and more.
Contract Disputes: These are disputes that involve disagreements between two or more parties about how a contract should be performed and enforced. This could be anything from an employment dispute to a dispute over an unpaid bill.
Criminal Cases: Criminal cases can vary from misdemeanor crimes like shoplifting or drug possession to felony crimes like murder or rape. In these cases, it's up to the prosecutor's discretion whether they will file charges against the defendant or not.
What is Private-Law Firm Search?
Private-Law firms in the United States are not required to disclose their information. They are not required to be registered with a state or federal agency and they have no responsibility of being open to the public like a public-law firm.
Private-law firms are typically small, independent law firms that provide legal services to individuals or businesses. They can also be referred as sole practitioners. A private firm who is practicing law without being admitted to practice before the courts, but who is still entitled to practice privately before the court, is called an unenrolled private practitioner or an unenrolled attorney.
Private law firms may also be referred as "solo practitioners," "private practitioners," "private attorneys," or "unenrolled attorneys."
How Private-Law Firm Search can Help with 5 Amazing Use Cases
Private-law firm search is a giant in the legal industry. It allows for firms to find the best law firms for their needs and also helps them with their hiring process.
Here are five amazing use cases of private-law firm search.
1) Finding the best law firm for your company:
2) How to hire an attorney:
3) Legal advice:
4) Legal assistance:
5) Legal dispute resolution
5 Reasons Why You Should Consider Using a Private Lawyer
You may wonder why you should hire a private attorney when you are not guilty of any crime. Here are 5 reasons why hiring a private attorney is worth your time and money.
1. You will have more control over the process
2. You will be able to preserve your privacy
3. You will have more time and flexibility with your schedule
4. You will be able to focus on the case without worrying about court dates and deadlines
5. You can save some money by using a private lawyer instead of going through the public court system
What are the Major Differences Between Using a Private Lawyer and Public One?
Public lawyers are typically cheaper and available to everyone. Private lawyers, on the other hand, can charge a lot of money for their services.
Public lawyers are not as expensive as private ones. They are also accessible to everyone, which is why they have become so popular in recent years.
Private lawyers can charge much more for their services than public ones because they do not have to worry about being publicly available and open to all people.
How to Choose Which Legal Professional Fits Your Needs?
We live in a world where technology is changing the way we work, and sometimes it's hard to keep up with the latest trends.
When it comes to legal matters, there are a lot of factors that go into finding the right attorney for your needs. When you're trying to decide between two or more attorneys, here are some questions you should ask yourself:
– What kind of services do they offer?
– How many years have they been practicing law?
– What are their qualifications?
– What is their reputation?
– Do they have experience in my area of need?