Do your consumers perceive your brand the way you think they are? Learn how to measure and improve your brand image through social listening.
The ability to share information easily and instantly has democratized the notion of branding.
Consumer opinion plays a more important role than ever in determining branding. So, before you look at how to improve your brand, you first need to know and understand what it is.
What does your brand mean to consumers? What advice do they have about your products and services? How is your brand image measured against that of competing brands and the market in general?
What is Branding in marketing?
There are many different definitions of the concept of "brand", even business owners misinterpret the true meaning of branding.
Seth Godin defines a brand as a set of "expectations, memories, stories and relationships" that contribute to the decision to choose a particular company, product or service. It is primarily a mental creation that helps consumers understand one business over another. This branding is partly formed by a shared experience.
Branding definition by Philip Kotler
In the published book – Principles of Marketing (by Philip Kotler/Gary Amstrong),
They defined a brand as a "name, term, sign symbol (or a combination of these) that identifies the maker or seller of the product".
The media on which the public can share their experiences have increased considerably with the advent of social media. As a result, the frequency with which the public shares has also increased accordingly.
However, this image may reflect their ambitions for the brand more than the real public opinion. Surveys and focus groups can play an important role in any strategy to measure and improve brand image.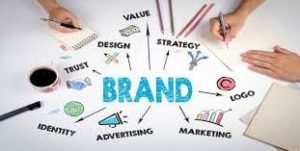 What are branding examples?
Branding might take several recognizable forms that consumers would easily identify like the golden arches of McDonald's, Nike "swoosh," and the apple on Apple phones and Computers.
Measuring brand image
One of the easiest methods to search for what the public says about your brand is social listening, also called social media watch. It allows you to find brand mentions through the billions of non-moderate online discussions.
The inherent traceability of social networks means that you can quickly obtain (and document) a precise idea of the image that characterizes your brand in today's reality, including starting from scratch.
By analyzing social media conversations, brands can better understand what aspects contribute to their image. These insights can then be used to support projects aimed at changing or improving brand image.
Social listening platforms such as Brandwatch allow you to measure the tone (also called sentiment) of discussions around your brand, products or campaigns.
Sentiment-per-day Analyzing negative conversations will help you identify the different problems faced by consumers that could damage your brand image.
By looking at these indicators over time, you can find out what triggered spikes in discussions about your brand, and how your image has evolved.
Of course, brands rarely exist in isolation. Measuring your competitors' brand image can help you see where your strengths and weaknesses lie.
Get to know your customers
Knowing your clients, such as their average age, gender,place of life, occupations, interests, etc., is vital when you are trying to understand what shapes your brand image.
What people are saying is important, who says it is just as important, if not more important.
The experience with your brand will be different from one person to another, but there may be common places that social listening can reveal.
Fortunately, the information gathered by social listening comes with its share of data that will tell you more about the individuals behind the conversations.
With Brandwatch,you can segment data by gender, occupations and interests, giving you a detailed overview of who is talking about your brand.
For example, by looking at geolocation data, the British retailer Argos was able to follow the conversations and sentiment around the launch of its 100% digital stores that exchanged traditional catalogues through Ipads.
This analysis revealed that Londoners preferred digital stores but complained easily about waiting times, while consumers in the north of England were mostly positive on the human side and good customer service.
The data collected with Brandwatch enabled them to offer a geographically personalized service, to implement real changes within their stores, and thus improve the brand image at the local level.
You can also make money with your brand here.
Act on your knowledge
Once you've identified your customers' perception of your brand, and you know a little more about what motivates them, you can act on that knowledge.
An Ogilvy study analyzed 20 different communication channels and found that social media is the easiest way to improve brand image.
Another Nielsen study found that for 77% of consumers, the advice of a friend or loved one is the most persuasive when looking for information about new products. This word-of-mouth aspect of the social web is what makes it so effective at improving its brand image.
Knowing who your consumers are, what they think of your brand and what interests them, gives you the information you need to harness the power of the social web, word of mouth and influencers; and (re)take control of your brand image.