Fake donation websites and how to report a fake charity
According to the Giving USA Foundation's annual report on generosity in the United States, Americans gave more than $471 billion to charity in 2020. This generosity supports a plethora of amazing organizations that put those billions to good use in the areas of health care, education, environmental protection, the arts, and a variety of other causes.
Unfortunately, it also allows con artists to take advantage of people's generosity in order to enrich themselves.
Many of these scams involve pretending to raise money for veterans and disaster assistance. Scammers are well aware of our willingness to open our hearts and wallets to people who have served in the military and those who are rebuilding their lives following hurricanes, earthquakes, or wildfires. Scammers usually target charity during the holidays and constantly generate hunger, such as with the recent coronavirus pandemic and news of natural disasters. Even if you see a posting in a legitimate form, you should still be careful when donating online.
What is Charity Fraud?
Charity fraud is a type of fraud that involves the use of charitable organizations for personal gain.
Charity fraud has been around for centuries, but in recent years it has become more prevalent. It is estimated that up to $3 billion dollars are lost to charity fraud each year.
The most common types of charity fraud include:
– The use of false receipts and other false documents
– The use of fake identities and stolen identities
– Using the identity or likeness of a deceased person.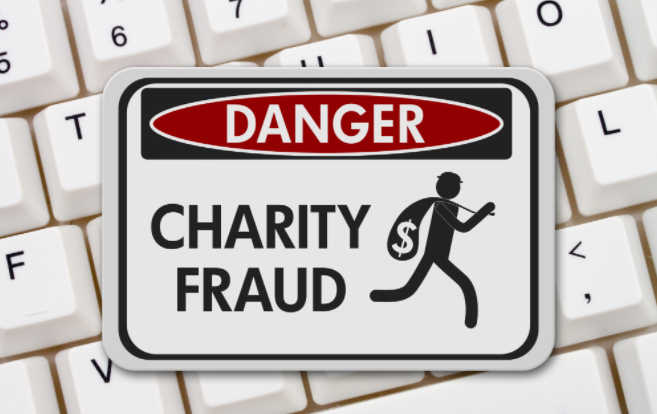 Top 5 charity fraud scams in 2023
Phoney Fundraisers Charity Fraud
Ransomware
Push-payment Scams
Shoplifting
Money Transfers
The nonprofit industry is currently dealing with a major fraud problem. According to the most recent figures, charities and charitable trusts lost £2.3 billion to charity fraud offenses in 2017.
We outline the common ways in which charity fraudsters have been found to defraud not-for-profits, as the National Crime Agency and National Audit Office suggest that fraud is now the UK's most prevalent crime.
1. Ransomware
The British & Foreign Bible Society was the target of a major cyber-attack in late 2016, in which the personal information of 417,000 people was stolen. The incident occurred after cyber-criminals exploited a vulnerability in the charity's network, putting some supporters' credit cards and bank account information at danger.
The hackers used a ransomware assault to get access to the charity's personal data and then transfer it. Ransomware is frequently used to encrypt data or threaten to make it public until a payment is made.
Cryptojacking, a type of cyber attack, has become increasingly popular in recent years and charities are often targeted. In the case of the British & Foreign Bible Society, an ICO has fined them £100 000 for their poor cyber security measures.
Reducing the Ransom Risk
The government's Cyber Essentials website includes helpful recommendations for protecting against an attack, such as using a secure firewall to secure your online connection, ensuring devices are set to secure, using strong and diverse passwords, using two-factor authentication, and encryption.
By combining these safeguards, a cyber-criminal should have a difficult time infiltrating your company.
2. Shoplifting
For several years, charity shops have been regarded as "easy targets" for shoplifters—but this does not always refer to random members of the public, as theft is frequently committed by staff and volunteers.
According to a survey performed by the Charity Retail Association, 45 percent of charities believe theft has increased since 2016.
Subduing the shoplifters
Staff training on the "common symptoms" of shoplifting is an effective strategy to prevent crime. Nervousness, wearing baggy/heavy clothing out of season, and behaving weirdly are all common indications. Furthermore, mirrors and lights can aid in the prevention of shoplifting.
Charities should implement stock controls, follow up on staff references, and conduct random bag searches to prevent internal theft.
3. Money Transfers
In 2017, Simon Price, the former CEO of Birmingham Dogs Home, was sentenced to five years in prison for stealing over £650,000 from the organization. Using a combination of false invoices from marketing agencies, construction companies, and solicitors, Price was able to authorize payments to his personal bank accounts.
After the Gambling Commission concluded that insufficient anti-money laundering procedures were completed, the charity was able to recover £500,000 from the betting website Paddy Power Betfair. This is not always the case, and organizations have had to close in the past due to insider fraud.
Transferring the threat
It is critical to ensure that no single person has an excessive amount of trust or responsibility for the charity's funds. Measures such as double sign-off for bank transactions and significant payments, more than one person counting cash, and frequent checks of the charity's transactions against its bank records can help achieve this.
Furthermore, charities should educate themselves on how insider fraud operates and take steps to mitigate the danger within their organizations.
4. Phoney Fundraisers Charity Fraud
We are aware of the extremes to which some criminals would go in order to defraud a charity; for example, some criminals will mimic charity collectors or create phony fundraising accounts in order to collect monies that would otherwise be donated to real charities.
Back Before an England game at Wembley in 2014, two men were arrested for impersonating Help for Heroes bucket collectors. Before the game, the men donned charity jackets and collected donations with phony identification cards.
Fighting the Phoney's
Unfortunately, except from informing the public about the warning indicators, there is nothing that a charity can do. Checking identity, permissions, and licenses are among the Fundraising Regulator's recommendations. Furthermore, the charity's registration number and other characteristics such as the corporate logo or telephone number can be examined on any fundraising materials that are being used.
5. Push-payment Scams
Criminals encourage employees to pay money to bank accounts controlled by the fraudster, and charity workers are frequently persuaded by fraudsters impersonating individuals or organizations.
The most popular approach is to send an email requesting payment of an invoice, often from the company's finance director or CEO, but containing the criminal's bank account information.
In September, many organizations received fake emails posing as the Fundraising Regulator, asking payment for its services. Thankfully, the regulator issued a warning to charities, advising them of the fraud's nature.
Fighting payment scams
Creating a culture within your charity is a great way to make sure staff are educated on fraud prevention. Training them and making use of this programme will lead to reducing risk of fraud in the business.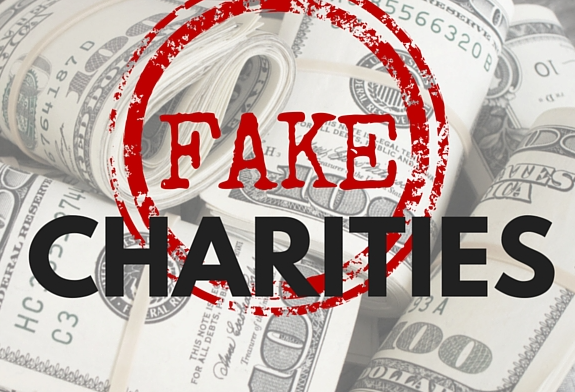 Charity fraud list 2023
In 2013, the Tampa Bay Times and the Center for Investigative Reporting compiled a list of the 50 worst charities in the United States. For business fundraisers, these organizations raised about $1 billion.
Then there are the long-term professional operations. They raise millions of dollars in donations from unwary individuals and corporations using direct mail or telemarketers. Are you afraid that you've already been scammed, or simply want to ensure that you won't be in the future?
Below is a summary of that list, which was compiled using federal tax returns filed over a 10-year period.
Here are some of the Fake Charities to avoid:
Kids Wish Network

Cancer Fund of America

Children's Wish Foundation International

American Breast Cancer Foundation

Firefighters Charitable Foundation

Breast Cancer Relief Foundation

International Union of Police Associations, AFL-CIO

National Veterans Service Fund

American Association of State Troopers

Children's Cancer Fund of America

Children's Cancer Recovery Foundation

Youth Development Fund

Committee For Missing Children

Association for Firefighters and Paramedics

Project Cure (Bradenton, FL)

National Caregiving Foundation

Operation Lookout National Center for Missing Youth

United States Deputy Sheriffs' Association

Vietnow National Headquarters

Police Protective Fund

National Cancer Coalition

Woman to Woman Breast Cancer Foundation

American Foundation For Disabled Children

The Veterans Fund

Heart Support of America

Veterans Assistance Foundation

Children's Charity Fund

Wishing Well Foundation USA

Defeat Diabetes Foundation

Disabled Police Officers of America Inc.

National Police Defense Foundation

American Association of the Deaf & Blind

Reserve Police Officers Association

Optimal Medical Foundation

Disabled Police and Sheriffs Foundation

Disabled Police Officers Counseling Center

Children's Leukemia Research Association

United Breast Cancer Foundation

Shiloh International Ministries

Circle of Friends For American Veterans

Find the Children

Survivors and Victims Empowered

Firefighters Assistance Fund

Caring for Our Children Foundation

National Narcotic Officers Associations Coalition

American Foundation for Children With AIDS

Our American Veterans

Roger Wyburn- Mason & Jack M Blount Foundation for Eradication of Rheumatoid Disease

Firefighters Burn Fund

Hope Cancer Fund
Smart Ways to Avoid a Charity Scam
The success of sham charities is due to their ability to imitate the real thing. They use telemarketing, direct mail, email, and door-to-door solicitations, just like real NGOs. They construct attractive websites with false names. (In the days following Russia's invasion, cybersecurity firm DomainTools saw a significant increase in URL registrations including the words "Ukraine" and "Ukrainian.")
Some operate completely outside of the law, while others are legitimate NGOs that only donate a small portion of their funds to the causes they support. The affiliated companies pocketed as much as 90 cents on the dollar donated, according to federal and state authorities who shut down a massive fundraising network in March 2021. They bombarded consumers with illegal robocalls and deceptive appeals to support homeless veterans, cancer patients, and autistic children.
You may assist ensure that your gifts go to organizations that are truly benefitting others, not just helping themselves, by doing some research and taking a few measures.
Warning Signs
Right now, there's a lot of pressure to provide. A respectable organization will gladly accept your donation whenever you wish.

You've received a thank-you note for a donation you don't remember making. Unscrupulous fundraisers frequently utilize deception to make you believe you've already donated to the cause.

A request for cash, gift card, or wire transfer payment. Because the money is difficult to trace, these are the preferred payment methods of scammers.'
Do's
Before you make a donation, look at how charities are rated by watchdogs like Charity Navigator, CharityWatch, and the Better Business Bureau's Wise Giving Alliance, and make sure the organization is registered to raise funds in your state.

Make your own online research. The Federal Trade Commission (FTC) recommends using terms like "highly rated charity," "complaints," and "scam" when looking for a charity's name or a cause you want to support (like "animal welfare" or "homeless kids").

Take note of the charity's name and website address. To deceive donors, scammers frequently imitate the identities of well-known, well-respected organizations.

Inquire about the percentage of your donation that goes to overhead and fundraising. Wise Giving Alliance recommends that at least 65 percent of a charity's total expenses go directly toward fulfilling its objective.

Keep track of your donations and check your credit card account on a frequent basis to ensure you haven't been charged more than you committed to contribute or haven't unintentionally signed up for a recurring gift.
Don'ts
Don't hand out personal or financial information to anyone asking a gift, such as your Social Security number, date of birth, or bank account number. Scammers take advantage of this information to steal money and identities.

Make no cash, gift card, cryptocurrency, or wire transfer donations. Credit cards and checks are the safest methods of payment.

Don't click on links in unsolicited email, Facebook, or Twitter fundraising communications; they can infect your computer with malware.

Don't text a donation without first checking the charity's official website for the phone number.

Don't take requests for help on social media or crowdfunding platforms like GoFundMe at face value, especially in the aftermath of tragedies. Fraudsters utilize real victims' tales and photos to deceive others, according to the FTC.
Understanding the Variety of Techniques Used by Charities to Achieve Their Goals
This article discusses the variety of techniques used by charities to achieve their goals. It also provides some examples of what these techniques are, how they are applied and the results that they produce.
The article discusses the different types of communication channels that charities use to spread their message. These include social media, online advertising and traditional forms of marketing such as print ads and radio spots.
The article also discusses the various tactics used by charities to reach out to a wider audience in order to generate greater attention for their cause. The strategies discussed include using celebrity spokespeople and partnering with companies who have a large audience base such as Disney or Nike.
Charity Fraud Statistics & Analysis
Charity fraud is a type of fraud that involves the use of charitable organizations for personal gain. It has been estimated that charity fraud costs charities in the United States alone over $400 million per year.
This section provides a detailed analysis on the charity fraud statistics and analysis in the United States. The article also provides some interesting facts about this type of crime.
Most Common Types of Charity Scams
Charity scams are a type of fraud that prey on the good intentions of people. There are many types of charity scams, some more common than others.
The most common types of charity scams include:
– Fake charities – These fake charities are usually run by con artists who either steal money from the public or use them for personal gain. They often have names that sound like legitimate organizations but end up being misleading. For example, a fake charity might be called "The World's Most Improved Charity" when it's actually just an online store selling t-shirts with the organization's name and logo on them.
– Scammers targeting specific causes – Scammers will target specific causes such as cancer research, autism awareness, or animal welfare. They might use these causes to get in touch with people who
How to stop charity fraud
Charity fraud is a type of fraud that involves people giving money to charities in order to receive compensation. There are many ways in which charity fraud can be done and it is important for charities to be aware of these types of scams so that they can avoid them.
There are many ways in which charity fraud can happen and it is important for charities to be aware of these types of scams so that they can avoid them.
One way that the charity could be scammed is when the person who's donating asks the charity for a receipt or proof of donation, but never receives anything back. This could happen if someone were to give $1,000 to a fake charity and then ask for a receipt or proof of donation, but never receive anything back.