How to Become a Virtual Assistant 2023
I teach people new skills and help them start their own business by giving them some pointers and encouraging them to overcome hurdles they might hit. This is part of what I do these days.
When it comes to webinars & podcasts, everyone enjoys hearing about the personal stories of success. They want to know how they can also become successful by following in these same footsteps.
When someone wants to find a balance between work, money, and enjoying their life, they might consider changing careers. Not only can it seem like less effort following your passions in the beginning, but there are also other advantages to taking this approach.
If you are looking for a flexible, independent job that blends the best of both worlds, this might be an ideal career option. There are VA positions that offer you the chance to work on your own time and at your own pace. Virtual assistants also have great flexibility in their business, setting their own hours and tasks with what they're comfortable doing.
Read this post, which is written by our founder & CEO, to learn how to start a successful virtual assistant business. Working at your own pace without being interrupted is empowering. As mentioned previously, it can be hard work at first, but there are plenty of resources out there to help guide you through the process. You should also have a firm grasp on what steps you need to take and how to start doing so today.
Learning the ropes is important. Making the transition to become your own boss isn't easy either, but if you're determined enough anything is possible. Managing your life will be an incredible experience and it's possible to earn a full-time income.
Who is a Virtual Assistant?
Although Virtual Assistants are increasing in usage, not everyone knows what it is or how they can play a vital role in supporting their business. A Virtual Assistant helps online and brick & mortar businesses alike by saving time & effort, providing quality work, and alleviating potential liability for your company.
VAs are not just the equivalent of executive assistants. It's true that in certain situations they can perform some of the same traditional tasks, but it's important to remember these are only one aspect of their job duties.
Virtual Assistants are a personal assistant who works remotely and provides help to the customer via a computer. They typically provide administrative, customer service, or data entry services.
Virtual Assistants are becoming more popular among company owners because they take a lot of work off their shoulders. These assistants also have the ability to take on multiple tasks simultaneously and work from anywhere in the world.
What Services Does a Virtual Assistant Provide?
We're asked a lot about what we can do as VAs. The answer is always "it depends." Currently, there's no cut-and-dry list of things Virtual Assistants all do like this.
Virtual assistants can provide a variety of services depending on what you need from them. They can help with tasks such as scheduling meetings, making phone calls, finding hotel accommodations, and more.
You should keep in mind that a virtual assistant is not a full-time employee that works for a company. It's an independent worker that doesn't work for one company but can be hired by many different companies to provide their services.
We've compiled a list of 275+ common types of virtual assistants for you to consider. We also wrote a more detailed blog post that covers 50+ specific options for you to check out. If you know what types of projects or clients you want to work with, it's easy to see which options will make the most sense for your business. Here are a few examples:
Social media management

Community management and moderation

Content creation for blogs and ghostwriting

Lead generation

Email management

Customer support

Processing online orders and refunds

Project management

Creating sales pages

Managing product launches

Website design

WordPress maintenance

Graphic design and layout

Calendar management and travel arrangements

Editing and proofreading

Transcription

Content research

Keyword research

Bookkeeping

Data entry

Performing outreach

Editing videos
For many busy entrepreneurs, the important thing is to have a variety of skills that give you the edge. Whatever you decide to specialize in, remember it should be something that you are good at and will provide value for your business. Focus on greatness instead of quantity!
If you want to work online, make sure you have some knowledge or experience with all things the internet. Having these skills will make the job easier to start and it will help in getting your first few contracts.
Experience varies. You can select any number of courses to work on including business-related training that help adapt to the online and offline worlds as well as those you learn outside your professional scopes such as skills such as language or culture.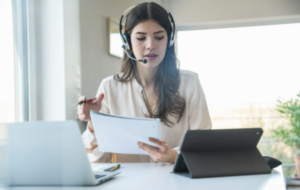 What does a virtual office assistant do every day?
A virtual assistant is just someone who can assist with duties from a distance. As a contractor or self-employed individual, you will provide day-to-day services to clients. Email management, content development, bookkeeping, graphic design, social networking, and more are all examples of this.
Every virtual assistant provides a unique set of services. Simply consider your strengths and tailor your offer to your abilities.
The best thing you can do, especially if you're just starting out, is to concentrate in a specialty and provide services to a specific sort of company.
You will be paid more per task in the long run if you become an expert in your field.
1. Social Media
Many business owners understand the importance of having a social media presence, but they lack the time to create content, share it, and engage with their audience.
This niche may be right for you if you enjoy maintaining Facebook pages, Twitter, Pinterest, and Instagram accounts.
Social media evolves at a breakneck pace, with new platforms to grasp and learn every week.
Virtual assistants for social media are in high demand, and if you have any of the following skills, this field could be ideal for you:
You are familiar with marketing and know how to create headline that can be shared.

You have a keen eye for design skills and can create beautiful posts for social media.

You love staying up to date on everything general trends

You may want to use AI writers who can engage with your audience about various topics. These writers will showcase not only their knowledge of the company but also how to keep conversations going.
2. Blogging
If you want to start earning money on your website but don't think you're ready to handle this full-time, becoming a VA is a great way for fast-tracking your blogging success while remaining financially feasible.
You can learn how more successful bloggers manage their blog by delegating some of the administrative work. This frees up time for other important tasks.
Some of the tasks you will do as a blogger's VA are:
Write, edit, and proofread blog posts.

Moderate blog comments.

Show content on social media like Pinterest or blog posts

Improve SEO.

Remove broken links, add affiliate links.

Manage readers' emails.

Schedule social media.
3. E-commerce
Running an e-commerce store can be difficult, especially for small and mid-size businesses. Business owners have a list of tasks to manage every day. This is where a virtual assistant comes in to help.
Some of the things you could help with are:
Manage customer service

The main purpose of this platform is to track various orders & the different operations involved. It can also make it easier for you to invoice your customers.

Deal with returns/exchanges

Manage inventory

Help with marketing

Website maintenance
4. General Admin
Okay, general administration isn't a particularly specialized field, but if you've worked in an office before, this is an excellent place to start as a virtual assistant. It's not the most profitable job, but administrative support is essential for most organizations, and it's a simple way to advertise yourself to small business owners who need assistance.
General admin VAs can assist with a variety of tasks, including:
Managing calendars and schedule

Managing emails

Booking appointments

Making travel arrangements

File management

Data entry

Setting up spreadsheet
Whether it is creating a project schedule or handling correspondence, an office assistant on-site does a lot of tasks. If you're looking to hire someone who can help with coffee runs, keep in mind that they can also perform a number of other tasks from general office assisting!
5. Content Production
You might start a VA business as a content creation maker if you enjoy generating, curating, and editing movies or gorgeous photographs.
It takes a long time to create content. Most organizations don't have the time to devote to this, so they'll opt to outsource it.
You can offer your services to help with:
Writing blog posts

Research content ideas

Create graphics

Source photos

Take product pictures

Edit pictures

Create videos
6. Finance
This could turn out to be a great freelance opportunity for anyone who has some previous finance and bookkeeping experience.
You could offer services like:
Bookkeeping

Invoice creation

Payments processing

Payroll
Here is how to become a Virtual Assistant:
Choose your business structure
Decide which services you'll offer your clients.
Decide on your pricing structure.
Establish your online presence.
Start pitching and networking.
You also need to build relationships.
Find friends in your niche
Make your clients happy & ask for feedback
Find clients yourself
Balancing Your VA Business and Client Work
How to Get Started as a Virtual Assistant
Choose your business structure

A company's structure can have an impact on how it functions. One option is to start a company with a sole proprietor, which means that the company is owned by just one person. Another option is to create a partnership with your spouse or other members of your family. A corporation is created by filing articles of incorporation with the state government and establishing directors, officers, and employees.

Where is your business physically located? Would you like to work in a location where people are nearby?

What types of clients will you be working with? If you have some experience or businesses that you are already familiar with or just love, this is the type of role that might be more ideal. If your perfect match is more specialized, work with us to create a new hire/temp position today.

What type of VA work will you be doing? Have you had experience working on projects that require collaboration? Do you enjoy handling diverse tasks or complex problem-solving?

Your personal situation (ie. spouse, family, children and liabilities). When would you like to start working? How responsive are you to your customers?

What is your personal risk tolerance? What will happen to your income as you transition to full-time self-employment?

Decide which services you'll offer your clients.

With the advent of AI technologies, there are now more services to offer your customers. You can focus on what you're good at and provide your clients with different options to choose from.

Many new VAs struggle with deciding which services to offer. It doesn't have to be that way, though. There's no rule that says you have to continue with a particular service offering after you've started.

When most people think of virtual assistant services, they think of checking email, returning phone calls, managing their client's calendar, and other forms of remote administrative assistance.

In many cases, it can include such services, but you can also provide other virtual assistant services such as social media management, web design, travel bookings, copyediting, and more.

You have ultimate control over how your company grows and adapts. This entails adjusting, adding, or removing services based on client demand, profitability, time commitment, and personal interests.

Freedom of choice may be a double-edged sword, as you'll discover when starting own VA business. I can't tell you how many times we hear from people who are establishing a business and are having trouble deciding what services to offer.

This is, without a doubt, the most crucial step you can take. You'll gain momentum once you take the first step, and each subsequent one will become easier.

You have the ability to adapt and evolve through time in a way that is beneficial to your company. You may, for example, switch from an hourly charge to a retainer or even productized services. You might want to learn more about pricing structure when you're ready.

Decide on your pricing structure.

Pricing is a difficult issue for any business. It is important to consider the worth of your products and services and how you plan to price them in order to grow your company and develop a profitable business.

Determine what would make it worthwhile for you to spend your time when determining your rates. If you intend to charge hourly (at least at first), you will be exchanging time for money, therefore keep the following aspects in mind:

You're not a worker. You're a subcontractor, and in the United States, for example, you must pay both employee and employer taxes (i.e. self-employment tax).

You're also not eligible for any benefits, such as sick days, paid vacation, health insurance, or retirement contributions (with some rare exceptions).

You'll have overhead to cover (although it'll be little for most VAs) – things like office expenses, software subscriptions, and so on.

You can't really compare what you make at your salaried day job (or what you could make at a part-time job) to what you'll make in your new VA role because of these expenses, which you're responsible for.

What we recommend is that you take whatever wage you think would be reasonable in terms of take-home income and inflate it by at least 25%.

Most business owners will understand that you have additional expenses, and you can break it down for them if necessary!

Keep in mind that hiring a freelance virtual assistant rather than a part-time or full-time staff has a number of advantages for business owners. Your client will save money and time by not having to set up (and, in many cases, train) a new employee. They also don't have to worry about a raft of additional costs and duties that come with hiring a new employee.

Establish your online presence.

Online presence is important in order to stand out from the crowd. The Internet is a vast and expansive platform that makes it easier than ever to establish oneself as an authority in a given field. You can also use online presence to find new business opportunities and connect with potential clients.

Before we go any further, it's crucial to remember that you don't need a website to start working as a virtual assistant! Other quick and easy strategies to develop an online presence include optimizing your LinkedIn profile or creating a Facebook company page, for example (more on this in a bit).

Direct mail, fliers, cold calls, and print advertisements are no longer effective. In today's digital world, having an online presence establishes you as a professional and aids in the "know, like, and trust" aspect, which is critical when communicating with potential clients.

We propose that you keep things as basic as possible when it comes to social media. Rather than juggling several social media sites, stick to one basic rule: be where your customers are.

This usually (but not always) indicates Facebook or LinkedIn. But, more importantly, you should be a part of the same groups and communities as your potential clientele. Use social media to establish and maintain relationships throughout time. Never join a new group and immediately begin marketing yourself. Instead, search for ways to be really helpful and allow connections to develop organically.

Start pitching and networking.

Pitching is a crucial part of the process of building a successful freelancing career. It can be a nerve-racking experience, but pitching to the right person at the right time can help you land your first client and establish your freelance career.

It takes a lot more effort to go from customer number 0 to 3 than it does to go from 3 to 6. Time, exposure, expertise, and confidence appear to have made a difference. The growing process becomes easier once those four elements start to work.

When it comes to growing a business, we recommend both new and seasoned VAs to follow a straightforward process. It entails being proactive as well as constant in your efforts, and we have a straightforward method for locating virtual assistant clients:

You also need to Build relationships.

Relationships are at the heart of everything. As an entrepreneur, it is important to build relationships with your potential customers, fellow entrepreneurs in your industry, and other key players in your market. However, building relationships takes time and effort.

Find friends in your niche

Working from home can be a lonely experience at times. You'll always need a support group, someone who knows you and can assist you by offering advise or simply sharing a rant now and then.

Find Facebook groups and blogs that are relevant to your industry.

To develop a successful business, find a group of people who share your aims and work with them.

Make your clients happy & ask for feedback

The 'client' is a very important factor to any business, and maintaining a good relationship with them will help you stay afloat. It's best to start off by providing top service, and then slowly talk about your other features later.

Some clients might be willing to refer you to other businesses because you provided excellent service and they were pleased with the result. With a few clients to call, virtual assistants can make a decent part-time income.

Before you start asking clients for feedback, take a moment to consider your options. You could give them a custom plan that supports their needs and fulfill their wants or you can give them a range of design choices that they have the freedom to choose from. Each option has advantages and disadvantages. It's up to you which will work best for your business moving forward!

This will help you a lot to get more clients.
One thing to keep in mind as you read through these is that your objective is to start promoting and pitching your services as quickly as possible. The importance of acquiring clients and generating revenue should always be top priority for any self-employed freelancer.
Find clients yourself
It is true that most small-scale businesses don't have the budget or resources to hire a full-time marketing professional, but it's also important to know which potential clients are most likely to pay for your services.
How?
Many companies don't want to pay a website to find VAs or use ads because they trust Facebook groups or their own friends. They might try looking for VAs in person, but it's also common for them to ask their friends if any of them have experience as a VA.
Be mindful of scammers and always read the group rules before joining any online Facebook groups.
If you're not quite ready for a full-time remote gig, you can reach out to some companies and ask them if they're interested in hiring your services as a freelance writer. This could lead to free trial gigs and hopefully long-term work that will leave your pockets fuller.
Balancing Your VA Business and Client Work
As a virtual assistant, your goals aren't to just provide a service but increase the business's revenue. You can see how much you increased for those who hired you & provided as much value as possible.
With commercial Virtual assistants on the rise, it is important to keep in mind that you are still responsible for your own business and need to learn how to set boundaries and run your business in a way that works for you. It is vital to take care of both your business and yourself. It's also helpful to start this at the beginning of your business instead of waiting until problems arise. Taking care of yourself and any issues you may be having will help build a better foundation for growth & satisfaction.
Is becoming a virtual assistant for you?
Pros
Some great reasons to get started with an VA business are:
With a laptop or computer and fast internet, it's easy to set up. The only thing you need is the skills & equipment beforehand.

You don't need a college degree or profession-specific licenses to learn to be a virtual assistant.

You can customize how you work by creating your own schedule.
Cons
But before you jump into getting started, be mindful of the cons of starting a new business as a virtual assistant:
Many who are new to the idea of using a VA are somewhat unsure of how difficult it can be to find clients. Working with clients is necessary for this type of business to become successful.

Stay on the cutting-edge of your business to stay competitive and attractive to clients. You need to be aware of the latest happenings in your industry — what's happening right now, what's happening three to six months from now, etc.

It's common for companies to hire overseas writers. This poses the question: "What can we offer that others cannot?" Offering a higher level of service through specialization can help increase revenue and offset the cost of hiring abroad.
What is the Difference Between a Virtual Assistant and a Virtual Job?
The difference between a Virtual Assistant and a virtual job is that a Virtual Assistant mainly works remotely and on an hourly basis while the virtual job is the digital equivalent of an office-based position.
A big difference between a Virtual Assistant and a traditional secretary is that while the latter would answer phone calls, take messages, and perform some clerical tasks such as light filing or paperwork, it's not their primary responsibility.
Virtual Assistants on the other hand are responsible for answering phone calls, taking messages, performing some clerical tasks such as light filing or paperwork, scheduling appointments for their clients.
How to be a Successful Virtual Assistant
This article provides a few pointers on how to be a successful VA for an individual or company.
In this article you'll learn tips on how to become a successful virtual assistant, as well as the best way to market yourself as a VA.
What Are the Best Job Sites for Finding Work as a Remote Worker?
Working as a remote worker is a more and more common trend among freelancers and entrepreneurs. Job sites like UpWork, Freelancer, and TaskRabbit provide freelancers with opportunities to find work.
FlexJobs
FlexJobs is a flexible online employment board that lists remote, freelance, and part-time work from home jobs. If you want to start a remote career, this is the website to use. They have an area where all virtual assistant jobs are listed.
Before being accepted, all employment opportunities are rigorously reviewed and checked for scams, ensuring that all occupations featured here are legitimate ways to earn money.
As of right now, the prices are $14.95 monthly or $49.95 annually. If you don't want to continue with their services after your trial is up, you can ask for a refund within 30 days.
Fiverr
Fiverr allows you to build an online profile and apply for work that are placed there: it's a terrific way to gain experience while you're just getting started, but there aren't many high-paying gigs there.
You'll obtain a few starting jobs if you put in some effort to establish a solid profile. This will allow you to gain experience so that you can apply for higher-paying jobs on other platforms.
Upwork
Upwork, which is identical to Fiverr, is one of the most popular freelance websites in the world. This means that someone will always bid cheaper for each project, resulting in you charging a lot lesser amount than you deserve.
It's a fantastic, user-friendly platform that may assist you in establishing your virtual assistant profession, especially if you have no prior expertise.
Other great websites to find virtual assistant jobs
Remote.io

Time Etc.

Indeed

We Work Remotely 

Freelancer

People Per Hour
To apply for a virtual assistant job, you'll typically start on an online job posting website. There are many of these sites available for employers and employees looking to hire virtual assistants. Attending a hiring event or working with an HR representative about the best way to get your name out there is a good idea if you have little experience.
However, not all of these platforms provide the same opportunities. It's important to know what type of job site you want to apply for before diving in head-first. Below are some pointers for finding the best platform for your needs:
– Does it offer full-time or part-time work?
– What types of projects does it allow you to take on?
– Is it regulated?
– Is there a geographical limit?
– What type of applications does it accept?