What is Dogecoin?
Dogecoin was created in December 2013 by Billy Markus, a programmer from Portland, Oregon. Initially introduced as a joke cryptocurrency, Dogecoin (DOGE) gained a large online following and is now a very popular cryptocurrency. It is also well known for its meme-inspired logo of a Shiba Inu dog.
The original plan was to limit Dogecoin to 100 billion coins. However, it was later decided that there would be a limitless supply of Dogecoins.
Dogecoin is also used as a form of tipping by the community on platforms such as Reddit and Twitter.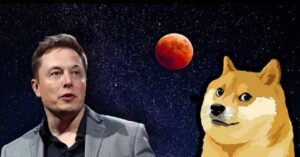 The price of dogecoin, a cryptocurrency, has soared after Elon Musk underlined his power as a market tipster by tweeting about it.
Dogecoin's price rose by 50% on 4 February shortly after Musk, the chief executive of Tesla and the world's richest person, tweeted that "Dogecoin is the people's crypto. No highs, no lows, only Doge", he added. He also tweeted a meme featuring himself and dogecoin in Disney's The Lion King.
Price of Dogecoin in Nigeria
A dogecoin is worth $0.046985 which is approximately N19 per coin in Nigerian Naira. These prices are definitely subject to change as market changes constantly.
Here's how to buy Dogecoin in Nigeria:
Get a Dogecoin wallet (Ledger, Exodus)
Locate your Dogecoin address
Find a Doge exchange (Binance, Kraken, Robinhood)
Buy Dogecoin
Withdraw your Doge
2. Buying Dogecoin in 3 simple steps
Step 1 – Get a Dogecoin Wallet
There's no shortage of options when it comes to Dogecoin wallets. There are different types of wallets for you to consider, and each wallet can vary in terms of features, usability, and security.
Here are the most popular Doge wallets around:
Ledger
Trezor
Exodus
Coinomi
Dogecoin Hardware Wallets
While being one of the safest wallet types available, a hardware wallet does require an initial investment. For comparison, software wallets are almost always free. The reason hardware wallets are considered safe is that they keep the private key to your Doge offline on a physical device.
The Ledger Nano S and the Nano X are very popular choices that support not only Dogecoin but over 1000 different crypto assets, you can read my review about them here. Likewise, the TREZOR One and TREZOR Model T are good options as well (here's my TREZOR review).
Dogecoin Software Wallets
A software wallet will store the private key to your Doge on your device whether it be a mobile phone, a desktop computer or a laptop. These wallets might be vulnerable to malware, so be sure to take the necessary precautions and only download official or highly recommended wallets.
You can choose a Doge-specific wallet such as MultiDoge. This is a wallet available for Windows, Mac, and Linux. Alternatively, you could use a multi-currency wallet such as Exodus or Coinomi. Here is my complete Exodus review and you can read my complete Coinomi review here.
Hardcore Dogecoiners can also download the full client for Dogecoin on the official site, however, this is not recommended for beginners (or if you don't know what a full client is).
For Android mobile devices, there's the official Dogecoin Mobile Wallet, which generally has favorable reviews from users. Unfortunately, there's no such version for iOS.
Locate your Doge address
Once you have your Dogecoin wallet it's time to get your Dogecoin address. A Dogecoin address is a long string of letters and numbers that starts with a capital D followed by a number or another capital letter. Here's an example:
DBXu2kgc3xtvCUWFcxFE3r9hEYgmuaaCyD
Step 2 -Find a Doge Exchange
Surprisingly enough, Dogecoin doesn't receive much support when it comes to finding a reputable exchange to purchase it on. Only a handful of vetted exchanges supply an option for purchasing Doge with Dollars or Euros.
Here are the most reputable exchanges that allow you to buy Doge:
Buy Dogecoin through Binance
Binance is a leading cryptocurrency exchange that supports the purchase of over 200 cryptocurrencies including bitcoin and others. The exchange has been around since 2017, is supported worldwide and allows users to buy Doge with a variety of traditional currencies and payment methods.
All you need to do is go to the exchange's website, click on "Buy Crypto" on the top navigation bar and choose your payment method, as shown below. You can read my complete Binance review here.
How to Invest in DogeCoin in Nigeria in 2021
One of the major ways that you can easily invest in the latest cryptocurrency and make a lot of money in the long run, is long time buying. In the case of Dogecoin, it is no different all you need to do is to use one of the top or available exchanges that you prefer and by the quantity that you want to invest then lock it away in your wallet for a long period of time.
Hopefully, you'll make lots of yields in the nearest future.