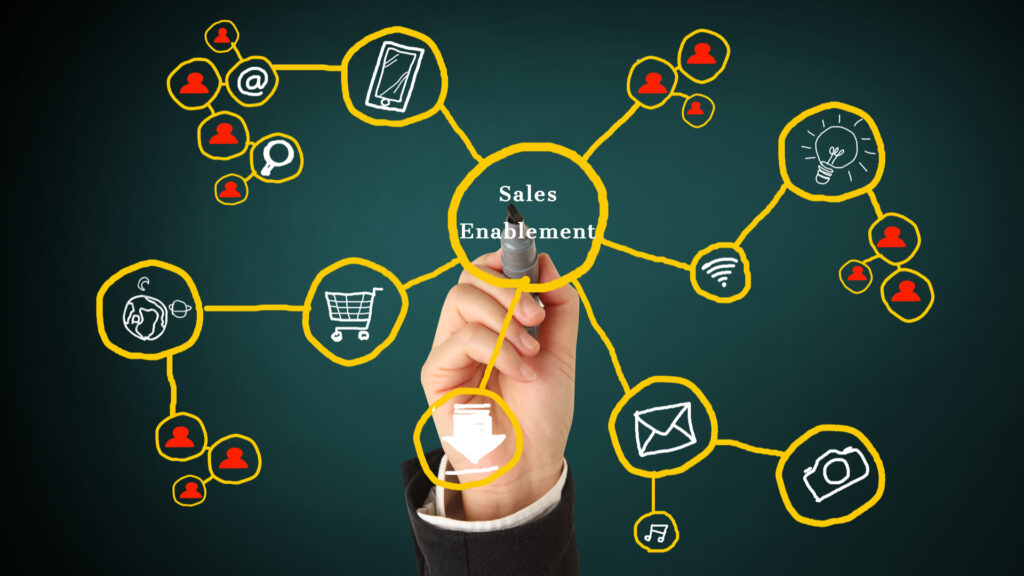 The success of an organization lies in the amount and quality of sales it makes. In today's day and age, every business is competing fiercely and trying to optimize its sales as much as possible. Moreover, there are sales enablement challenges they have to tackle as well.
Allowing your employees and sellers to close more deals is imperative to your organizational success. A good sale enablement strategy is all you need to equip your team with the knowledge and tools to maximize sales and revenue.
Sales Enablement- An overview
As the name implies, sales enablement empowers your sales team to make the right decisions and close as many deals as possible. Sales enablement strategies consist of tools, processes, and knowledge for the sales team to understand customer needs and act accordingly. It ultimately decides the approach, goals, and initiatives to be carried out by your team.
Importance of Sales Enablement
In today's competitive market, having every edge over your competitors is crucial. An effective sale enablement strategy provides you with vital information regarding customers' requirements to make more sales and simplify the process. 
Better deals and improved customer satisfaction lead to better financial and reputational health of your organization. Moreover, it simplifies the intricacies of the sale process for your team and increases their skill and knowledge.
Elements of an Effective Sale Enablement Strategy
Sale enablement strategies equip your teams with readily available data, resources, and tools to make the proper marketing and sales decisions. Moreover, knowing how to use these tools and information at your disposal is another part of effective sales. 
To flawlessly plan out sales strategies and execute them effectively, it is essential to keep a few things in mind to enable your team.
Establish a Mission for Your Sales Playbook
When it comes to any form of marketing strategy, it is mandatory to have well-defined and concise goals. Be well aware of the reasons for creating an enablement plan, its purpose, expectations, and strategies to achieve your milestones. 
The mission should be easy to follow and well communicated with other organization members to start implementation on the right foot.
Track Your KPIs
To keep your sales enablement strategy relevant and effective, tracking your key performance metrics is crucial. You have already set a sales benchmark in your mission, but are you managing to keep up? 
Tracking the effectiveness of your sales informs you and your sales team about what works and what doesn't.
Collect and Analyze 
Adaptability is one of the critical traits of an effective sales management team. Your sales enablement strategy should focus on data gathering and making changes accordingly. Tracking your KPIs helps you to know what data matters to improve your sales further. 
An effective sale management strategy requires you to collect data consistently and regularly analyze it to make better decisions.
How Does The Strategy Impact Your Customers?
If you can understand what your customers are looking for, you can provide them with what they need. When making sales content strategy, always consider how much value you can bring to your potential buyers when making organizational decisions. See how your strategies will improve the customer experience and provide your team with the resources to maximize buyer satisfaction.
Communicate the Framework
Healthy communication with your sale-enabling team unsurprisingly leads to better sales. The managers should convey the goals and methodologies of the playbook to the team, and constant cooperation should be present between both parties. Moreover, you should collect feedback and make changes to collaborate effectively.
Conclusion
Sales enablement tools, such as Content Camel, and strategies provide the sales team with a framework, resources, tools, and knowledge to optimize and carry out sales seamlessly. An effective sale enablement strategy comprises a set of clear, concise goals to achieve and how to do so. 
It should be data-centric and involve tracking performance and making changes accordingly. Putting yourself in your customers' shoes and establishing a consistent communication network with your sales-enabling team ensures the best strategy to be put into practice.