Beauty pageant is a public entertainment that consists of an orderly procession of people in a colourful and elaborate costumes, or also an outdoor performance and display of a historical scene.
The main purpose of beauty pageants in Nigeria is to identify one's strengths and weaknesses, their personalities, help them gain confidence and increase their self-esteem. It also is a proof to people that it is possible to have both beauty and brains.
So, below are the online beauty contest in Nigeria 2023, beauty pageants 2023 and upcoming beauty pageants in Nigeria 2023. You might want to participate in these contests as they have good sponsors and ratings.
 Beauty pageant events in Nigeria are the best rated in the whole of Africa and very much respected in international pageantry events. Now the question is, What are the top beauty pageant events in Nigeria in 2023 and beyond?
The top 10 beauty pageantry events in Nigeria are:
These are the top-rated, upcoming and best beauty pageants in Nigeria to contest in 2023.
Miss Nigeria
Most Beautiful Girl Nigeria (MBGN)
Miss Bold and Beautiful Nigeria (MBBN)
Miss CommonWealth Nigeria Pageant
Miss Earth Nigeria
Miss Petite Nigeria Pageant
Miss Africa Calabar
Now let's take a brief look at these top 10 Nigerian Beauty pageant events in 2023.
 Miss Nigeria beauty pageant
Miss Nigeria is a notable beauty annual pageant event that started in 1957 and was designed to exhibit the intelligence and beauty, also boost the confidence and reveal other potentials in Nigerian women.
Participants include models and all who are within the age limit that think they have all it takes to be the winner.
Miss Nigeria beauty pageant has always witnessed huge turnout of dignitaries from different states of Nigeria and some other parts of the world.

Participants dress up in varieties of attires including dinner gowns, traditional wears, swimming wears, etc. and do the catwalk on the stage amidst crowd cheers and display the Nigerian culture to the full glare of the spectators.
There are criteria to determine the winner and the criteria is set up by the organizers of the event and the panel of judges.
Miss Nigeria beauty pageant's mission is to examine the beauty and hidden potentials in the Nigeria women and also to urge them to be bold and outspoken in the public.
      2. Most Beautiful Girl Nigeria (MBGN) 
Most Beautiful Girl in Nigeria beauty pageant first started in the year 1983, initially it was widely known as Miss Universe Nigeria, but after  three years it got renamed the Most Beautiful Girl In Nigeria (MBGN).
Most Beautiful Girl in Nigeria has always been organized by Silverbird Group since it was established and it has produced well refined and presentable ladies to the society, this was obviously seen in the first winner of Most Beautiful Girl in Nigeria beauty pageant named Lynda Chuba because she later contested and emerged winner of  Miss Africa.

In 2001, MBGN beauty pageant event left a remarkable feat in the book of records after it produced the first black woman from an African country named Agbani Darego to be crowned Miss World. she later made it to Miss Universe beauty contest semi-finals.
      3. Miss Bold and Beautiful Nigeria (MBBN) 
Miss Bold and Beautiful Nigeria – also abbreviated as MBBN – is a pageant organized by Cherdah Republic with the crucial purpose of representing all Nigerian Ladies that are Thick, Plus Sized, Fat, Chubby, Curvy and Big.
MBBN can be described as a non-ethnic, non-religious and non-political entertainment motivated beauty pageantry aimed strictly for plus-sized Nigerian girls to showcase the beauty of the plus-sized African woman to the world. This pageantry is said to be the first of its kind in Nigeria as no other beauty pageantry has been organized for plus-sized Nigerian women with a nationwide reach.
The current MBBN titleholder is Eneokwe Calista who represented Sokoto state.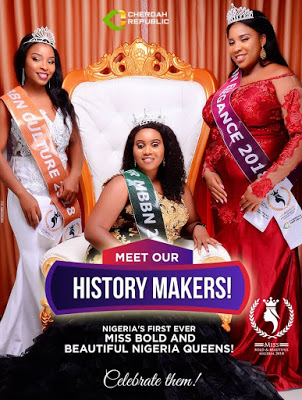 According to Vanguard, This unique pageantry is meant to "celebrate the over 68% of Nigeria's female populace that are on the plus side of life". The company plans to institute a standard pageantry competition that would be strictly for plus-sized models.
This competition is to be the "Champions League" of plus-sized modeling in Nigeria and Africa in the nearest future. It is to be a National Competition that would involve strictly plus-sized girls to showcase the beauty of the plus-sized African Woman to the world.
MBBN has been described to be not just a beauty pageant, but an opportunity for young plus-sized ladies to showcase the beauty of the plus-sized Nigerian woman to the world. The MBBN beauty pageant is a non-ethnical, non-religious and non-political entertainment motivated competition geared towards building a sustainable platform that should serve to eliminate the high level of discrimination plus-sized ladies face in the modeling industry.
It will also to raise a generation of confident, driven and career-oriented ladies that will help drive the Nigerian entertainment industry to the peak.
      4. Miss Commonwealth Nigeria Pageant
Miss CommonWealth Nigeria Beauty Pageant is an annual pageant event that is organized by Strud Models International Limited with the aim of empowering young ladies to utilize their talents and skills in order to benefit of the people in general and the environment.

This is a unique beauty pageant project that is being sponsored by CommonWealth as a medium of empowering Nigerian women through beauty contest and also to protect, promote, and project unity in diversity of Nigerian cultures.
      5. Miss Earth Nigeria
Miss Earth Nigeria is the Nigerian franchise of the international Miss Earth World beauty pageant; it is obviously one of the three most recognized beauty pageants in the world and this is measured by the frequency of their contests in the world finals.

Just like other Nigerian beauty pageants, Miss Earth is also an annual event that is designed to empower women, make them role models and also to achieve the maintenance of environmental friendliness.
Miss Earth pageant contest strongly believes in taking up social responsibility of our immediate environment, unlike other pageants that just raise queens, Miss Earth beauty pageant aims in raising amazing ambassadors that will pioneer the sustainable development of their environments.
      6. Miss Petite Nigeria Pageant
Miss Petite Nigeria Pageant is one beauty contest in Nigeria with a unique ideology that takes into consideration a particular height range as part of the vital qualification process for participation in beauty pageant.

The beauty pageant mission is to cause a positive change in society by settling the problem of height discrimination which arises in several pageant competition where people are disqualified because they did not meet the necessary height requirements and this allows all interested ladies to participate in the competition.
7. Miss Africa Calabar
Miss Africa is pushing with full force as its promoters (the Cross River State Government) are focused on fulfilling its pledge to promote, highlight and grow Cross River State, as well as Nigeria's environmental and eco-friendly lifestyle mixing beauty, fashion, nature, and charity.
The Miss Africa Calabar Nigeria Beauty Pageant is a brainchild of Prof. Sen. Ben Ayade, Cross River State's Executive Governor, who is a strong environmental activist himself, a man who can give up all he has for environmental protection. A charismatic leader and businessman whose career spans decades, with clearly soaked dynamic ambitions, consistency and work ethics.
Toni-Ann Singh (Miss World 2019) Biography, Family, Education, Childhood, Parents, Boyfriend and Interesting facts
These are Top 10 beauty pageant events in Nigeria that are notable, verified, and registered with the Corporate Affairs Commission of Nigeria. If you want to add another beauty pageant event to the list use the contact us page.