Best Free Weather Apps for Android and iPhones
Do you have a thing for the weather? Are you looking for the most up-to-date weather forecast? You're not the only one who feels this way. According to the most recent statistics, 'weather' is the sixth most frequent Google search query in the United States, and the only one in the top ten that isn't a word (like Facebook or YouTube).
The most astounding aspect of this figure is that it excludes users who get their forecasts from sources other than Google, such as weather apps. You may have tried a few free weather applications and found that they fell short of your expectations. We've compiled a list of the top 10 weather applications, including the best free weather apps and the best paid weather apps.
A word on data protection before we disclose the top ten. Weather applications have been in the headlines a lot recently for breaching users' privacy. Obviously, the easiest method to avoid having your data collected by a weather app is to not download it in the first place – but then you wouldn't have the convenience of real-time weather predictions. When using a weather app, the easiest approach to protect your data is to (a) read the privacy policy; and (b) go into the app settings, disable the provider's access to your location, and then manually add all of your cities.
Top 10 Best Free Weather Apps in 2023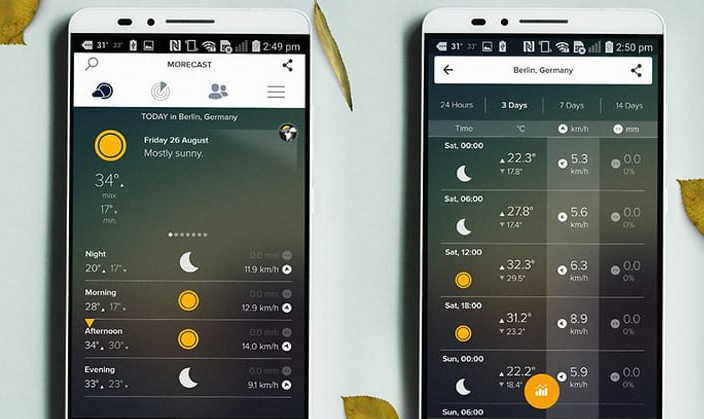 1. The Weather Channel – Best Free Weather App
With good reason, The Weather Channel is the most-downloaded weather app. It's free, has everything you need in a forecast (including hourly, daily, and 10-day views), and keeps you up to date on the weather. It even contains photo and video uploading and viewing features for social sharing. The commercials are removed with a $3.99 annual membership, but there are better premium weather applications. The Weather Channel is best utilized for what it was designed to be: a free weather app that does everything well.
2. AccuWeather – Most Accurate Weather App
AccuWeather is the most accurate weather app on the market. ForecastWatch, an independent industry tracker, reported that AccuWeather had the lowest absolute error rate, performing 7.6% better than its nearest competitor, in a survey of 25 million weather forecasts in more than 1,000 locations worldwide from January 2018 to June 2019. It provides a minute-by-minute summary of the next two hours, as well as hourly, daily, and 15-day views for weather nerds.
3. WeatherBug – Best App for Free Weather Alerts
WeatherBug is a good weather app for mobile devices, but it's greatest for obtaining fast alerts. To turn on notifications, first download the app for free and then head to the app settings. WeatherBug, the National Weather Service, and the National Oceanic and Atmospheric Administration have all issued severe weather warnings. Spark Lightning Alerts are also available, which send out unique notifications when dangerous thunderstorms are approaching your area.
ALSO SEE: Top 10 Best Money Making Apps 2023
4. Dark Sky – Best Weather App for iPhone
If you ask a weather nut to name their favorite weather app, the most likely response is Dark Sky. People all over the world enjoy this program because of its precise forecasts, advanced radar maps, and high level of accuracy. Dark Sky has its own hyperlocal forecasting method, which is based on NOAA radar data. Some of the other weather applications on this list actually use Dark Sky's forecasts. Dark Sky's Android and Wear OS apps were discontinued on August 1, 2020 (after its acquisition by Apple), although the iOS app remains a popular choice among iPhone, iPad, and Apple Watch users.
5. Shadow Weather – Best Weather App for Android
In terms of user interface and experience, Shadow Weather is arguably the closest comparable to the actual Dark Sky app of all the Android apps that still use the Dark Sky API. Shadow Weather, like Dark Sky, displays accurate real-time radar imagery and maps over a sleek black background. Calendar integration is another feature shared by both apps. Shadow Weather isn't from the same developers as Dark Sky, but it's guaranteed to appeal to weather-obsessed Android users.
6. FlowX – Most Interactive Weather App
FlowX would be dubbed "the people's app" if weather applications were given names. Finger sweeping to adjust the forecast animation over time, as well as a choice of different data layers to display on the map, are among the interactive features. The best part about FlowX is that you don't have to pay to remove adverts. The only reason to pay is if you want access to premium features such as a 3-day 'hindcast' and personalized graphs and maps.
7. RadarScope – Best Weather Radar App
RadarScope is the greatest weather radar app for those who require (rather than desire) precise real-time weather warnings. Advanced radar interrogation, real radial NEXRAD data, Apple Watch/Android Weather integration, and 24/7 live assistance are all included with an iOS/Android subscription. Biker and hikers use RadarScope to receive severe weather alerts, and roofing and shipping companies use it to be warned about occurrences that affect their operations.
8. ClimaCell – Best for Weather Forecast on Your Block
ClimaCell is a weather-tech firm that aims to challenge the status quo. It collects meteorological data from millions of linked devices such as cell phones, connected vehicles, street cameras, airplanes, and drones, and is backed by more than $100 million in venture capital funding. For instance, if a connected vehicle activates a windshield wiper, ClimaCell recognizes that it is raining. ClimaCell is mostly focused on growing its business, but it has released a handy consumer app that claims to be able to reliably predict weather down to your exact location.
9. AIR by Plume Labs – Best App for Viewing Air Quality
Knowing the weather isn't enough for those who live in major cities; they also need to know about air quality. The greatest app for real-time air pollution levels in your location and throughout the world is AIR from Plume Labs. Current maps, complete data (live, historical, and forecast), and clean-air coaching are all available. And, best of all, it's completely free!
10. CARROT Weather – Best App for Having Fun with the Weather
CARROT Weather dubs their work "the crazy-powerful weather app," emphasizing the word "crazy." This app is for people who want their weather to be entertaining rather than just informative. It has entertaining games such as secret treasure hunts on a globe map. You can even change CARROT's personality to match your own.