Best male yoga instructors on Youtube
In today's fast-paced world, finding peace and balance is more important than ever. Yoga, an ancient practice that harmonizes mind, body, and spirit, has become a beacon of solace for countless individuals seeking wellness and tranquility. With the rise of digital platforms, yoga enthusiasts can now embark on transformative journeys from the comfort of their homes. And at the forefront of this revolution are the best Yoga YouTube channels, which offer a vast array of classes, tutorials, and expert guidance to help you deepen your practice and unlock your inner yogi.
Whether you're a seasoned practitioner or a curious beginner, the power of Yoga YouTube channels lies in their ability to make yoga accessible to all. With a click of a button, you can explore a multitude of styles, including Hatha, Vinyasa, Ashtanga, Yin, and more, guided by world-class instructors who generously share their wisdom and expertise. These channels serve as virtual sanctuaries, where you can delve into mindful movement, breathwork, meditation, and self-reflection, fostering a sense of self-awareness and holistic well-being.
Join us on a remarkable journey as we unveil the cream of the crop among Yoga YouTube channels. In this comprehensive guide, we'll delve into the divine realms of online yoga, presenting you with a curated selection of channels that have garnered widespread acclaim and touched the lives of countless yoga enthusiasts worldwide. Whether you seek to enhance your flexibility, increase strength, reduce stress, or connect with your inner self, these channels are poised to be your trusted companions on the path to self-discovery and self-care.
Prepare to embark on a captivating voyage, exploring the boundless treasures of the best Yoga YouTube channels. Immerse yourself in transformative flows, find inspiration in uplifting mantras, and experience the profound benefits that yoga can bring to your life. Let the virtual world of yoga become your sanctuary, empowering you to cultivate balance, vitality, and inner peace amidst the chaos of everyday life.
Best Yoga Instructors on Youtube
1. Yogi Bryan Channel: Embrace Meditation and Yoga with a Touch of Humor
Step into the realm of Yogi Bryan's YouTube channel, where meditation and yoga come alive with a touch of humor and relatability. Since its launch in 2017, Yogi Bryan has captivated viewers with his unique blend of mindfulness and comedic charm.
Yogi Bryan's channel is a sanctuary for meditation, yoga, Yoga Nidra, sleep meditations, and more. Embrace his non-traditional approach to meditation, designed to help you focus, release tension, and navigate life's challenges with a light-hearted perspective.
Be prepared for Yogi Bryan's authenticity and occasional use of colorful language, as he creates a space where meditation and self-discovery can be approached with a sense of ease and genuine connection.
2. Yoga With Tim: Explore Vinyasa Yoga with Clarity and Warmth
Discover the welcoming world of Yoga With Tim, a YouTube channel launched in 2018 that specializes in Vinyasa yoga. Tim's classes, typically around 30 minutes in length, offer a perfect balance of explanation, postural guidance, and mindful movement.
Tim's focus on postures and understanding movement creates a safe environment for practitioners of all levels. His classes can be challenging, leaving you with a sense of fulfillment and accomplishment after each session.
Dive into Tim's array of offerings, including 30-day yoga challenges, beginner series, meditation practices, and total body workouts. With his openness, warmth, and calming voice, Tim's channel becomes a trusted companion on your yoga journey, supporting your growth and well-being both on and off the mat.
3. Yoga With Shaunneka: Discover Yin, Restorative, and Gentle Flow Yoga
Join Shaunneka on her transformative YouTube channel, Yoga With Shaunneka, which debuted in 2020 and has already cultivated a vibrant community. Shaunneka's focus lies in Yin, Restorative, and slow flow yoga, inviting you to unwind, rejuvenate, and find serenity within.
Her calming voice effortlessly guides you through gentle and soothing practices, leaving you feeling refreshed and restored. Shaunneka's channel offers playlists meticulously organized to cater to your needs, including seated yoga, no props yoga, gentle yoga, and many more.
Indulge in the nourishing world of Yin and Restorative yoga with Shaunneka, allowing yourself to embrace deep relaxation, release tension, and create space for inner harmony and self-care.
4. Erin Motz – Bad Yogi: Embrace Yoga for Every Body and Every Lifestyle
Meet Erin Motz, the vibrant force behind Bad Yogi, a YouTube channel that redefines traditional yoga culture. Erin's mission is to keep her classes fun, unfiltered, and accessible to all, encouraging practitioners to stay true to themselves and utilize yoga as a tool for enriching their lives.
Bad Yogi is a hub for yoga classes, series, tutorials, tips, and personal vlogs. Erin's teaching style focuses on safely accessing poses, allowing you to make the most of your time on the mat. Sanskrit takes a backseat as Erin's instruction centers around making yoga relevant to everyone, from environmental warriors to steak lovers.
Join Erin on her journey of empowering individuals to embrace yoga and celebrate their unique paths, fostering a community of inclusivity, self-acceptance, and personal growth.
5. Jenni Rawlings – Yoga and Movement Science: Uncover the Science Behind Yoga
Delve into the captivating realm of Jenni Rawlings' YouTube channel, Yoga and Movement Science, where yoga anatomy, movement science, and myth-busting take center stage. Jenni's high-quality content serves as a valuable resource for yoga students and teachers alike, offering profound insights into how the body works and how to optimize your practice.
Explore a diverse range of videos, including short tutorials on pose adjustments, as well as longer podcast episodes where Jenni delves into intriguing topics like stretching myths, the functionality of yoga, and the impact of nasal versus mouth breathing.
Jenni's channel is a treasure trove of knowledge, allowing you to deepen your understanding of the science behind yoga and embrace an informed approach to your practice.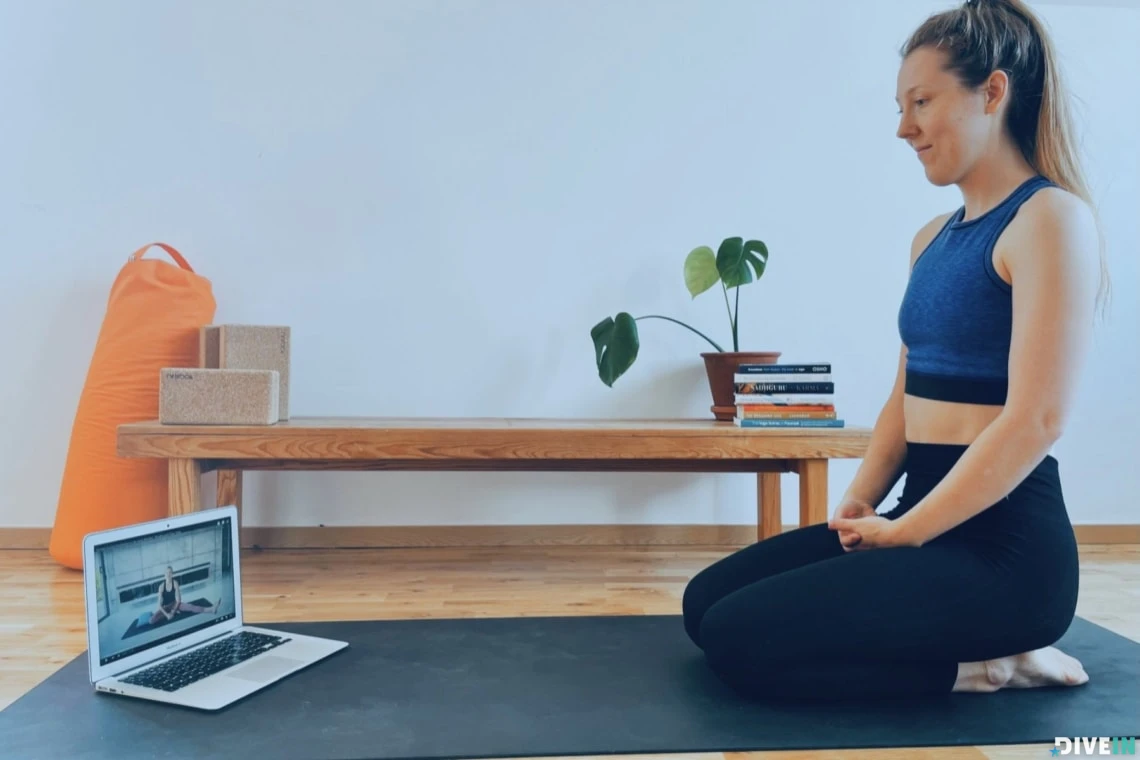 6. YouAligned: A Holistic Haven for Mind, Body, and Wellness
Step into the world of YouAligned, a remarkable YouTube channel that transcends the boundaries of traditional yoga and fitness content. As a dedicated resource for all things related to mind, body, and wellness, YouAligned offers a treasure trove of enriching content designed to support and enhance your life, both on and off the mat.
Within the depths of this channel, you'll discover an extensive collection of free full-length yoga and fitness classes, meditation videos, pose tutorials, and an array of topics that cater to your holistic well-being. From invigorating flows to moments of tranquility, YouAligned's playlist showcases some of their all-time favorite classes sourced from their premium on-demand membership.
Embrace the opportunity to dive deep into a comprehensive range of content that nurtures not only your physicality but also your mental and emotional well-being. With YouAligned, the journey towards self-care and self-discovery becomes an immersive experience, empowering you to align your mind, body, and spirit for optimal wellness. Join the YouAligned community and embark on a transformative path towards a balanced and harmonious life.
7. Yoga With Kassandra: Embrace the Yin Yoga Revolution
Since its inception in 2013, Yoga With Kassandra has emerged as a trailblazer in the realm of Yin Yoga on YouTube. With an impressive repertoire of Vinyasa, Yin, and general stretching classes, Kassandra's channel offers a diverse range of content, spanning from quick ten-minute sessions to immersive hour-long journeys.
Navigating through Kassandra's channel is a breeze, thanks to well-organized playlists categorized by length, focus, and level. While most of her videos are filmed indoors in her Canadian sanctuary, she occasionally takes her practice outdoors, providing a soothing backdrop of birdsong and natural ambiance.
Join the vibrant community that has grown around Yoga With Kassandra, and unlock the rejuvenating power of Yin Yoga. With Kassandra as your guide, you'll embark on a journey of deep stretching, mindful movement, and profound relaxation, immersing yourself in the transformative practice of Yin Yoga.
8. Dean Pohlman – Man Flow Yoga: Unleash Your Strength and Flexibility
For those seeking a yoga experience that focuses on physicality and targets strength and flexibility, Dean Pohlman's Man Flow Yoga channel is an invaluable resource. Launched in 2013, Dean's classes are tailored to cater to the needs of both inflexible men new to yoga and seasoned practitioners looking for a challenge.
Man Flow Yoga provides a wealth of content, including playlists such as Yoga For Men Over 50, a Sexual Wellness Series, and various challenges. Dean's expertise lies in male fitness, offering valuable insights on technique and alignment. If you're a man curious about how yoga can enhance your overall fitness journey, Man Flow Yoga is your go-to channel.
9. Faith Hunter: Radiate Positivity through Yoga
With a longstanding presence on YouTube since 2010, Faith Hunter's channel is a sanctuary for radical self-care and personal empowerment. Drawing from over two decades of experience in wellness activities, Faith curates a collection of content that exudes positivity, inspiring viewers to embrace a life of balance and well-being.
Faith's yoga channel on YouTube serves as a haven for meditation, yoga, lifestyle tips, and overall inspiration. Her regular posts and thoughtfully organized playlists ensure that you'll find exactly what you're looking for, whether it's a grounding meditation or a soul-nurturing yoga practice. Immerse yourself in Faith's uplifting offerings, and let her channel guide you on a journey of self-discovery and self-love.
10. Arianna Elizabeth – Bright and Salted: Ignite Your Yoga Practice with a Twist
Enter the captivating world of Arianna Elizabeth's Bright and Salted YouTube channel, where yoga sculpt, meditation, and breathwork take on a unique and invigorating form. With over 450 free videos, Arianna's channel is a treasure trove of transformative content.
Immerse yourself in Arianna's well-organized playlists, featuring classes categorized by length, class type, skill level, challenges, meditation, and more. Experience the fusion of yoga and music as some of her classes seamlessly synchronize with curated playlists, creating an immersive and uplifting practice.
Discover the power of Arianna's vibrant and creative approach to yoga, as her expert guidance and soothing presence guide you on a journey of self-expression, physical vitality, and inner awakening.
11. Aham Yoga: Empower Your Practice through Education and Yoga Philosophy
Arundhati Baitmangalkar, an ex-Bollywood dancer and the founder of Aham Yoga, invites you to embark on an enlightening journey through her YouTube yoga channel. With over 130 podcast episodes, Arundhati covers a wide range of yoga-related topics, empowering you through education and deepening your personal yoga practice.
Aham Yoga's channel serves as a rich resource, offering insights into yoga philosophy, history, and practical information to support your growth. In addition to the podcast episodes, Arundhati provides yoga class videos, most of which are under 40 minutes, making them easily accessible for your daily practice.
Immerse yourself in the wisdom of yoga as Arundhati guides you towards self-discovery, self-empowerment, and a deeper connection with your practice on and off the mat.
12. Cosmic Kids Yoga With Jamie
Rewind to childhood wonder and embrace the vibrant world of Cosmic Kids Yoga with Jamie. Designed specifically for children, this enchanting YouTube channel is a haven where yoga and mindfulness blend seamlessly into playful adventures. Jamie's classes are brimming with energy, brightness, and an element of exciting exploration.
In the midst of the fun-filled sessions, children will discover foundational yoga and mindfulness skills that promote strength, balance, and confidence. Cosmic Kids Yoga becomes a nurturing space where little ones can cultivate lifelong abilities that extend far beyond the mat.
With regular content updates and meticulously organized playlists, Jamie ensures that her channel remains a reliable resource for children's yoga on YouTube. With over 1.3 million subscribers, Cosmic Kids Yoga has become a beloved destination for young yogis seeking joy, growth, and connection.
13. Yoga With Adriene: Embrace Yoga for Every Level and Every Day
Step into the world of Yoga With Adriene, the renowned and beloved YouTube channel that has captured the hearts of millions. Since its inception in 2012, Adriene has been a constant source of inspiration, offering a diverse range of content to cater to all levels and preferences. Whether you're a beginner or a seasoned yogi, this channel has something for everyone.
Adriene's immense popularity stems from her ability to create a sense of community and inclusivity. With her infectious warmth and genuine approach, practicing with Adriene feels like joining a friend on the mat. You'll find monthly yoga series, themed practices, curated playlists based on video length, and beginner-friendly sequences that guide you step by step.
Be prepared to meet Adriene's lovable dog, Benji, who adds a lighthearted touch to the classes. With Yoga With Adriene, you'll not only experience the physical benefits of yoga but also foster a deep connection to yourself and those around you, creating a true sanctuary for well-being and growth.