BEST SPAS IN LAS VEGAS 2023
While Sin City is a great destination to gamble and have a good time, there are times when you need a break, and that's when you should visit a Las Vegas hotel spa. A day at the spa in Las Vegas is a delightful activity, so treat yourself to some pampering or a unique couples' experience.
If you're not sure which spas in Las Vegas are the best, I've put together a list of the top six. Furthermore, several of these spas are part of excellent accommodations, so if you're looking for a place to stay in Las Vegas, these hotels are worth considering.
Spend a couple of hours enjoying a massage or relaxing treatment at one of Las Vegas' premier spas, away from the flashing slot machines, thumping music, and raucous crowds of the Strip.
These spas have beautiful facilities, many of which include cutting-edge fitness equipment and salon services. Poolside massages, whirlpool jacuzzis, rejuvenating facials, and couples' packages and suites are among the most luxury services on the Strip. Continue reading to learn about each spa's trademark services as well as a sample of their spa menu.
Now, let's take a look at the top six spas in Las Vegas!
Here are the 10 Best Spas In Las Vegas For Couples and Groups 2023:
The Spa at ARIA
Canyon Ranch Spa
The Sahra Spa and Hammam at the Cosmopolitan Hotel in Las Vegas
Spa Aquae at the JW Marriott in Las Vegas
Spa Mandalay at Mandalay Bay, Las Vegas
Voie Spa & Salon at Paris by Mandara in Las Vegas
ESPA at Vdara
Spa at Encore, Wynn, Las Vegas
Imperial Spa Las Vegas
Qua Spa Las Vegas
1. The Spa at ARIA
The Spa at ARIA is guided by the principles of elemental balance. Take a plunge in the infinity therapeutic pool, try "rock bathing" on Ganbanyoku beds (heated black silica slabs), and then nap in the halotherapy room while inhaling in Himalayan salt-infused air. The Gemstone Journey, which includes a salt-stone massage and a gemstone facial with a collagen and diamond-infused face mask, is the most opulent treatment at ARIA, if not all of Vegas. While the ARIA hotel, where this spa is located, is a tranquil haven on the inside, it also has its own casino and is right in the midst of Vegas action, with Park MGM and the Bellagio as neighbors.
2. Canyon Ranch Spa
Canyon Ranch first opened its doors in 1979 near Tucson, Arizona, and rapidly became the go-to wellness resort for those looking to improve their health. With a day pass to the Canyon Ranch Spa and Fitness Center at the Venetian Las Vegas, you can get a taste of the company's intensive health programs. Try the Aquavana spa experience, which includes a Finnish sauna, hydro spa, crystal steam room, igloo, herbal laconium (dry sauna), and "experiential rains," where you can pick between Caribbean Storm, Tropical Rain, or Cool Fog.
3. The Sahra Spa and Hammam at the Cosmopolitan Hotel in Las Vegas, NV, USA.
To get to the Cosmopolitan's Sahra Spa and Hammam, you'll have to stroll through a slot canyon-like corridor – the spa was created to mimic the desert, with peach-hued stone walls and metallic ceilings that recall starlit evenings. The private Moroccan hammam chamber is the centerpiece, a "ritual area" where you'll lie down on a giant, warmed circular stone table before the masseuse kneels over you, covers you in water, and scrubs you down. It's a sensual purification ritual that ends with a cold bath – or a full-body massage, if desired. Two whirlpools and steam rooms are also available.
4. Spa Aquae at the JW Marriott in Las Vegas, NV, USA.
The JW Marriott's Spa Aquae focuses on the healing effects of water rituals, with a succession of pools that send your body from hot to cold and back again, increasing circulation and reducing inflammation. Start with the outdoor hydrotherapy circuit, then make your way to the gender-specific ritual rooms, which have steams, saunas, plunge pools, waterfall showers, and a soothing float pool.
5. Spa Mandalay at Mandalay Bay, Las Vegas, Nevada, USA.
Take use of the Mandalay Spa's redwood sauna, whirlpools, relaxation lounge, cold plunge pool, and Eucalyptus Steam Room with a $30 (£22) day pass. Exfoliating sugar scrubs, hydration-enhancing facials, and aromatherapy massages are among the spa's tried-and-true treatments. If you want to burn off some of that Vegas excess, there's also a state-of-the-art fitness center.
6. Voie Spa & Salon at Paris by Mandara in Las Vegas, NV, USA.
The Voie Spa by Mandara, which is housed in a hotel with a replica Eiffel Tower at the entryway, is unsurprisingly French in its approach. While the spa services are fairly basic – imagine rejuvenating facials and hot stone massages – they all include little details inspired by the French countryside. The antioxidant resveratrol in the Loire Red Wine Antioxidant Mask helps to minimize signs of aging, while the 80-minute Fleur de Sel Massage is inspired by Occitanie's pink salt beaches.
7. ESPA at Vdara
ESPA at Vdara takes pride in providing five-star service, which includes a personalized spa experience as well as wellness ideas you can take home and use every day. Book one of the spa's signature treatments once you've tasted the European-style amenities. Desert Rose, a salt scrub and massage treatment, is followed by a head-to-toe slathering of skin-softening body butter. On the Rocks includes dry body brushing, a massage with volcanic stones, and a scalp massage, while On the Rocks includes dry body brushing, a massage with volcanic stones, and a scalp massage.
8. Spa at Encore, Wynn, Las Vegas, NV, USA.
The Spa at Encore's rich, gilded design is a sort of pampering in and of itself, but it's the unique treatments that really set the place apart. Consider the Bodhi Massage and Visualization, which combines energy work, massage, aromatherapy, and chromotherapy to balance the chakras (energy centers of the body); or the Good Luck Ritual, a head-to-toe treatment influenced by Chinese medicine's five elements and said to promote happiness, luck, and prosperity.
9. Imperial Spa Las Vegas
Imperial, a Korean spa with a public entrance ticket of about $25 (£18), is the place to go if you want a spa day without the high cost. The Imperial's "Roman-style paradise," a 32,000-square-foot (3,000-square-meter) atrium with circular murals on the ceilings, promises to make you feel like royalty. A Himalayan salt cave, a red-clay infrared sauna, and a jade sauna are among the therapeutic chambers available. You'll feel revitalized, detoxed, and ready to take on more hijinks on the Strip. Near the Las Vegas Country Club, the Imperial is a 20-minute walk (or quick taxi ride) from Las Vegas Boulevard.
10. Qua Spa Las Vegas
Although the motif of Qua Baths & Spa is Roman baths (after all, this is Caesars Palace), the spa borrows and celebrates rituals and treatments from a variety of cultures, including Hawaiian, Thai, Native American, and Indian. Head straight to the Arctic Ice Room, which, according to Caesars, is the only one of its type in the world, where you'll recline on a heated bench in the freezing 55F (13C) air as snowflakes – yes, snowflakes! – fall from the domed ceiling.
11. QUA BATHS & SPA AT CAESARS PALACE, THE MOST LUXURIOUS DAY SPA IN LAS VEGAS
Some of the best spa packages in Las Vegas can be found at Caesars Palace's Qua Baths & Spa.
Of course, as one of Las Vegas' top themed hotels, the spa features three Roman baths where you may relax and unwind. You can also use the Laconium steam room and the arctic ice room, which is the world's only one of its kind.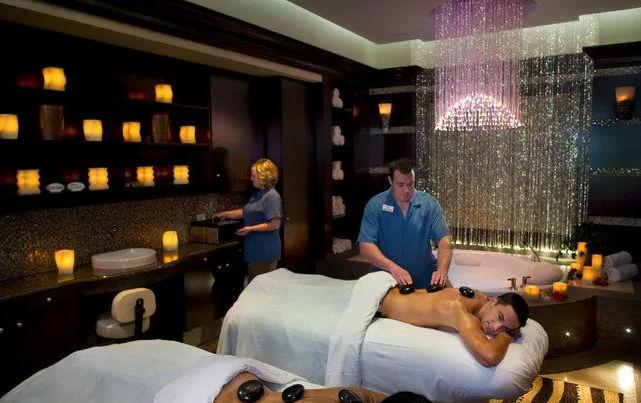 Qua Baths & Spa offers one of the top spa facilities in Las Vegas, with a comprehensive approach to wellness. All of your senses will be energized and renewed once you step inside, thanks to temperature-controlled chambers, calming smells, and warming body oils.
The Nobu Zen massage, a bespoke treatment involving aromatic oils and deep tissue techniques, is one of the hallmark offerings. You can also book a hair, nail, or cosmetic appointment at the fitness center or salon. The majority of treatments cost between $185 and 275, however larger packages are available.
12. SPA BELLAGIO AT THE BELLAGIO, THE BEST COUPLES MASSAGE SPA IN LAS VEGAS
Finally, the Bellagio Resort's Spa Bellagio is a fantastic spot to be treated in the lap of luxury. This spa was inspired by the Bellagio Conservatory and Botanical Gardens, which is another fantastic destination to visit in Las Vegas during the day.
Spa Bellagio, one of Las Vegas' premier hotel spas, offers poolside massages and facials, as well as a fitness center and salon. Take a swim in the frigid plunge pool or relax in the whirlpool. Then unwind in a steam room or sauna, letting your worries fade away. Although the Bellagio is one of the top Las Vegas hotels with in-room jacuzzis, there is also a jacuzzi, so considering staying overnight.
Bellagio is without a doubt one of the top spas in Vegas for couples. Consider a couples suite package, which includes champagne and chocolate-covered strawberries, if you're visiting with your significant other. Alternatively, you may try the Desert Gold Massage, which includes essential oils and a skin-rejuvenating clay mask. The majority of treatments at Spa Bellagio cost between $85 and $220, however couples packages are more expensive.
You can plan a pleasant girls' day out or a couples' date now that you know the best day spas in Las Vegas. Alternatively, go solo and treat yourself to one of Las Vegas' top spa experiences; you deserve it!