Best free virtual staging app in real estate
In the ever-evolving landscape of real estate, the first impression is often the only impression. As potential buyers scroll through listings online, the visual appeal of a property can make or break a deal. This is where virtual staging apps and software step into the spotlight, revolutionizing the way real estate professionals showcase their listings.
Gone are the days of relying solely on traditional home staging methods, as the digital age brings forth a wave of innovative solutions. Virtual staging not only offers a cost-effective alternative to physical staging but also provides unparalleled flexibility, allowing real estate agents and sellers to experiment with various designs and styles to find the perfect fit for their target audience.
In this blog post, we will dive into the world of virtual staging and explore the best apps and software available to elevate your real estate marketing strategy. From creating stunning visualizations to transforming empty spaces into dream homes, these tools are reshaping the industry and setting a new standard for property presentation. Whether you're a seasoned real estate professional or a homeowner looking to sell, join us on this virtual journey to discover the game-changing virtual staging apps and software that are taking the real estate market by storm.
What is Virtual Staging?
Virtual staging is a cutting-edge technique in the realm of real estate that involves digitally enhancing and furnishing empty or minimally furnished properties to make them more visually appealing to potential buyers. Through the use of advanced computer-generated imagery (CGI), virtual staging allows real estate professionals and sellers to showcase a property's full potential without the need for physical furniture or decor.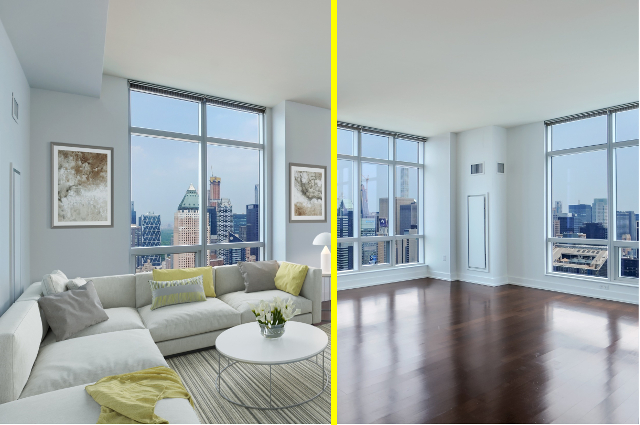 What is the Cost of Virtual Staging?
The cost of virtual staging can vary based on several factors, including the complexity of the project, the number of rooms staged, and the level of customization required. On average, virtual staging is significantly more cost-effective than traditional physical staging, which involves renting or purchasing furniture and hiring a staging professional. Virtual staging typically ranges from $50 to a couple of thousand dollars per property, making it a more accessible option for a broader range of real estate listings.
Can I Do Virtual Staging Myself?
While virtual staging is a specialized skill that often requires knowledge of design principles and digital imaging software, there are user-friendly virtual staging apps available that allow individuals to try their hand at basic virtual staging. These apps typically provide pre-designed furniture and decor elements that users can drag and drop into photos of their empty spaces. However, for more sophisticated and professional results, many real estate professionals prefer to enlist the expertise of virtual staging professionals who can deliver polished and realistic visualizations.
Is Virtual Staging Effective?
Virtual staging has proven to be highly effective in enhancing property marketing efforts. Studies have shown that staged homes, whether physically or virtually, tend to sell faster and at higher prices than their unstaged counterparts. The ability to present a property in its best light, catering to the tastes and preferences of the target demographic, significantly increases the likelihood of attracting potential buyers and making a lasting impression in the competitive real estate market.
What is the Difference Between Physical Staging and Virtual Staging?
The primary difference between physical staging and virtual staging lies in the tangible versus digital approach. Physical staging involves bringing in actual furniture, decor, and accessories to adorn a property, requiring logistical coordination and a budget for rental or purchase. In contrast, virtual staging relies on computer-generated imagery to digitally furnish and decorate a space, offering a cost-effective and highly flexible alternative. Virtual staging allows for quick changes in styles, layouts, and color schemes to cater to diverse buyer preferences without the logistical challenges associated with physical staging.
As technology continues to advance, virtual staging is becoming an invaluable tool in the real estate industry, providing a dynamic and visually compelling means of showcasing properties to a global audience. Whether you're a real estate professional or a homeowner looking to sell, virtual staging opens up a world of possibilities for presenting your property in the best possible light.
1. Virtual Staging Solutions
Price:
4 photos/$300
5 photos/$375
6 photos/$450
7 photos/$525
8 photos/$600
Virtual Staging Solutions provides a swift turnaround time of one to two business days, with an option for expedited service at an additional cost. Benefit from two complimentary revisions and our "happiness guaranteed" policy, or your money back. Simply submit photos of each room, choose from our pre-designed furniture options, and let our designers work their magic.
Explore beyond staging with our remodeling and restyling services, where we transform flooring, walls, cabinets, and more. Looking for virtual construction assistance? We have you covered.
2. BoxBrownie
Price: $32/photo (No volume discounts available)
BoxBrownie pledges to amplify buyer interest, accelerate property sales by 75%, increase sales prices by up to 85%, all while offering cost-effective virtual staging. Share your photos, give us 48 hours, and we'll handle the rest.
For additional services, BoxBrownie provides image enhancement, day-to-dusk image retouching, floor plan redraws, renders, copywriting, and 360-degree services, ensuring your property stands out.
3. VisualStager
Price: Prepaid credits (10 credits to stage one photo)
$15.00/10 credits
$59/50 credits
$99/100 credits
$269/300 credits
$399/500 credits
$699/1000 credits
White Label Lite Plan: $10/month paid yearly or $15/month
White Label Standard: $20/month paid yearly or $30/month
VisualStager empowers you with a do-it-yourself virtual home staging software. Upload your room photos, erase existing furniture, choose from a vast selection of over 4,000 furniture items, and effortlessly stage your photos. Share your finished creations as JPGs or on the cloud with our user-friendly platform.
4. VHT Studios
Crafting Visual Experiences, Selling Homes Faster
Price: To see rates for Silver Series, Gold Series, and Platinum Series plans, enter your zip code here.
VHT Studios offers an array of services, including staging, painting, decluttering, redecorating, and virtual twilight, all aimed at helping you sell your home 32% faster. Discover their expertise through our tailored plans.
5. VRX Staging
Immersive Staging, Swift Results
Price: $35/photo
Upload photos under 6MB, and VRX Staging guarantees returns by the next business day before 5:00 PM CST, Monday through Friday. Enjoy one free revision per photo and only pay $5.00 per subsequent revision. Need professional photography? We can handle that for you, exclusively in the United States.
6. Styldod
Price:
More than 8 images – $16 USD per image
Less than 8 images – $23 USD per image
Unlimited Free Revisions
Styldod is your go-to solution for transforming property images into visually stunning, professionally staged spaces. Experience a rapid turnaround time of just 1-2 business days, effectively accelerating your property's time on the market by 73% and boosting its selling price. With a commitment to customer satisfaction, Styldod offers unlimited free revisions, ensuring your vision is perfectly realized.
Choose from a range of popular design styles, spanning from traditional farmhouse aesthetics to sleek, modern contemporary looks. Submit your property images, and Styldod's expertise extends beyond virtual staging to include image enhancement, object removal, enchanting day-to-dusk edits, virtual renovation, virtual tours, and various copywriting solutions tailored for real estate agents.
7. Real Tour Vision
Price:
Self-service image staging, $15/photo
Full-service virtual staging, $35/photo
Real Tour Vision empowers you with options: opt for the self-service image staging at a discounted rate using their new furniture removal tool, or leave it to the professionals with their full-service virtual staging offer. The choice is yours, and the results are guaranteed to enhance your property's visual allure.
8. Virtually Staging Properties
Where Realism Meets Unmatched Expertise
Price:
$85/1 photo
$150/2 photos
$225/3 photos
$280/4 photos
$325/5 photos
$60/each additional photo
While Virtually Staging Properties may be among the higher-priced virtual staging platforms, they promise unparalleled realism and customer satisfaction. With a team of professional home stagers, each photo undergoes meticulous attention to detail, showcasing your property's best features. Benefit from a comprehensive library of the latest design trends and the expertise of seasoned designers and realtors. Turnaround time varies but typically averages around two business days.
9. Virtual Staging Lab
Price:
$40/photo for vacant room staging
$60/photo for room modeling
Virtual Staging Lab offers the expertise of skilled professionals with years of staging experience. Enjoy a free consultation, no strings attached, as you embark on the virtual staging journey. With a guarantee that each piece of virtual furniture complements your home's style, Virtual Staging Lab provides 24/7 support for a seamless experience. Upload your photos, complete checkout, and receive your staged images in two business days or less.
10. IBD Luxury Home Staging
Price: From $119/photo
For those selling luxury homes, IBD Luxury Home Staging, led by celebrity home stager Ilaria Barion, offers a boutique experience. This upscale firm combines home staging expertise with high-end design, delivering digital staging that transcends the ordinary. Choose from an array of services, including virtual staging for empty homes, virtual furniture replacement, cosmetic work, virtual landscaping, outdoor staging, night virtual staging, architectural rendering services, and more. Elevate your luxury property's presentation with IBD Luxury Home Staging.
What is the future of Virtual Staging?
The future of virtual staging appears promising, with several trends and developments shaping its trajectory in the real estate industry:
1. Technological Advancements: As technology continues to evolve, virtual staging is expected to become even more sophisticated. Improved artificial intelligence, augmented reality, and virtual reality technologies may offer more immersive and realistic virtual staging experiences, allowing potential buyers to virtually walk through a property and visualize it in a highly realistic manner.
2. Integration of Augmented Reality (AR): Augmented reality has the potential to revolutionize how virtual staging is experienced. With AR, potential buyers can use their smartphones or AR glasses to see virtual furniture and decor overlaid onto the real-world spaces as they explore properties physically. This interactive experience can provide a more accurate sense of scale and layout, helping buyers make informed decisions.
3. Personalization and Customization: Future virtual staging solutions may focus on providing highly personalized and customizable experiences. This could involve incorporating artificial intelligence to analyze buyer preferences and dynamically adjust virtual staging elements to align with individual tastes. Tailoring the virtual staging to specific demographics and cultural preferences could become a standard practice.
4. Widespread Adoption: As virtual staging becomes more mainstream, its adoption across various segments of the real estate market is likely to increase. From residential to commercial real estate, virtual staging can be a cost-effective and flexible tool for showcasing properties. Real estate professionals, developers, and homeowners may increasingly turn to virtual staging as a standard part of their marketing strategy.
5. Environmental Considerations: Virtual staging aligns with the growing emphasis on sustainability and eco-friendly practices. By eliminating the need for physical furniture and decor, virtual staging contributes to reducing waste and environmental impact associated with traditional staging methods. This eco-conscious approach may become a significant driver for the adoption of virtual staging in the future.
6. Integration with Real Estate Technology: Virtual staging is likely to integrate seamlessly with other real estate technologies, such as online listing platforms, virtual tours, and property visualization tools. This integration can create a more comprehensive and streamlined experience for both real estate professionals and potential buyers, making the process of buying and selling properties more efficient.
7. Global Reach and Remote Purchases: Virtual staging facilitates global reach, allowing potential buyers from anywhere in the world to virtually experience a property. This can be particularly significant in a world where remote work and digital transactions are becoming increasingly prevalent. Buyers may feel more confident making long-distance property purchases based on realistic and immersive virtual staging presentations.
In conclusion, the future of virtual staging is poised for innovation and widespread integration in the dynamic landscape of real estate. With advancing technologies, such as augmented reality and artificial intelligence, virtual staging is set to offer more immersive and personalized experiences for potential buyers. The flexibility, cost-effectiveness, and environmental sustainability of virtual staging position it as a key player in property marketing strategies.
As the real estate industry continues to evolve, the adoption of virtual staging is likely to become more prevalent across various segments, from residential to commercial properties. The seamless integration of virtual staging with other real estate technologies is expected to streamline the buying and selling process, providing a comprehensive and efficient experience for both real estate professionals and buyers.
Furthermore, the global reach of virtual staging opens up new possibilities for remote property transactions, catering to the needs of an increasingly mobile and globalized market. As the world embraces digital advancements and remote work becomes more prevalent, virtual staging emerges as a valuable tool for showcasing properties to potential buyers worldwide.