The Greatest Holland Michigan Restaurants – Top 10 List
Holland Michigan is a city in the United States. It is located in the West Michigan region. Holland Michigan has a population of about 34,000 people and it's the second largest city in Ottawa County.
The Holland area is known for its Dutch heritage, with many businesses and restaurants bearing Dutch names or serving Dutch dishes.
What to Expect at Holland Michigan Restaurants
Expect to find a variety of restaurants in Holland, Michigan. Some of the best restaurants in Holland are The Dutch Mill Restaurant, The Original Pancake House, and The Blue Water Grill.
Holland, Michigan is located at the meeting point of traditional Europe and modern Michigan. During the annual Tulip Festival in May, you can smell the tulips and see over six million tulips in full bloom.
If you can't make it in May, there are plenty of other Dutch-themed activities to do throughout the year, such as watching the production of wooden shoes and Delftware, touring an authentic Dutch windmill, dining at a windmill restaurant, or visiting two museums to learn about Dutch history and culture. After you've learned about Holland, Europe, you should surely learn about the top eateries in Holland, Michigan.
Holland was ranked one of the "Prettiest Towns in America" by Forbes magazine. Holland is a lovely setting for a summer beach day on Lake Michigan, with opportunities to explore the dunes or see Michigan's most photographed lighthouse, Big Red. Enjoy Michigan's fall foliage along South Shore Drive, or go to the Kerstmarkt, Holland's version of a European outdoor Christmas market, in December.
You'll enjoy the great range of food the town has to offer at any time of year, from traditional Dutch cooking to an all-American steakhouse in Holland's eateries.
"You're not much if you're not Dutch," as the saying goes in the Netherlands. Holland, Michigan's restaurants will disprove that assertion.
10 Best Holland Michigan Restaurants
Here are the 10 Best Holland Michigan Restaurants to Try 2022:
deBoer Bakkerij Restaurant
Anna's House – Holland
Boatwerks Waterfront Restaurant
New Holland Brewing
Crazy Horse Steakhouse & Saloon
Windmill Restaurant Inc.
Beechwood Grill
Crust 54
Salt and Pepper Savory Grill & Pub
Teriyaki Madness
1. Best Dutch Bakery Restaurant in Holland, Michigan
360 Douglas Avenue // +1 616-396-2253
For some authentic Dutch dining, visit deBoer Bakkerij Restaurant. Since it was established in 1900 and is still run by the original family, the eatery has garnered a reputation of being one of the most popular breakfast joints in Amsterdam. It's open all day so visitors can have some coffee and a piece of cake mid-morning or something more substantial for dinner time.
Opa's corned beef hash is my personal favorite during morning. Tender bits of corned beef and fresh potato chunks are grilled by the chef. They provide it with two eggs cooked any way you desire. The dish is completed by serving it with your choice of house-made toast. They also serve homemade pies, which I'm sure you'll love as much as I did!
Beef croquettes, a traditional Dutch dish, are seasoned with a standard blend of Dutch spices and served with a seasoned béchamel. They're wrapped into a three-inch stick, breaded, then deep-fried after cooling. Croquettes come with a dipping sauce made of Dutch mustard. You'll see why croquettes are so popular at this Holland restaurant.
We make our soups fresh and seasonally. The Dutch pea soup is on the menu year-round and pairs well with the pigs in the blanket for a traditional Dutch lunch.
Blueberry and almond cranberry scones, as well as those tantalizing sticky buns, are on the menu and at the bakery. If you pair those pastries with some of the greatest Dutch coffee this side of the pond, you've got yourself some of the best Dutch food this side of the pond. Remember, you don't have to go "Dutch treat" if you accompany your spouse or significant other to this unusual Holland restaurant.
Pro Suggestion:
To bring a taste of Holland home, pick up some house-made bread or apple pies from their bakery.

On Saturdays and Sundays, they only serve breakfast; lunch is not available.
2. Best Breakfast in Holland, Michigan 
12450 Felch Street // +1 616–294-1692 
The retro 1950s diner décor has been updated for the new century, with lots of white and a current shade of retro teal blue. In the foyer, you'll find a 1950s console TV topped with a living room lamp. Teapots and toasters adorn open shelved room separators to achieve an open floor layout, while Cosmos Starburst light fixtures brighten the space. A discussion starter is framed by a top view of 15 toasters from the last century.
Anna's House collaborates with local vendors, and a recent menu modification emphasizes the usage of solely organic eggs. Indicators adjacent to menu items indicate if they are gluten-free, dairy-free, or vegan-friendly. They have a special kitchen to prepare meals for those with allergies. 
If you're a chocolate connoisseur, you could need chocolate for breakfast. I'm sure I do! The chocolate quinoa breakfast bowl from Anna's House is a unique way to satisfy that early morning chocolate need. The top of the plate is colored with fresh blueberries, strawberries, bananas, and toasted coconut. The warm chocolatey quinoa is flavored with cinnamon, real maple syrup, walnuts, and pecans. Without being excessively sweet, the meal has a distinct chocolate flavor. It's all finished off with a drizzle of dark chocolate sauce. Choose between a side of steamed almond, soy, or two-percent milk delivered in a silver pitcher so you may pour it over at the exact moment and in the exact amount you want.
Another favorite is Anna's skillet. It begins with red-skinned potatoes and ham cubes. Onions, green peppers, tomatoes, and mushrooms are added to the mix. It's all held together by gooey melted cheddar cheese. The green onion is then added on top. It includes two cage-free organic eggs cooked to your liking. The meal is completed with locally made toast.
Whether you're craving a traditional pancake, biscuit and sausage breakfast or something more modern like waffles with Nutella and berries, Anna's House – Holland ensures that your taste buds are satisfied.
Pro Tips: 
They don't take reservations on weekends.. They close by 3:00 p.m.

Anna's House – Holland only serves breakfast and lunch.
3. Best Waterfront Restaurants in Holland Michigan
216 Van Raalte Avenue // +1 616-396-0600
Boatwerks offers a waterfront outdoor dining area where you can enjoy Michigan's magnificent sunsets during supper. Its present site is on the beaches of Lake Macatawa, West Michigan, straight down West 8th Street. Your boat can be moored on their pier or in their deep-water port. In this Holland seaside restaurant, it's easy to imagine the Amsterdam canals.
With an industrial-style roof and lights, the restaurant has a casual, boating vibe. The exposed brick walls are hung with boat motors. The walls are adorned with mural-sized historic photographs of Lake Macatawa, Lake Michigan, and Holland, Michigan.
The restaurant features exposed beams and masonry, similar to the historic boat-building factory that once stood along the shores of Lake Macatawa. With its alternating dark mahogany boards and light wood inlays, the restaurant's bar top is reminiscent of hand-crafted wooden vessels from a bygone period. They also provide excellent service in addition to excellent meals!
You'll find modern American fare, as well as Michigan mainstays like Lake Superior Whitefish, which can be served as an appetizer in the form of a dip with fresh vegetables and pita chips, or as an entrée with a herb and panko crust and a lemon dill cream sauce. The entrée is served with black rice and a spring vegetable medley. Other Michigan fish on the menu include walleye, perch, and salmon.
Michigan dried cherries are featured in the Great Lakes trademark salad. Baby kale and arugula form the base, which is then topped with candied nuts, Danish blue cheese, and red onion. The salad is dressed with a homemade red raspberry vinaigrette. All of the dressings are made from scratch by the chef.
The entrée selection is rounded off by ribeye, New York strip, and filet steaks. Burgers, pizza, and salads are also available for those seeking lighter meals. Boatwerks Waterfront Restaurant, in any case, is the spot to eat in Holland, Michigan.
Pro Tip: Weather permitting, we plan on eating out on the patio. There's a lot of activity with boating going on (on Lake Macatawa).
4. Best Brew Pub in Holland, Michigan
66 East Eighth Street // +1 616-355-6422
I'd be remiss if I didn't mention the Dragon's Milk, a bourbon barrel-aged stout, because New Holland Brewing is a woody decor brewpub. They've released approximately twenty different varieties of the Dragon's Milk Reserve over the years. My personal favorite has cherries in it. On the plus side, there's always a new craft comfort food to try; but, your new favorite kind will be gone far too soon.
At the restaurant, Dragon's Milk is used in a variety of ways. It can be found in a beer-lovers cocktail, combined with delectable pub fare, or as an ingredient in a menu item. The beer's whiskey flavor makes it a good beer for bourbon fans, and red wine fans will appreciate the robust flavors.
The Cuban sandwich, made with smoked Michigan pork shoulder, ham, Swiss cheese, and spicy sweet pickles is made in-house. The sandwich bread it's similar to that of Mexican tortas and reminds you of authentic Mexican food.
The pesto grilled cheese sandwich with tomato bisque is a must-try. The sandwich is an all-American comfort food lunchtime classic, constructed from sourdough bread smeared with arugula pesto and gooey melted provolone cheese. It's served with a rich house-made tomato bisque that's ideal for dipping. Also, order a side of french fries to complete your meal!
The apple crisp and the Dragon's Milk brownie are two sweets worth mentioning. The apple crisp begins with apples from local farms, Michigan cherries, and an oatmeal crumble, all of which are finished with a bourbon caramel sauce. A scoop of vanilla ice cream and a drizzle of Dragon's Milk chocolate sauce top off the Dragon's Milk brownie.
This Holland, Michigan restaurant will induce feelings of relaxing with nice cuisine or a drink in the town center, in keeping with the Dutch tradition of fine brews and ales.
Pro Tip: Visit while the brewery is open to the public and take a tour. It's a delightful addition to your dining experience, and who knows, it might become your new favorite spot! If you're a wine connoisseur, don't miss out on their amazing wine.
5. Best Steakhouse in Holland, Michigan
2027 North Park Drive // +1 616-395-8393
The walls are lined with light wood planks in a diagonal pattern. Cowboy murals add to the saloon feel of this American eatery with a western theme. A tradition began when a diner scribbled his name on a $1 bill and tacked it to the wall. Hundreds of dollar bills now adorn the walls. They're collected on a frequent basis, so it's not overbearing as it is in certain restaurants. The dollar bills are collected and donated, with over $250,000 in gifts to local charity to date. Crazy Horse Steakhouse & Saloon is proud to support the local community.
The chef infuses carrots, celery, corn, and chicken into their chicken corn chowder, resulting in a thick, creamy chowder served with yeasty dinner rolls.
You'll find guacamole and chips, as well as burritos and burritos, in addition to the traditional steakhouse fare. They provide a wonderful ground beef and cheese burrito wrapped in a flour tortilla, topped with cilantro, corn, and black bean salsa and smothered in burrito sauce and melted cheddar jack cheese.
The dish is served with tortilla chips, salsa, and sour cream. This is one of the top restaurants in Holland, Michigan, despite the lack of a distinct Dutch flavor. They also provide excellent customer service!
Pro Tips: 
On weekends, I strongly suggest reservations.

Crazy Horse Steakhouse & Saloon closes on Sundays.
Which one of these restaurants in Holland, Michigan are you eager to try? Let me know in the comments section below!
6. Windmill Restaurant Inc.
Delicious homemade bread (wheat and white), cinnamon rolls, hash browns, soups, chili, and more await you at the Windmill Restaurant! The "Down on the Farm," a BLT with made-from-scratch egg salad on Windmill's own homemade bread, and "Charlie's BLT," a BLT with wonderful tuna salad on Windmill's own homemade bread, are two of their hallmark sandwiches.
The Windmill Restaurant is a favorite for everyone, whether you're searching for a quick bite to eat or a substantial dinner after a long evening job because it serves breakfast and lunch all day. The Windmill Restaurant's staff is as recognizable as the food.
7. Beechwood Grill
For centuries, an inn served as a place for travelers to stay, eat, and drink. We at Beechwood Inn are no different. Our passion is service, wonderful cuisine, and drinks, but never the lodging. (With the exception of our creator, Craig, who might get a little nighttime nap in between late-night catering and an early-morning brunch!) Beechwood Inn rose in popularity as a result of the success of these caterings, particularly our charcoal-grilled chicken. We've perfected grilling at workplace picnics, weddings, and intimate family events over the past four decades. As you walk throughout the restaurant, you'll notice our passion for grilling. Corrugated metal panels are prominently displayed on our walls.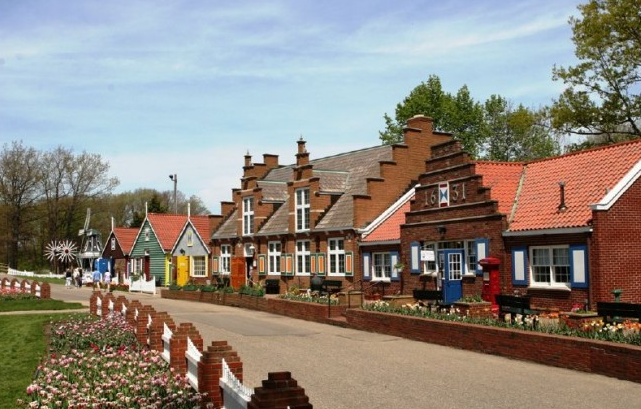 8. Crust 54
In downtown Holland, the Klaus family owns and manages two Crust 54 outlets. In a family-friendly environment, we serve authentic Chicago-style deep dish pizza and stone-fired thin-crust pizza. To ensure that no one is left out, we also provide Vegan and Gluten-Free choices. Every pizza is produced with fresh dough and sauce, the highest quality cheese, and the most recent toppings.
9. Salt and Pepper Savory Grill & Pub
SALT & PEPPER OPENED IN 2010 WITH A SIMPLE VISION: TO BRING GREAT FOOD AND HOSPITALITY TO OUR COMMUNITY. Salt & Pepper was founded as a venue where we could share our passion for delicious food in a warm, relaxed setting. We aim to offer a variety of fascinating selections that put the color back in your life, including innovative variations on standard pub favorites like Balsamic Chicken, Ribeye, Burgers, and Fries.
10. Teriyaki Madness
Even if it's not prepared in your home, we believe you should eat a homemade dinner. But because our house is your house, we'll keep the wok blazing. Some folks think we're insane. Anything less would be irrational. So, the real question is, what are your plans for today's meal? If you're here, you're in for a treat.