Best free 3d modeling software for beginners
Which 3D Printing Software is the Best Free Option?
There are a lot of 3D printing software out there with different features and functionalities. It's important to know which software is the best for your needs.
This article is going to cover the top free options for 3D printing software that you can use to create 3D designs and objects.
It will also cover some of the features that each program has and what you can do with them so you know which one is most suitable for your needs.
What is a CAD or 3D Modeling Software and Why Should I Care?
CAD software is mostly used for architecture, interior design and engineering. But these days such as 3D Printing and robotics, this software has become the most widely used tool.
CAD software is widely used in the process of designing or creating three-dimensional objects. This includes objects such as: buildings, cars, robots and more. It can also be used to design prototypes and animations for presentations and games.
How to Choose a CAD & Modeling Program for a Beginner
For someone just starting to use CAD software, it can be tough to know where to begin. If you're feeling overwhelmed with which program to choose, don't worry! There are a lot of considerations that factor into the decision of which CAD software is best for you.
First, it's important to know if CAD is right for you. It's easy for people who already have certain skills or experience in an artistic field like drawing or painting to pick up CAD programs and understand their functions without any trouble. However, there are many different types of jobs that require CAD skillsets – industrial design, architecture, engineering design – and these jobs often require specific knowledge of models and manufacturing processes. This kind of knowledge can be very difficult for beginners because they'll need the basics before they can even think about.
What's the difference Between CAD and 3D Modeling Programs?
3D modeling is a computer-aided design (CAD) process in which computer graphics are used to create three-dimensional shapes.
CAD software is used to explore the design space of the product before it gets manufactured.
This is then translated into 3D model files that can be processed on 3D printers or used in CAD software programs like AutoCAD.
Best Free CAD and Modeling Programs – Top List of Free Software Options
In the previous decade, 3D printing software has progressed rapidly.
3D printing is just beginning to develop a life-like software model, increase design effectiveness and speed up production of several complicated products, from building and manufacture through to technology and healthcare.
These 3Ds require advanced 3D printing software, however, to build and print out these complex patterns. In recent years, creative features, astonishing new features and seamless computer hardware integration flooded the market.
Here are the Best Free Software for 3d CAD Printing 2023:
Autodesk Fusion 360
Autodesk AutoCAD
Ultimaker Cura
TinkerCAD
MeshLab
FreeCAD
Solidworks
CATIA
OpenSCAD
1. Autodesk Fusion 360.
Best Overall 3D Printing Software.
Autodesk Fusion 360 is one of the most powerful 3D printers on the market. It is one of mechanical engineers, designers and engineers favorites.
Autodesk Fusion 360 is a free, easy-to-use 3d modeling software. It has a set of tools for making design prototypes in minutes.
Outreach is one of the most exciting features in Autodesk Fusion 360. This feature allows you to make your 3d designs available for free to everyone online. This is an innovative way to share your ideas and make them accessible to everyone, without the hassle of downloads and internet access.
The best part is that design, engineering and production power are uninterruptedly combined into one platform. The product development process will also be simplified to ensure the smoother and quicker delivery of high-quality products.
Best For:
Ideal for the production of highly efficient mechanical parts.
Key Features:
It offers complete control over designs, enabling you to efficiently print items of any form.

The strong tool for modeling offers robust functionality for creating very precise and clean models.

Its History Tree functionality allows to modify things more quickly and accurately.

On the same platform you can simply cooperate in real time with other designers.

Leverage simulation to ensure early simulation and functionality design testing.

Produces high-quality designs easily by establishing materials and production limits.
Pricing:
The pricing is based on your term length:
$60/month when paid monthly.

$42/month when paid annually.
Get started with Microsoft's project development platform, Autodesk Fusion 360. You will enjoy having integrated design management functions in this CAD-CAE-CAM library.
2. Autodesk AutoCAD.
Best High-End 3D Printing Suite.
Autodesk has created AutOCAD and is another great, professional-friendly 3D printer tool in this list.
Overall, the 3D printing program is quite versatile and gives many possibilities for creating 3D models. It enables the user to attach and import information from PDFs, add drawing annotations and extract data from objects in tables. All of these elements also contribute to better data presentation and real-time analysis.
As an extra bonus, you have access to both windows and Mac tools and utilities including AutoCAD Plant 3D, AutoCAD Architecture, AutoCAD Map 3D, AutoCAD MEP, AutoCAD Electro, and more when you subscribe to AutoCAD.
Best For:
3D printing professionals who are familiar with programming models are the best candidates for interactive software to have the time they need to get into their work. This software is full-featured, allowing them to get into their work without too much hassle.
Key Features:
It is ideal for the development of detailed 3D models designed for 3D printing.

It also offers an application for the web and smartphones.

For efficient 3D printing AutoCAD can quickly convert 3D models to STL files.

The DWG file format is available in the current version for efficient file drawing in several formats.

The software is bundled with pre-loaded product designs and plug-ins, including doors and windows.

Modify and build sturdy 3D printing mechanical designs easily.
Pricing:
Get started with Autodesk AutoCAD and get integrated with a full suite of industry-specific tools.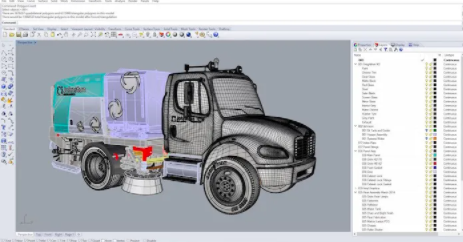 3. Ultimaker Cura.
Ultimaker Cura is a software open source solution which provides seamless 3D printer interaction. With its recommended mode, it delivers pertinent suggestions to new users, making it an outstanding proposal for new users.
Besides this, its customization mode gives very personalized options to satisfy diverse needs and to provide a detailed monitoring.
Cura is a free and open-source software that can be used for 3d printing. It is an essential tool that helps you create 3d objects from CAD designs. It works with a variety of formats, including STL, OBJ, or ACAD.
This software has many features that make it easy to use. These include the ability to save your files as G-code or print directly from Cura with the use of OctoPrint
Cura allows you to change your design in real time while it prints, adding cutting-edge features like multi-material support and variable layer heights.
Best For:
There are many software options out there that can help you on your cyber novel journey. It's one of the best options for newbie authors who don't want to spend big bucks on paid software.
Key Features:
All 3D printer applications may easily be monitored from one user interface.

The 3D model can be instantly scaleed using adjustment tools

Can be used to print multi-network formats, and t is STL, X3D, OBJ and 3MF compatible.

Add printers and personalized stuff to a comprehensive library easily.

With a fast learning curve, new users may readily utilize it.
Pricing:
It's an open-source, free 3D sculpting tool.
ALSO SEE: Best Softwares for twitch streaming
4. TinkerCAD.
TinkerCAD is a web-based 3D modeling and designing tool that simplifies the process of 3D printing. It comes with an easy, straightforward interface that makes it simple for beginners to navigate their way around the software. Its versatility provides more advanced users with the capability to design complex models by utilizing various tools & techniques.
TinkerCAD is an open source 3D modeling software that is available for free. It provides a visual environment for designing 3D objects, including virtual fabrication software.
TinkerCAD has 4 toolsets:
The first toolset includes some basic shapes and tools to achieve basic tasks, like extrude, revolve, or intersect. The second toolset includes basic geometry creation tools like box (rectangle), sphere (circle), and cylinder (cross-section of a circle). The third toolset includes design for fabrication functions that you can use to create the physical object on the computer screen without needing to print it. This includes things like guide profiles, internal support structures, mesh generation, and more. The last toolset is the rendering module which allows you to preview your design in any color of your choice.
Best For:
TinkerCAD is a powerful tool that allows you to create a wide variety of 3-D models from simple to complex designs. Whether you are a beginner, intermediate, or professional designer, this software will have your back every step of the way!
Key Features:
It supports STL files to allow designers to quickly start 3D printing

2D and 3D printed models are easily importable to users.

TinkerCAD can perform laser cutting

With a single click, you may begin 3D printing immediately

It provides 3D model and design storage in the cloud

Offers an intuitive and user friendly UI for a variety of tasks.

Needs seamless education to use all of its characteristics

Provides a full instruction to master the functions of the software
Pricing:
Free software you can use on your computer or by app, which you can use to automate feedback requests!
5. MeshLab.
MeshLab is an open-source tool that can help you edit, process, and create 3D meshes easily. It is also easy to use. Meshlab is also good for slicing HTML templates to prepare them for online use.
MeshLab software is a 3d-printing software that allows the user to design their own objects without any prior knowledge or skills.
MeshLab is an open source, cross-platform, free application for 3D model editing and printing. It is an alternative to proprietary 3D modeling applications such as Blender, FreeCad, or SolidWorks. MeshLab allows you to create 3D models using either triangles or polygons – the same way you would with your pencil and paper.
MeshLab has two modes of operation: "Simulation" mode which works similar to Blender's viewport and "Printing" mode which works like a MakerBot Replicator+. These two modes are independent from one another, so you can switch between them at will.
Best For:
3D editing for triangular meshes is a process that is difficult and time-consuming, even when automated. But today's multifaceted software allows all the necessary capabilities to be processed seamlessly in a workflow.
Key Features:
The capacity to rebuild 3D can simply generate high quality projects that surprise the audience!

Maps and textures 3D colors

The best way to print 3D, offset, pull and close

Thanks to its efficiency, 3D printing workflow may be increased by the user

It gives practical choices for efficient mesh cleaning

This tool's input is relatively easy and produces the output you require.
Pricing:
Meshlab is a free, open-source platform.
6. FreeCAD.
FreeCAD is a 3D modeling and 3D printing software. It is available for Linux, Windows, and MacOS. With FreeCAD, users can create a wide range of 3D designs with different functionalities.
FreeCAD has been generally successfully in the industry and has been used for various purposes such as research, education, animation workflows, generative design, and iterative design. FreeCAD is an open-source CAD program that can be downloaded from the official website for free.
Let´s see the amazing capabilities of this open-source 3D printing tool that offers superior capabilities to model real-life designs of any shape and size. It includes a focus on training budding 3D modelers.
Best For:
You can leverage FreeCAD as an efficient 3D printing training tool.
Key Features:
The parametric components are supplied for more efficient and easier 3D model modification.

It creates the history of every edit to make it easy for designers to modify 3D model parameters

The designer can use 2D objects in geometry for the base to simply generate 3D models.

It supports Windows, Mac OS X and Linux platforms.

You can use it for many purposes including mechanical engineering and architecture.

It offers an extensive array of relevant tools such as geodata workbenches, element analysis (FEA) tools, BIM, road workbench and the experimental CFD.
Pricing:
The open-source 3D printing software is available free.
7. Creo.
One of the market leaders in product design, Creo is developed by Parametric Technology Corporation.
The main reason for their appeal are the incredible features of the tool including movement, structure and temperature. In addition, it offers great design, simulation and printed 3D modeling capabilities, among other things, efficiently via modeling, surfacing, finite-element analysis and tooling.
Creo is a 3d printing software that helps designers and engineers design and manage their 3d printable designs. Creo has many features that makes it easy for designers to create, modify, and organize their models. It also works with the most popular CAD applications such as Autodesk® AutoCAD® Design Suite 360, Autodesk® Inventor® PTC Creo™ Pro/E, and Siemens NX™ (formerly Siemens NX).
Creo comes with a powerful but easy-to-use interface which allows users to create solid models in minutes. The software also enables live collaboration among users along with easy access to all files created.
Best For:
It is one of the best software for 3D printing products' manufacturers.
Key Features:
Users are able to use their increased capacity for the simulation of 3D designs easier and more efficient.

It provides several designer tools to make amazing designs

It comes with one of the greatest technologies for topology optimisation.

It uses real-world model data to produce intelligent designs

Creo's Model-based definition capability enables the user to build 3D models, which include all data, to define the product.
Pricing:
Some tools may come at a one-time fee, although you can try it out for 30 days before deciding to purchase the product.
8. Solidworks.
A 3-D rendering app called Solidworks is one of the preferred choices for 3D designers. It provides a wide selection of features that would be hard to find anywhere else, as well as tools to create objects related to industrial design.
Furthermore, most 3D modeling software comes with a lot of unique & detailed features, empowering professionals to create innovative products.
3D printing is an emerging technology that has brought about a lot of changes in the manufacturing industry. The software used for 3D printing is called Solidworks and can be used by anyone who wants to design, print, or create 3D models.
3D printing has become very cost-effective over the years. Instead of buying products that are made with machines, people can create their own designs with less effort and some patience.
Solidworks software for 3d printing allows you to design anything you want with some specifications provided by you or your manufacturer. You can also use it for designing prototypes and creating functional parts on your CAD file if necessary.
Best For:
3D designers can be very difficult to find and it is hard to know who will provide the best service. For that reason, it is important to choose a provider with excellent reputation and high-quality work.
Key Features:
It offers unique features including reverse engineering and validation tools to produce 3D models simply.

It uses a special NURBS method to create extraordinarily detailed curvatures

For easy scaling, Solidworks leverages dimensional sketching

3DEXPERIENCE® delivers the software for efficient management of all aspects of product development and delivery.

Its version 2023 offers improved efficiency performance

The software offers an easy and simplified design, simulation and production process.
Pricing:
The subscription cost of the software is available on a request basis.
9. CATIA.
CATIA has such a massive success story because it was created for Dassault Aviation specifically. But as time went on, it found more appreciation and usage with other companies around the world. The software also features the 3DEXPERIENCE platform that makes it more versatile and powerful than before."
Create and optimize 3D simulations, drawings and CAD designs. Work with 2D and 3D CAM and CAE, and integrate it all into a multi-platform project.
CATIA software is a software developed by Dassault Systemes to help users design and create 3d objects for various industries such as automotive, aerospace, medical device, etc.
The use of CATIA software has multiple benefits such as improving product development speed and cost with less risk involved.
CATIA software has several advantages over other 3d modeling programs which include high efficiency in terms of turnaround time, high production value with high accuracy, and the ability to use CAD data for prototyping.
Key Features:
Engineers have the option of using the tool to help them with a variety of applications. This can be done for large companies and is a great time saver even though the application may not be as much in demand over time.

It's easy to track all the changes you made with Revit. Whether you need to know about changes you've made yourself or even edits by other team members, it's easy to keep track of everything.

The software efficiently manages all the data during product development

Its large set of tools & offerings are perfect for businesses and sectors.

While it does have its limitations, it can help corporations design complex systems. The largest corporations of the world use these systems to efficiently complete tasks.

This software allows users to collaborate online, share designs of 3D models, and make product modeling more efficient & effective.
Pricing:
At first, CATIA is free with a trial period. If you want to use the paid plan, you have to request a quote.
10. OpenSCAD
OpenSCAD is an open-source software platform that is perfect for creating highly efficient and reliable 3D models. The tool comes in handy for professionals who are working on complex and elaborate projects. It is also intuitive enough for coders and beginners to use with ease.
OpenSCAD is an open-source software that helps users create 3D models from a wide range of input data. OpenSCAD can be used to create 3D models for a variety of purposes. For example, the software is commonly used as a prototyping tool for creating product designs or as a teaching aid in engineering courses.
OpenSCAD also has various features that help to make the process faster and more efficient, such as its ability to handle large files and its ability to generate complex shapes without having to script complex code.
Best For:
OpenSCAD can be used by professionals and advanced users as it requires a knowledge of descriptive language.
Key Features:
The 3D printer comes with CSG and extruded 2D outlines.

This software is most suitable for creating simple shapes and designs. These are typically defined in a parametric form previously.

Solid geometry for 3D models is becoming more & more popular. It's easy to implement with certain programs and provides an easy method of creating the 3D surfaces that you need.

Create an immersive space for 3D designers to discuss issues and offer intuitive knowledge.

The software is available on Linux, Mac, & Windows

3D modeling software enables you to create more realistic forms for your designs. Implementing numerical changes in the design is possible with its numerical output, & these are measurable.