Best Photographers in Nigeria 2023
The year 2023 has begun and for photographers they are already securing lots of gigs due to their professionalism. There are several photography experts who are famous for their works in life which is making us focus today on the top 10 best photographers in 2023.
It is true that in Nigeria the focus of the media is always in the entertainment industry especially on the music artists, models, and actors. But these popular figures are being captured in still or motion pictures.
These professional photographers take the best of photos which has made them gain prominence due to their creativity.
The level of creativity in the world has increased given the high rise of technology so most people get help and photography due to the level of camera and equipment they use while some others are geniuses on their own.
Let's take a look at the best and most famous photographers of 2023 in Nigeria below.
Top 10 Best Photographers in Nigeria 2023
These are the best photographers in Nigeria 2023 for shoots and ceremonies:
Adeola Olagunju
Jide Odukoya
Mr. CBN (Brytography)
Ade Adekola
George Osodi
Onlytime Photography
Obi Somto
Aisha Augie-Kuta
TY Bello
Kelechi Amadi
11. Andrew Esiebo
Andrew is a storyteller in visual form. He captures scenes in the urban landscape of daily life, questioning how personal narratives intersect with larger social issues. His work integrates the personal with the political by challenging issues such as sexuality, football, gender politics and migration.  He is one of the Best Photographers in Nigeria 2023.
Esiebo's work has been shown at the Lagos Photo Festival, the Mali African Photography Gatherings, and the biennials in Havana and Sao Paolo.
10. Onlytime Photography
Onyishi Collins heads the Onlytime photography company which is based in Enugu State in southeastern Nigeria. Onlytime photography is one of the best wedding photographers in Nigeria and his expertise and versatility into other parts of photography speak for him. The professional photographer is one of the youngest photographers in Nigeria who has worked with several Nigerian celebrities, book a session with him on his IG page @onlytime
9. Mr. CBN (Brytography)
Chukwu Bright Nedum popularly known as Mr. CBN is renowned in the photography industry as a resourceful creative who has spread his tentacles all over different parts of Nigeria which includes northern Nigeria, Lagos, Abuja, Enugu state and others. Mr. CBN was once listed in the  Under 30 Entrepreneurs in Nigeria by Image Naija in 2018 and has several accolades as a result of his creativity in the industry.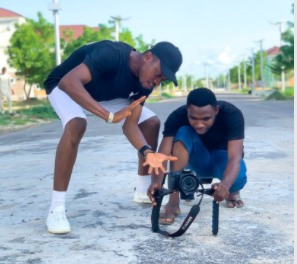 Chukwu Bright Nedum was among the team of south Africans and London cinematographers that shot Nickfest 2017 in Lagos. He has worked for media firms like UdaogeneTv (African Magic Igbo), Wavelength Int'l, Montrox Media, Lenix Tv, Cartoon Network, Nickelodeon, Naniboi Studios, BBC Igbo, Coal City Connect, GIBC Digital, USA, Coca Cola, and Mark Angel Campus Comedy Tour. He is currently the CEO of Brytography Tv (btv.ng) that has over time created some viral videos and documentaries. Reach him on IG  @ezigbommaducbn.
8. Jide Odukoya
Jide is a skilled and expert photographer. In order to create impressive travel images that will inspire you to travel, he blends his passion of photography with imagination. With some wonderful photography, Jide captures the ambience of wherever he visits. Jide is definitely among the Best Photographers in Nigeria in 2023.
He takes pictures of beautiful locations and activities, making each of them his own special and thrilling twist. He's well known for his wonderful wedding shots.
7. Ade Adekola
Ade Adekola is one of the best Nigerian photographers in 2023 that produces visual representations which goes beyond what can be seen by the eye. The dynamism of urban life is captured in his ground-breaking work, Icons of a Metropolis, re-imagining street figures as 20 character archetypes,' icons,' built to describe the spirit of survival that fuels life in Lagos. It is worth witnessing his works.
READ ALSO: Top 10 best travel agencies in Nigeria
6. George Osodi
George Osodi is an internationally acclaimed photojournalist who has changed the face of Nigerian photography with bold and honest images. Osodi spent four years, after returning to his home in the Niger Delta, recording the region's environmental destruction caused by multi-national oil companies. More recently, Osodi has turned his attention to the urgency of traditional Nigerian culture being registered and archived. George has always been on the list of the Best Photographers in Nigeria.
His Nigerian Monarchs series captures the 'visual drama' of the numerous traditional cultures enshrined in these royal systems, which point to the deep roots of Nigeria's pre-colonial history, although deprived of constitutional powers in the 1960s.
5. Adeola Olagunju
Adeola Olagunju is an up-and-coming photographer based in Lagos. Her pictures speak volumes as they show the effort of the photographer to break free from "mental shackles." Her works were shown at Lagos Photo and in 2013 she received the Young Artfund Amsterdam Prize.
4. Obi Somto
Mr Obi Somto was born in Lagos on August 1, 1988, and holds a degree from Babcock University in Banking and Finance. He is not only a photographer, but also a drawing, painting, molding, and carving artist. He began his career as a graphic designer and illustrator, bringing to his style of photography a unique blend of experience, vision, and distinction. So many Nigerian celebrities and dignitaries have been photographed by him, which include former President Goodluck Jonathan.
3. Aisha Augie-Kuta
For her Faces of Africa portrait series, a compilation of portraits of female faces elaborately painted to re-enact the vibrant patterns of the Surma Tribe of Ethiopia, Aisha Augie-Kuta received the Future Award for Innovative Artist of the Year in 2011. She has a mixed-race, mixed-tribe heritage and is based in Abuja. Her new project gives viewers a glimpse of the hidden side of Abuja's Fulani mud huts, which tend to blend into the landscape from the outside.
2. TY Bello
Most recently, TY Bello is known for taking Olajumoke Orisaguna, a bread seller, to the limelight and turning it into a model. She is a singer and a fantastic photographer as well. The Ogun State-born Nigerian is a member of Depth of Field, the Nigerian photography collective. TY Bello is the best female Photographer in Nigeria 2023.
She graduated from the University of Lagos with a degree in economics and briefly studied journalism before opting for photography. The former member of the disbanded Kush party is the former President of the Federal Republic of Nigeria's official photographer, Goodluck Jonathan. She also works for a lifestyle magazine called Thisday.
1. Kelechi Amadi
One of the most famous celebrity photographers in Nigeria is Kelechi Amadi-Obi. He holds a law degree and was called to the bar in 1993, but in full-time studio art, his passion lies. For both photography and painting, he has gained international renown. Kelechi Amadi has an extensive list of reputable clients for whom he works, including Guinness Nigeria PLC, MTN Nigeria PLC, PZ Nigeria PLC, British American Tobacco, The Ford Foundation, Prima Garnet Ogilvy, SO&U, Insight Grey, Nigerian Flour Mills and Orange Drugs Nigeria Ltd. Kelechi Amadi is the best photographer in Nigeria in 2023 and also has been named as one of the best photographers in the world in 2023.
How to Get a Job fast in Nigeria in 2022 without Connections (Quick Steps)