Need to know when is Bbnaija 2021 starting, bbnaija 2021 news, bbnaija 2021 housemates, Bbnaija 2021 season 6, bbnaija 2021 housemates names, big brother naija 2021 audition, big brother naija 2021 season …read here
Today on Webbspy, we are going to be talking about one of the fastest ways to become a star and but to be rich at the same time in Nigeria and this is no other platform but big brother Naija – a popular reality TV show.
Last year's season of Big Brother Naija was filled with interesting activities, housemates, and events.
Especially having unique housemates like Laycon, Erica, Nengi, Ozo, Dorathy, Vee amongst others.
It had also involved a lot of plot twists and fun to watch conflicts. Of course, romance was also part of it as the former housemates had paired up instantly to give the viewers a run for their money.
As the highlights for the past year's big brother Naija starts displaying…it is very important we discuss about the 2021 big brother Naija details to enable prospective housemates apply on time.
On this page you'll get all information regarding this year's BBNAIJA reality tv show.
When this reality TV show first started people were optimistic about joining the show as housemates but after the past few editions people are convinced and are ready to be part of this platform that produces stars.
Brother Naija is one of the biggest platforms for star-making in Africa. Previously poor contestants that joined the show as housemates and testifying about how their lives changed every housemate in big brother Naija bag several endorsements. No one went into that house and came out remaining the same and that is why many Nigerians are interested in picking up forms to audition for big brother Naija 2021.
Also read: Everything you need to know about Ultimate Love reality Tv show 2021 and housemates.
Big Brother Naija History
Big Brother Naija, also known as Big Brother Nigeria, is a reality TV show based on the Big Brother TV series where 12 contestants stay in an enclosed house and compete at the end of the show for a large cash prize worth $100,000, avoiding being evicted by viewers.
This means that you have to be controversial and at the same time beloved by the viewers because they decide if you are going to stay or leave the house. Most people that scale through the elimination processes have warned their way into the hearts of the viewers and this makes some celebrities spearheaded the movement of the housemates outside. In other words, it's more like the survival of the fittest.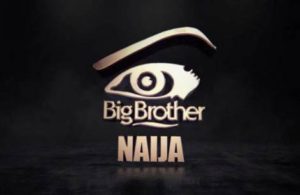 The reality TV show's first season aired on DStv Channel 37 from March 5 to June 4, 2006. The results of the vote were checked by the Alexander-Forbes auditing firm.
On Day 23, two new contestants were added in to twist the game, much to the delight of the remaining housemates.
The seventh housemate to be eliminated was Ebuka, the most successful housemate in the series for several weeks and widely believed to emerge winner; many viewers blame the Joe's Fan Club (JFC) for his eviction.
However, Joe himself also got evicted from the show.
Big Brother added another twist to the game on day 79 by canceling the scheduled nominations for the day and making housemates assume that they will be evicted on the basis of their results on assigned tasks, while in fact there were no more evictions and spectators started voting for the winner who turned out to be Katung Aduwak, 26 years old.
Big Brother Nigeria's second season (entitled Big Brother Naija) started 11 years after the first season. Efe Ejeba emerged winner of the second season in 2017.
Miracle Igbokwe from Imo State emerged winner of the third season in 2018.
In 2019, we were shocked as Mercy Eke brought out a strong rivalry game against Tacha and won the BBnaija Pepper dem edition. We can't wait to know the BBnaija 2021 housemates and Winner.
The Nigeria reality TV show is back after a long break and will be shown in January 2021 on MultiChoice Nigeria's paid satellite DStv and GOtv. The show is now called Big Big Brother Naija, while it may be mistaken by some people for Big Brother Nigeria, but nevertheless it means the same thing.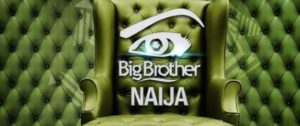 BBnaija Winners and Prizes
| | | |
| --- | --- | --- |
| BBnaija Season | Winner | Prize Money |
| Season 1 | Katung Aduwak | $100,000 |
| Season 2 | Efe Ejeba | ₦25,000,000 |
| Season 3 | Miracle Ikechukwu | ₦45,000,000 |
| Season 4 | Mercy Eke | ₦60,000,000 |
| Season 5 | Laycon | ₦70,000,000 |
Big Brother Naija 2021 Prize
Season 6 of the big brother Naija has been revealed to have a winning prize of N90 million (Winner takes all) and auditions are going on.
Big Brother Naija 2021 Audition:
Auditions for the 2021 edition of the Big Brother Naija reality show (Season 6) will be held online.
How to audition for Big brother Naija (Season 6) 2021:
Renew your @dstvnigeria (Premium, Compact plus, compact, confam, and yanga)and @gotvng (max or jolli) subscriptions between the 24th and 31st of March to qualify.
Send an email to Africa[email protected] with your smartcard or IUC number
Receive your unique website link for registration.
Add a 2-minute video telling Big brother why you should become a housemate.
Big Brother Naija Audition Form Price
BBnaija 2021 registration and audition form is completely free of charge. The authorities and organizers of the show have made the announcement that it is free and they don't sell forms in any way. Don't fall victim to scams asking you to pay for the application form.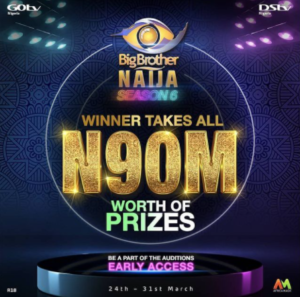 Big Brother Naija 2021 Requirements:
Before Applying for Big Brother Naija Audition, Make sure you meet up with the listed requirements below;
You must be a Nigerian citizen over 21 years of age.
A valid international passport.
Make a video (check out "video" tab on the site for some guidance) It is always recommended to prerecord a video so you can make sure you are doing, saying, being exactly who you want to be. However, if you are an "on the fly" kind of person, the site is equiped with a self video recorder so you can just wing it if that is what you prefer.
Save a current picture of yourself, and video to your computer, so they are ready when you apply online.
Completely fill out the online application and upload your video and picture here.
BBnaija 2021 will email you if they want to move forward in the casting process with you.
BIG BROTHER NAIJA AUDITION QUESTIONS
These are some of the questions regularly asked at BBnaija Audition centers.
Are you a hunter or a Gatherers?
You are a new addition to a crayon box. What color would you like to be and why?
Imagine this; after the interview, you step outside the office and find a lottery ticket that ends up winning 45 million dollars. What would you do?
BBNAIJA 2021 FAQ
These are some of the questions BBN fans ask for the 2021 edition.
When will BBnaija 2021 start?
The auditions for Big brother Naija 2021 reality TV show has commenced.
Also, drop a comment if you want to stay updated with Big Brother Naija 2021 information.