Fastest football players of all time
When it comes down to football, one of the key things that a player needs to possess is athleticism. Why? Because naturally, it gives them an edge and makes them stand out even better in the sport. And since football is a competitive sport, there will always be those who are much more athletic than the rest.
Being athletic as a football player would mean that strength is an important factor to possess, but one thing that separates the best from the rest is their speed. Fast players help their teams to transition quickly and they play an important role in counter-attacks. 
Over the years, fast players have been of major help to their respective clubs. These fast players can quickly outpace defenders, change the intensity of a game, and can quickly fight to recover the ball if lost. So, with all of these things being said, who are the top fastest football players in the world as of the present? Let's have a look!
TOP 10 FASTEST FOOTBALLERS 
We are going to start the list by naming the top 10 fastest footballers from the 10th to 1st position. Keep in mind that this list is for the year 2023 and not an overall measure of speed. So, here's the list of the top 10 fastest footballers in the world in 2023:
10. Erling Haaland:
I know a lot of people would be expecting Haaland to be higher on the list but that isn't the case. This doesn't also dispute the fact that Haaland is one of the fastest players in the world of football. Haaland is a towering figure on the pitch as he combines both strength and speed. Standing at 6'4 he can maintain his composure while going through top speed. His current speed is about 36km/h. Ever wondered why he is so formidable? Well, it's his speed. He is also one of the most expensive players in the world.
9. Archraf Hakimi:
Hakimi is one of the best full-backs in the French league presently. He doesn't just apply his speed to his defense but he also uses it offensively to cause problems for the opposition. His top speed is 36.48km/hr, it's no wonder why it's usually a bit difficult for attackers to find their way around them because he easily catches up within seconds. 
8. Sheraldo Becker:
Currently, Sheraldo Becker is one of the fastest players in the Bundesliga and he is a force to be reckoned with. He plays for Union Berlin wearing the number 27 shirt. His top speed is around 36.57km/h. With this speed, he usually leaves a lot of Bundesliga defenders struggling to catch up to him. 
7. Ousmane Dembele
The Frenchman Ousmane Dembele kicks off this list. Dembele is a phenomenal player that uses both his left and right feet perfectly with incredible flair to get past defenders. As of now, he is a vital player for F.C Barcelona's team as he runs up the wings with a speed of 36.6km/h. With his speed, he cuts through the left side of the pitch to help with amazing goals and assists. 
6. Anthony Gordon:
Everton's left-winger Anthony Gordon has proven himself on the pitch to be one of the fastest players of the year. With a speed of 36.61km/hr, he has proven to be a menace to a lot of defenders this season. Unfortunately, his club is currently going through a relegation battle but he has been rumored to make a move to Newcastle at the end of the season.
5. Mohammed Salah: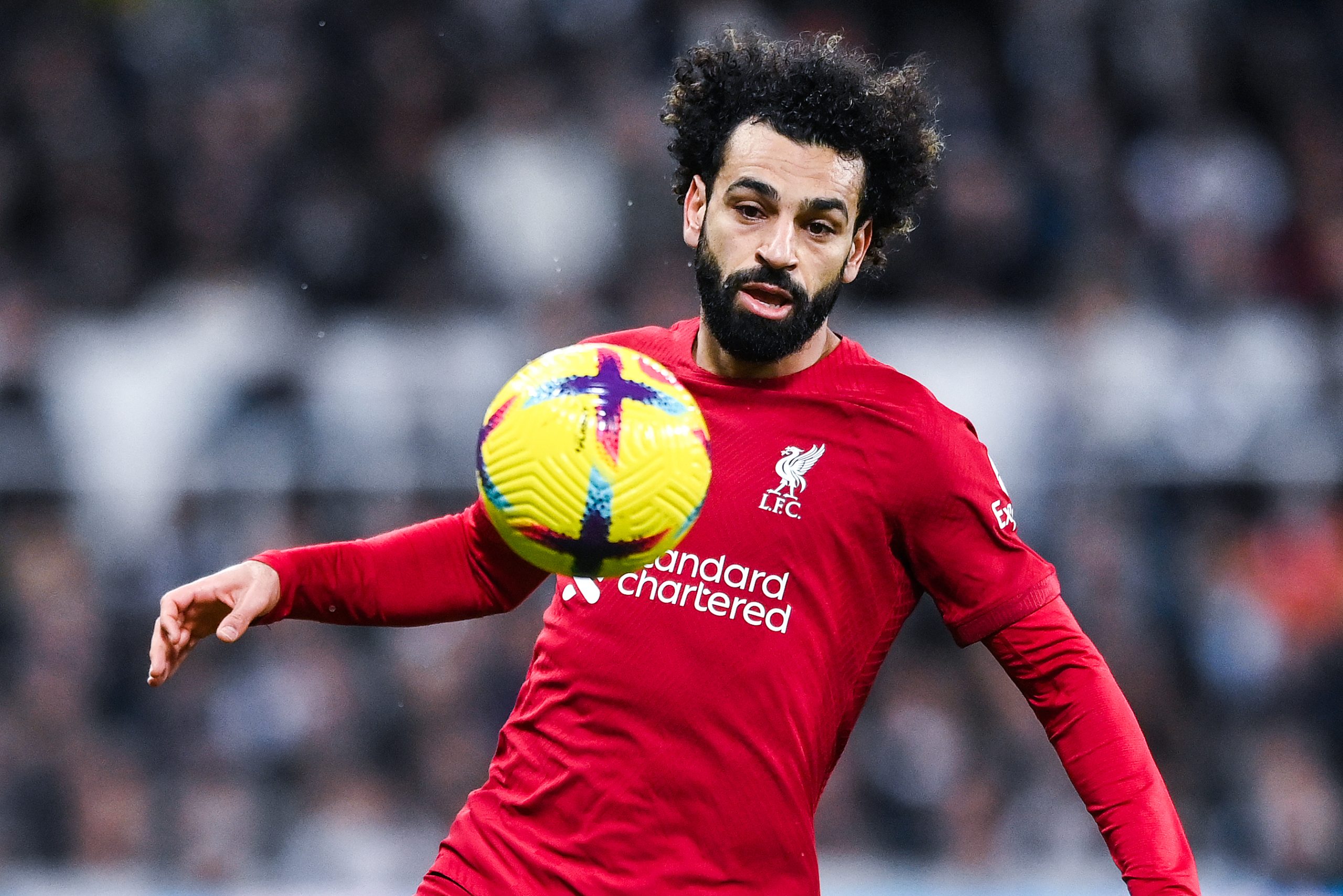 Salah is 30 years old and yet he possesses remarkable speed that makes him a threat to the opposing team's defenders. The Liverpool player boasts a speed of 36.62km/h. He plays on the right wing of the pitch which gives him enough space to pace and accelerate while performing a lot of dribbling skills to this combination. It's no surprise that with his speed, Salah has proven to be a valuable asset for Liverpool by providing them with goals and assists season by season. 
4. Mykhailo Mudryk
The Chelsea man has had a decent season and his speed is at 36.63km/hr. As a new arrival to Chelsea, the Ukrainian international has taken the league by surprise and he has been the topic of plenty of conversations. Currently, ahead of Anthony Gordon and Sallah, Mudryk is one of the fastest players recorded in the premier league for the year.  
3. Antonio Rudiger:
The Real Madrid player Rudiger is known to be one of the fastest defenders. With his height and strength, he is already naturally intimidating to strikers. In addition to that, he has a top of 36.7km/h. With his speed, quick tackles, and recovery, he is an asset to the Real Madrid team when it comes to high-stakes matches. 
2. Adama Traore:
Traore is a beast on the pitch. Even with his size he rages on with speeds of 38km/hr making him one of the fastest players in football. The Spanish footballer often uses his physique to easily overpower his opponents and his speed just gives him an unfair advantage to easily slip through defenders.   
1. Kylian Mbappe:
The 24-year-old French international has been a menace to defenders in France's Ligue 1. His speed is one of the factors that has skyrocketed him into becoming one of the best footballers of this generation. The PSG forward has a speed of 38km/hr and this can prove to be quite frustrating to defenders. His speed combined with his stamina makes him a formidable force. He is also one of the best penalty takers in the world.
Conclusion
In football, speed is one of the most important things that a player needs to possess as it gives them an extraordinary edge. We have gotten to see a lot of fast players in 2023 but a few of them are the best of the best. And so, we have listed out the top 10 fastest players in the world and it's no surprise that Mbappe is still leading the charts becuase he is in one of the most popular clubs in the world. He has been sensational alongside Mudryk, Traore, Rudiger, and the rest. 
FAQs on the Fastest Footballers
Who is faster than Mbappe in football?
Several players are known for their speed in football. While Kylian Mbappe is considered one of the fastest players, there are others who are also renowned for their pace. Some notable players who have been recognized for their speed include:
Arjen Robben
Gareth Bale
Leroy Sané
Pierre-Emerick Aubameyang
Mohamed Salah
Raheem Sterling
Who is the fastest in PSG?
As of my knowledge cutoff, Kylian Mbappe was widely regarded as the fastest player in Paris Saint-Germain (PSG). However, please note that player rankings and attributes can change over time, so it's recommended to refer to up-to-date sources for the most accurate information.
Is Mbappe faster than Vinicius?
Both Kylian Mbappe and Vinicius Junior are exceptionally fast players. While it is challenging to determine definitively who is faster, based on available information, Mbappe has been frequently regarded as one of the fastest players in the world. Vinicius Junior is also recognized for his speed, but Mbappe's exceptional pace has garnered significant attention and acclaim.
Is Adama Traore faster than Mbappe?
Adama Traore, who played for Wolverhampton Wanderers in the Premier League at the time of my knowledge cutoff, is widely regarded as one of the fastest players in football. However, Kylian Mbappe has also been consistently recognized as an incredibly fast player. It is challenging to determine who is faster between the two, as it may depend on various factors such as playing conditions and personal performance.
Who has the most speed between Mbappe and Haaland?
Both Kylian Mbappe and Erling Haaland are talented young players, but they possess different styles and attributes. In terms of raw speed, Mbappe is known for his exceptional pace, which has earned him a reputation as one of the fastest players in the game. Haaland, on the other hand, is more renowned for his physical strength and clinical finishing. While both players have impressive speed, Mbappe's acceleration and agility have often been highlighted.