Best tools for designing clothes for beginners
In the fast-paced and ever-evolving world of fashion, creativity knows no bounds. From visionary designers to aspiring fashion enthusiasts, the desire to bring innovative concepts to life is a constant driving force. With the rapid advancement of technology, clothing design software has become an invaluable tool in the fashion industry, empowering designers to conceptualize, sketch, and refine their creations with unprecedented precision and efficiency.
In this blog post, we delve into the realm of clothing design software, exploring the best options available to both seasoned professionals and budding fashionistas. Whether you're a seasoned designer seeking to streamline your workflow or an aspiring fashion entrepreneur looking to start a fashion business, we have curated a list of exceptional software solutions that will revolutionize the way you approach garment design.
From powerful 3D modeling tools that allow you to visualize your designs in stunning detail to intuitive pattern-making software that simplifies the technical aspects of the design process, the world of clothing design software offers a plethora of options to suit every need and skill level. In this digital age, the importance of harnessing technology to unlock your creative potential cannot be overstated. Clothing design software offers an array of tools that enable designers to iterate, experiment, and iterate again, transforming abstract ideas into tangible, wearable art. By embracing these cutting-edge solutions, you'll not only elevate your design capabilities but also gain a competitive edge in an industry that thrives on innovation and originality.
So, whether you're a seasoned designer seeking to expand your toolkit or an aspiring fashion professional eager to make your mark, this blog post is your compass to navigate the ever-evolving landscape of clothing design software. Let's embark on this exciting journey together and discover the best tools that will empower you to bring your fashion dreams to life.
Top 10 Best Online Cloth Designing Tools (Fashion)
1. Adobe Illustrator
While not specifically designed for fashion, Adobe Illustrator remains a popular choice among design schools for its vector graphics capabilities. This powerful software employs geometry and mathematics to create high-definition illustrations, making it a versatile tool for designers across various industries. Although it may not offer a click-and-draw approach, many fashion designers and even video game creators rely on Adobe Illustrator for their artistic creations. With abundant online tutorials available, mastering this widely-used program is an excellent starting point for fashion design, providing a solid foundation for designing garments and other apparel.
2. C-Design Fashion
C-Design Fashion is a 3D rendering and modeling software that simplifies the entire lifecycle of clothing production. This software allows for seamless sharing and distribution of designs, providing a centralized platform for managing design details such as sizing charts and artistic variations like color schemes. With the ability to import digital designs from other software programs, such as Adobe Illustrator, C-Design Fashion caters to both large and small business settings, offering realistic pricing plans. Renowned for its intuitive user interface, C-Design Fashion stands as one of the most advanced software programs available for fashion design today.
3. CLO 3D
CLO 3D presents interactive and intuitive 3D CAD solutions specifically tailored for fashion design. This software offers a range of features, including 2D and 3D modeling for sewing pattern creation. With a primary emphasis on 3D capabilities, CLO 3D provides an extensive selection of color schemes, styles, and sizing options. Designers can add layers, folds, and even simulate garment motion, resulting in realistic virtual representations. A 30-day free trial allows users to explore the software's potential, and the platform's user-friendly interface, accompanied by video tutorials, facilitates rapid mastery of its tools. 
4. Blue Cherry
Positioning itself as apparel and fashion software, Blue Cherry excels in addressing the business aspects of clothing design. With industry-specific features, this software streamlines the entire clothing production process, incorporating 3D design services to enhance cost-efficiency and accuracy. Beyond design, Blue Cherry offers comprehensive solutions for inventory management, supply chain logistics, distribution, and even cargo delivery. While it may be more suitable for experienced designers and small business owners, Blue Cherry stands out as a comprehensive tool, covering all phases from concept design to end-consumer distribution.
5. Browzwear
At the forefront of clothing design innovation, Browzwear focuses on leading-edge 3D design software. With offerings like Lotta and VStitcher, Browzwear empowers designers with tools for concept design, motion fit simulations, crafting concepts, and drawing sewing patterns. While it may not be the most practical option for individual users, large companies typically adopt Browzwear for its advanced features and collaborate across teams. As a Singapore-based design company leading the way in design trends, Browzwear remains a compelling choice for fashion professionals seeking cutting-edge design capabilities.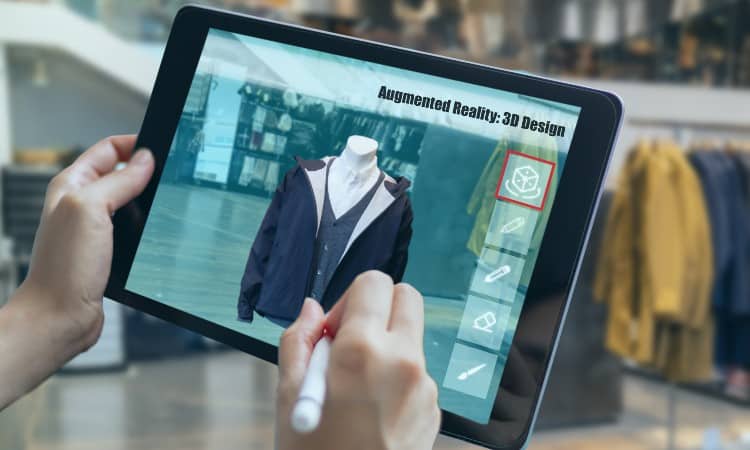 6. Corel Draw
Considered an excellent alternative to Adobe Illustrator, Corel Draw stands as a powerful 3D rendering and modeling software for graphic design. Offering a complete software suite and a range of helpful applications, Corel Draw encompasses various design needs, from photo editing to typography, vector illustration, and collaboration. In terms of affordability, Corel Draw can be a cost-effective choice compared to its counterparts. With advanced design tools and a vibrant community of artistic designers, this software has become a go-to tool for many fashion businesses in recent years.
7. Digital Fashion Pro
Digital Fashion Pro differentiates itself from other programs on this list by offering a comprehensive fashion design learning experience. Serving as both a starter kit and a course, this software equips users with the fundamentals of fashion design while providing features specifically developed for launching clothing businesses. With a range of illustration and design tools, Digital Fashion Pro allows for the creation of 2D sketches using various shaping, coloring, and typing tools. The program also offers pose-able models and customizable clothing templates, catering to diverse design needs across shirts, jeans, dresses, swimwear, athletic wear, outerwear, shoes, and handbags.
8. Maya
Maya, developed by Autodesk, is a 3D modeling software renowned for its advanced features, making it a popular choice among professional fashion designers. While primarily used for character design, Maya is also an efficient tool for creating realistic clothing movement and character animations.
With exceptional rendering capabilities, Maya is a top choice for 3D rendering and modeling in the fashion industry. Its versatility extends beyond fashion, finding applications in various industries. For an enhanced design experience, combining Maya with Marvelous Designer allows designers to bring their dream designs to life.
9. Pattern Smith
True to its name, Pattern Smith specializes in designing sewing patterns. It is a 2D CAD drafting program that offers advanced tools for developing digital pattern pieces for all types of garments. This software enables designers to draft, edit, and digitize sewing patterns, incorporating sewing-specific abilities such as tucks, darts, and notches. Pattern Smith is an award-winning and user-friendly solution specifically tailored for textile patterns. Its key features include custom add-ons, automated pattern clean-up, complete 2D CAD pattern editing, drafting, and streamlined order processing.
10. Rhino
Rhino is a versatile 3D modeling and rendering software widely used across industries, including fashion. While experience is required to develop accurate patterns for 3D prototype designs and final products, Rhino offers advanced graphical algorithms through plugins like Grasshopper to create impressive designs. RhinoGold, a jewelry-specific version, is also available for creating intricate jewelry designs using 3D modeling.
11. Romans CAD
Romans CAD is a software program designed specifically for the creation of leather products and the footwear industry. This CAD fashion design software facilitates the efficient development of prototypes and allows designers to make precise adjustments to products. With cloud-based functionality, Romans CAD speeds up the work process and enhances communication between manufacturers and designers, offering improved collaboration and communication in the fast-paced footwear industry.
12. The Smart Designer
The Smart Designer is a Korean-based fashion design CAD software that provides 2D and 3D garment sketches. It offers industry-specific features like draping and the creation of knit fabric or woven fabric apparel. While still in its early phases of development, this breakthrough program shows promise. Pricing details can be obtained by contacting the program creator.
13. Tailornova
Tailornova is a web-based 3D fashion design software that offers advanced tools for designing garments. It provides cloud-sharing options and accessibility from various locations and devices. Tailornova features fabric selection, pattern making, and concept design tools to bring garment ideas to life. Additionally, it offers custom-fit choices to create clothes for people of all sizes and shapes. A free trial is available before committing to the complete package.
14. TUKA 3D
TUKA 3D has gained recognition as a reputable software program for sewing pattern design. It offers three software packages focusing on 3D design, pattern making, and print and textile design. With advanced features for garment design and business-oriented functionalities, TUKA 3D caters to the needs of fashion designers. The software also boasts a community of users who share and sell their designs in TUKA's marketplace.
15. Virtuality.Fashion
Virtuality.Fashion is a 3D rendering and modeling software that streamlines the creation of modern apparel and fashion designs. It covers 2D pattern designs and advanced 3D Hi-Res simulations, offering virtual showroom features to design online shops. While not solely a concept design tool, it allows users to upload and edit designs using advanced features. Pricing information can be obtained by submitting a request through their official website.
16. Wild Ginger Cameo
Wild Ginger Cameo specializes in apparel pattern development, making it an ideal choice for professional pattern makers. Whether creating bespoke designs or planning for mass standard-size production, this software enables the drafting, creation, and editing of technical pattern specifications.
17. ZBrush
ZBrush is a powerful modeling tool that excels in texturing and painting. While widely used in the fashion industry, it is more suitable for experienced users due to its advanced features. ZBrush is an excellent choice for developing impressive renderings and can be paired with Marvelous Designer for optimal results.
These software options provide a range of features and functionalities to cater to the diverse needs of fashion designers. Exploring each program's official website will provide detailed information on pricing, features, and additional resources to support your clothing design endeavors.
18. EFI Optitex
EFI Optitex offers a wide range of software options, including a 3D design tool that integrates with Adobe Illustrator and a sewing pattern drafting program. With additional business-related tools like fabric management, this software aids both small and large business owners in tracking and monitoring clothing production processes. While suitable for log and sportswear design, EFI Optitex also provides a free demo for users to assess its compatibility with their needs. Requesting a quote upfront is advisable to explore the pricing options associated with this software.
19. Fusion 360
Fusion 360, a 3D rendering and modeling software, may not have been specifically tailored for fashion design, but its advanced capabilities make it a valuable asset for creating unique clothing designs. This software enables the creation of sketches, freeform models, surface models, and direct models, offering a range of tools to meet various design requirements. With features like simulation development and collaborative data sharing, Fusion 360 addresses the growing demand for 3D modeling services in the fashion industry. A free trial is available to evaluate the program's suitability before committing to a monthly subscription.
20. Marvelous Designer
Marvelous Designer provides an array of design tools, emphasizing fabric simulation while also offering pattern drafting and 2D design capabilities. Notably, this software excels in creating 3D character models reminiscent of top-quality video game characters. With realistic material textures and options for adding intricate detailing and trim, Marvelous Designer delivers designs with exceptional realism. Furthermore, the program offers various animation and modeling options to enhance the visual appeal of clothing designs. Marvelous Designer stands as a compelling choice for designers seeking to infuse their creations with lifelike qualities.
Remember to explore each software option's official website for detailed information on features, pricing plans, and additional resources to maximize your clothing design endeavors. These tools can easily make you on of the best and richest fashion designers.